Businesses can't move forward with digital transformation using networks that are stuck in the past. Characterized by manual processes, fragmented operations, and a lack of visibility and control, these legacy networks present IT with a number of obstacles when trying to deliver on the expectations of modern users—be they customers, employees, partners, or citizens.
As organizations expand their adoption of cloud, mobile, and IoT, these network constraints will only become more pronounced. Legacy switching infrastructure, in particular, is overtaxing network operators, as they must grapple with disparate operating systems and even entirely different operating models at each layer of the network.
Aruba has broken these constraints. Today, we announced significant innovations to our Aruba CX Switching Portfolio that will equip network operators with the industry's first, end-to-end platform that spans campus, branch, and data center networks.
Included in this release are revolutionary hardware platforms, new software innovations, and enhanced analytics and automation capabilities, all purpose-built for the network operator tasked with supporting today's frenzied business environment.
Let's take a closer look at each of these enhancements.
Unrivaled Scale and Flexibility with Aruba CX 6400 and CX 6300 Switch Series
Cloud, video, and collaboration apps were already pushing legacy switches to their limit. Now, the advent of IoT is flooding networks with even more traffic. That's why we've introduced two new switching families to support these new demands, with plenty of capacity to accommodate tomorrow's technologies.
The Aruba CX 6400 Switch Series is a family of modular switches that come in 5-slot and 10-slot chassis, with a non-blocking, distributed architecture capable of delivering 2.8 Tbps per slot. Scaling from 1G PoE access to 100G core, the 6400 switches are a true Swiss Army Knife for today's network operators, supporting any use case or workload across the enterprise, from campus access to data center environments.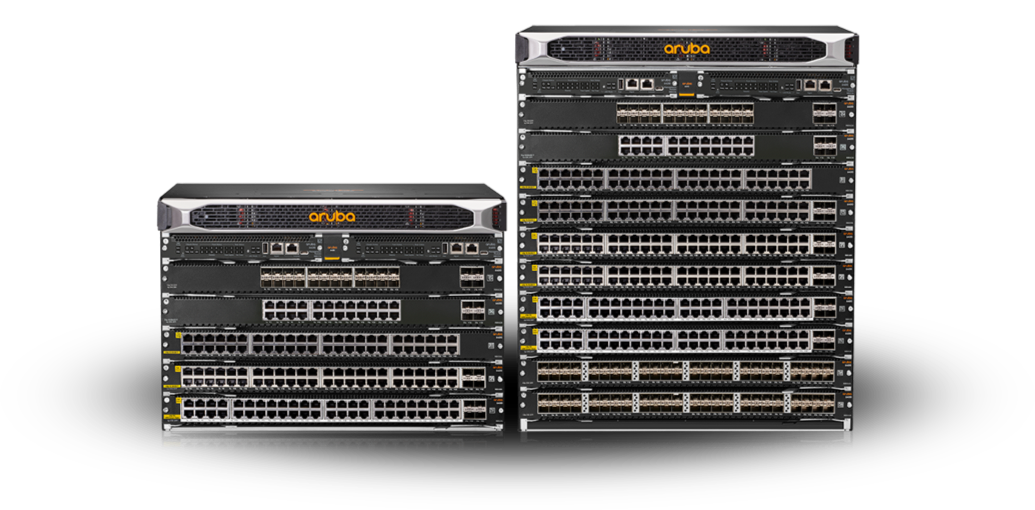 The Aruba CX 6300 Switch Series is a family of stackable switches ideal for network access, aggregation and core use cases. With support for up to 10-member VSF stacking and offering built-in wire speed 1/10/25/50 gigabit uplinks, the 6300 switches deliver unrivaled investment protection with the flexibility to support significant growth around emerging technologies such as IoT and Wi-Fi 6.

Delivering 140+ Rich Access-layer Features with AOS-CX 10.4
Organizations embarking on or broadening their IoT initiatives will get significant mileage out of AOS-CX 10.4. This fifth major release of our cloud-native operating system brings core-proven reliability to the access layer with 140+ rich software features.
Among these is new support for always-on PoE, as well as VxLAN with EVPN in both campus and data center networks—important capabilities for IoT deployments. Always-on PoE ensures Wi-Fi access points and critical IoT devices, such as healthcare sensors, will never lose power, even during network upgrades. Meanwhile, EVPN over VxLAN delivers a simple, yet highly scalable way to segment the ever-increasing diversification of IoT-enabled workloads and devices.
AOS-CX 10.4 also extends Aruba Dynamic Segmentation to campus access, further simplifying an operator's task of providing unified policy and secure connectivity across wired and wireless networks for every user and IoT device.
Distributed Intelligence and Automation with NetEdit 2.0 and Network Analytics Engine
One of the guiding principles of the Aruba CX Switching Portfolio is to simplify and enhance the network operator experience. That's why we're excited to introduce significant enhancements to Aruba NetEdit, our intelligent configuration tool that automates many aspects of deploying and managing CX switches.
Central to these enhancements is the integration of NetEdit and the Aruba Network Analytics Engine (NAE), an on-box application enabled by AOS-CX that captures rich analytics on every CX switch to automate many aspects of network monitoring and troubleshooting.
The integration between NetEdit and NAE reduces the burden on network operators when investigating user- and network-impacting issues. And now that CX has been extended to the access layer of campus networks, network operators can benefit from distributed analytics and real-time, network-wide visibility.
NetEdit 2.0 also provides a topology view for fast insights into network health and conformance with green/yellow/red statuses for every deployed CX switch. Dynamic, tailored views of the network are then triggered based on the layers an operator selects, offering more granular visibility into Aruba CX device status and health. This includes detailed diagnostics on what may be contributing to a performance issue—be it an application, client, or network service such as routing or segmentation.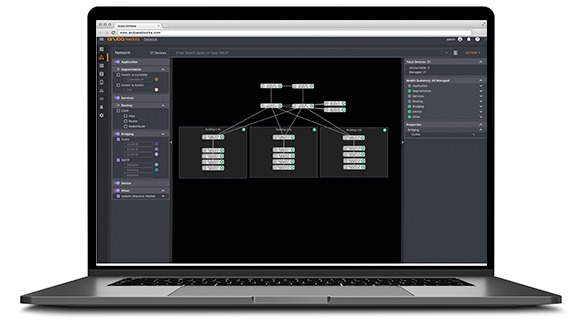 Another new capability of NetEdit 2.0 comes in the form of GUI-driven wizards that enable operators to deploy common, yet complex configurations using only a few prompt-driven commands and clicks. This feature brings even more efficiency to short change windows and includes pre-built solutions for configs like establishing VxLAN tunnels between switches.
Make the Switch to Aruba CX
Now's the time to switch to a next-gen network. Learn more about these exciting innovations to the Aruba CX Switching Portfolio, and get ready to displace your legacy network with a single, end-to-end architecture that will propel your business into the future of IoT, cloud, and mobile.
To learn more about these exciting new switching innovations, read "Now's the Time to Switch to a Next-Gen Network."