Aruba Unplugged Podcasts
Listen Now on iTunes & Google Play
Did you know that Aruba is the home of the industry's greatest
innovators and thought leaders? Did you know that customers and partners who choose Aruba are also leaders in their own industries? As a collective force, we set trends, drive industry standards and influence the future of technology and business. We must continue to share our perspective and expertise with the world. We're thrilled to introduce Aruba's very first podcast program – Aruba Unplugged – designed to help you, our customers and our partners stay in tune with life at the Edge.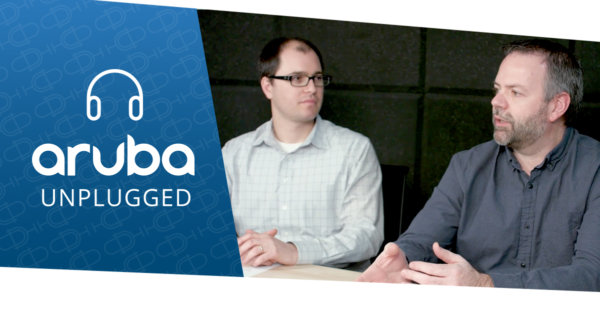 Aruba Unplugged is your connection to the Edge! Tune in and subscribe to bi-weekly episodes featuring the latest innovation news, expert insights and customer stories. Hear from CIOs, security leaders, CTOs, GM's and product leaders, IT managers and network engineers.
Get connected and download Aruba Unplugged on iTunes, Google Play, Spotify and SoundCloud and enjoy the journey into the future. Still not convinced? Check out all of our currently live episodes below.
Episode 1: Risks Taken, Bugs Crushed and Seeing the Big Picture
Episode 2: Jump into the Future with AI & Machine Learning
Episode 3: When Security and Networking Join Forces
Episode 4: Go with the Workflow of a Global Digital Workplace pt.1
Episode 5: Go with the Workflow of a Global Digital Workplace pt. 2
Episode 6: What You Need to Know About Wi-Fi 6
Episode 7: Make Way for the Women in Technology
Episode 8: Demystifying WPA and the WPA3 Security Standard
Episode 9: Today's Extra-Curricular Learning: Tech That Connect
Episode 10: Hello Expectations, It's Nice to Exceed You
Episode 11: Your All-Inclusive Guide to 802.11AD
Episode 12: Connected fans, courses and diversity for the future of golf
Episode 13: Patient Safety, Data, and Healthcare IT Security Part 1
Episode 14: Keeping Patients Healthy and Data Secure
Be sure to promote Aruba Unplugged with your friends, customers and partners!