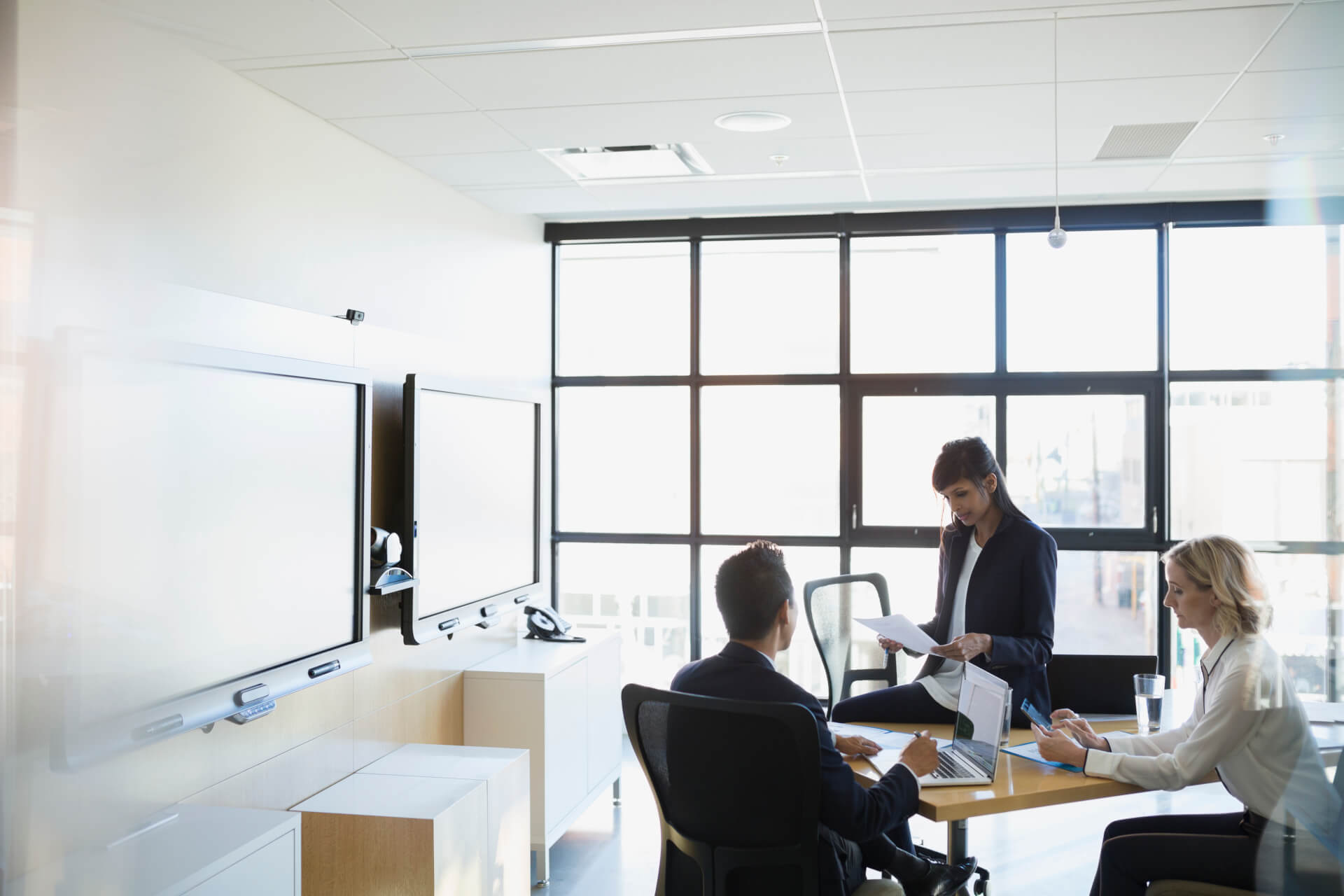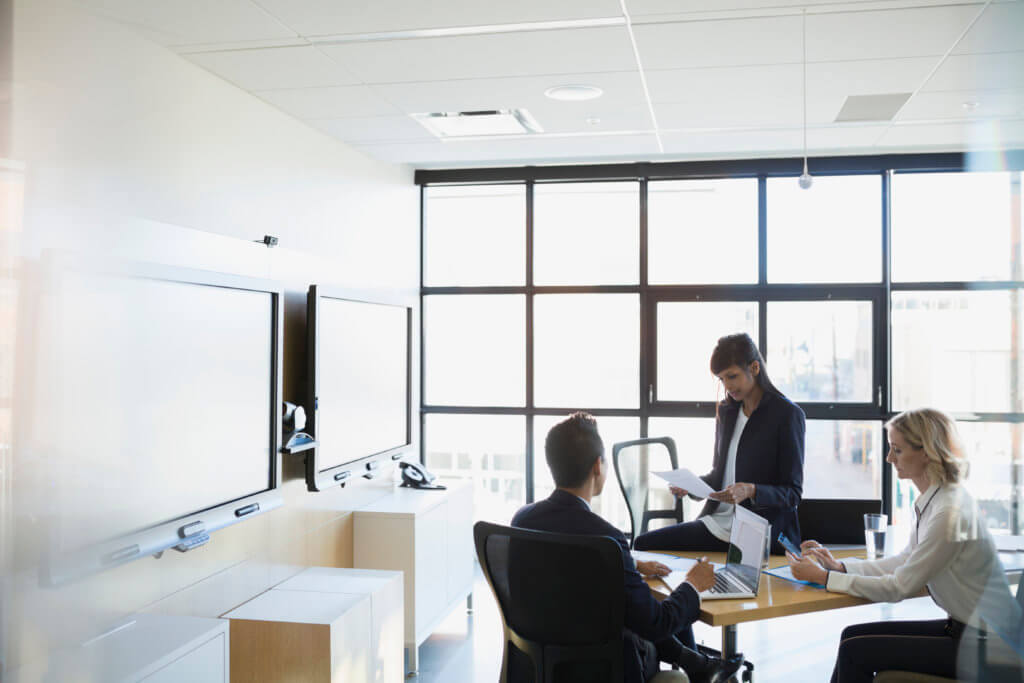 When we started planning Aruba's Wi-Fi 6E portfolio, we asked ourselves the following question: How could we best deliver full coverage across the 2.4 GHz, 5 GHz and 6 GHz bands in a way that would meet the needs and budgets of enterprises of any size?
As background, Wi-Fi 6E is an extension of Wi-Fi 6 (802.11ax) which adds unlicensed wireless access to up to 1200 MHz of spectrum in the 6 GHz band. OFDMA, uplink/downlink MU-MIMO, WPA3, Target Wake Time and other features of Wi-Fi 6 are supported. Wi-Fi 6E also includes more 80/160 MHz channels – up to seven 160 MHz channels– which are ideal for high-bandwidth, low-latency use cases like high-definition video, augmented reality, and more.
Best practices for deploying tri-band coverage
New enterprise APs are likely to be tri-band, with 2.4, 5 and 6 GHz radios. For densely populated areas, these may be configured for 20 MHz channels at 2.4 GHz, 40 or 80 MHz at 5 GHz and 80 or 160 MHz at 6 GHz, due to the way available spectrum scales in these bands.
These figures will allow for Low Power Indoor AP WLANs, in the US, to support:
3x 20 MHz channels at 2.4 GHz
6x 80 MHz channels at 5 GHz, including DFS channels
7x 160 MHz channels at 6 GHz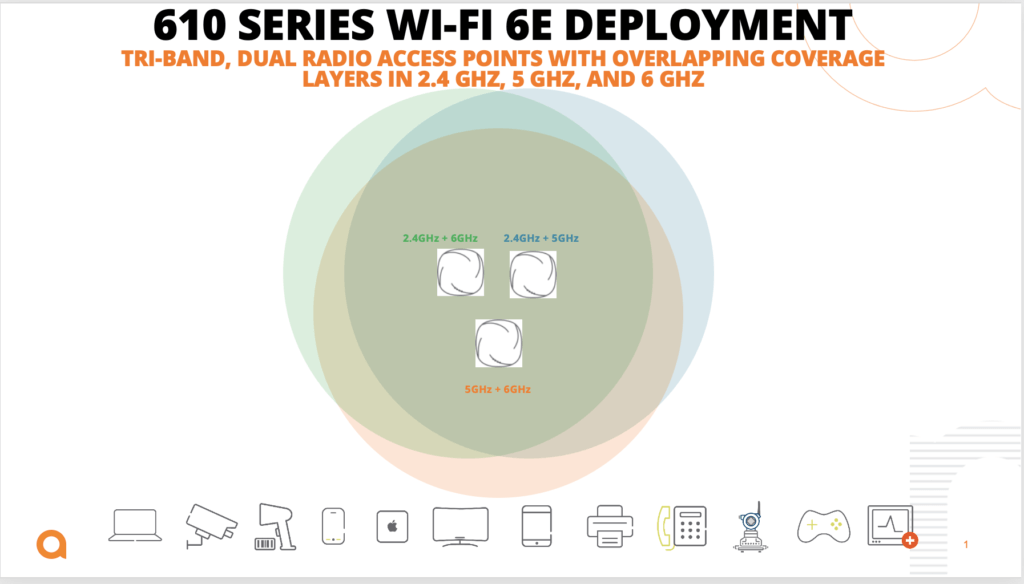 When expanding into the new band, the following approach may be useful in assigning or steering different traffic or devices:
6 GHz: Allocate the 6 GHz band for new devices with built-in support for 6 GHz such as Android phones, Zebra devices, and Asus laptops. This band benefits not only from the highest data rates available, but also from the lack of legacy equipment and lower noise levels in the band.
5 GHz: Use the 5 GHz band for mainstream high-performance devices that are not 6 GHz capable. Allow non-preferred clients such as Guest devices to be relegated to 2.4 GHz.
2.4 GHz: Reserve the 2.4 GHz band for devices with only a 2.4 GHz radio such as IoT or for Guest or non-essential traffic.
Optimizing for Wi-Fi 6E and 6 GHz
In working with our customers, we recognized that, at times, there is excess coverage on the 2.4 GHz band. Some of the APs could swap the 2.4 GHz radio to use the 6 GHz band and thereby provide full tri-band coverage in a multi-AP environment. This dual radio/tri-band approach has the advantage of being more cost effective since there is no need to add a third radio in APs where it is not needed. It also builds in greater flexibility since APs can shift the second radio from 2.4 GHz to 6 GHz as needed without replacing hardware.
To support a dual radio/tri-band approach, our new 610 Series uses Aruba Air Match to apply machine learning algorithms that dynamically and automatically adjust coverage across all three bands based on devices in use, channel availability, client density, and potential interference. By using the 6 GHz band in tandem with the 5 GHz band, the 610 series can deliver a combined maximum data rate of 3.6 Gbps and support more 80/160 MHz channels, which are ideal for high-definition video and hybrid work collaboration.
The 610 Series monitors the coverage model on a regular basis to automatically respond to changing environments. This means that network teams do not need to reconfigure the APs when more 6 GHz coverage is needed due to greater usage of 6 GHz enabled clients.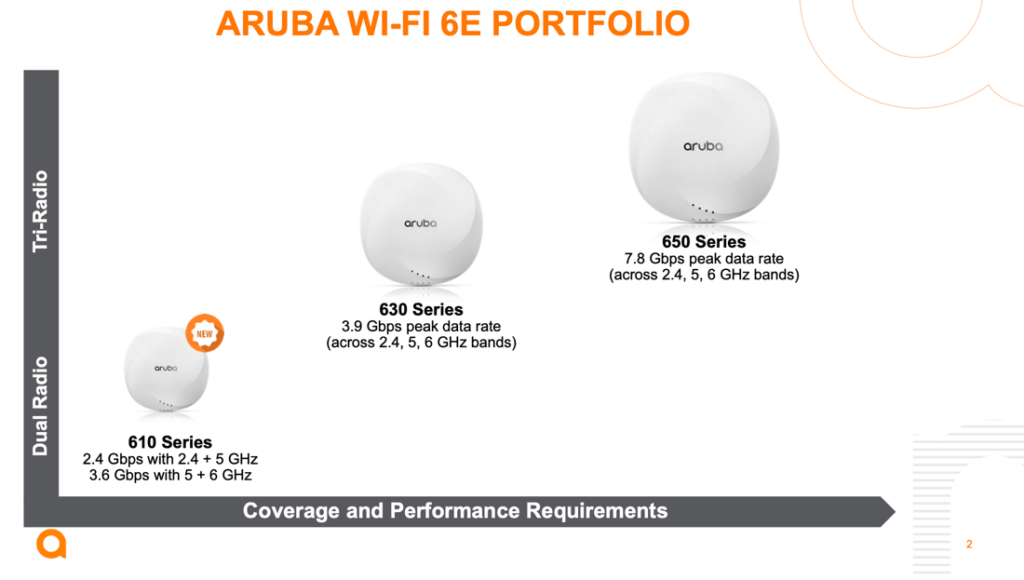 And baby makes three
I've been dying to say that because the new 610 Series AP is our third in the Indoor Wi-Fi 6E lineup and it rounds out our portfolio. With the introduction of the 610 Series, Aruba offers a full range of Wi-Fi 6E APs to meet the needs of small offices and branches, mid-sized enterprises, and large campus environments.
Aruba 610 Series Wi-Fi 6E Campus AP

*

NEW*

: With its dual radio, tri-band architecture, the 610 Series is equipped with software that uses Aruba AirMatch machine learning to optimize which of the bands should be used, ensuring seamless coverage across the 2.4, 5 and 6 GHz bands in a compact, cost-effective form factor.
Aruba 630 Series Wi-Fi 6E Campus AP: Enterprises of all sizes benefit from the 630 Series' comprehensive tri-band, tri-radio coverage with full support for the 2.4 GHz band – typically used for IoT and legacy devices ­– as well as the 5 GHz and 6 GHz band for greater efficiency and speed. Both the 630 and 650 Series include ultra tri-band filtering to dynamically and granularly filter traffic to eliminate interference and provide for full use of the upper end of the 5 GHz band and the lower end of the 6 GHz band.
Aruba 650 Series Wi-Fi 6E Campus AP: Our flagship Wi-Fi 6E AP offers up to 7.8 Gbps combined peak data rate and 4x4 MU-MIMO for the highest possible efficiency to support new use cases like augmented reality/virtual reality and higher density and also includes support for ultra-triband filtering to eliminate interference.
Explore Wi-Fi 6E