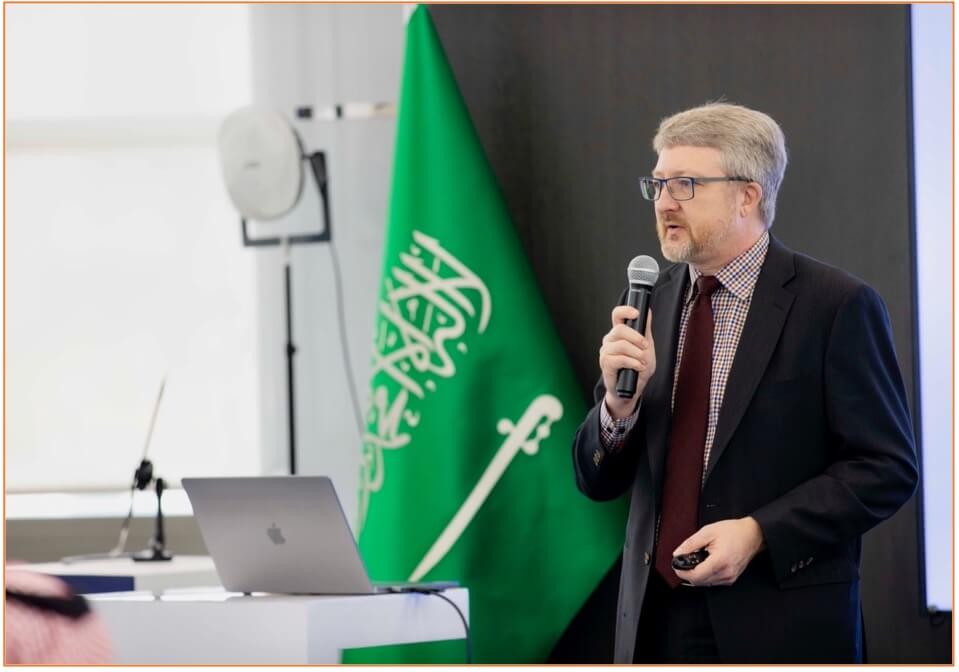 A Groundbreaking Wi-Fi 6E Demonstration
History was made in Riyadh, Saudi Arabia on August 3, with the world's first public demonstration of Wi-Fi 6E Access Points operating in conjunction with an Automated Frequency Coordination (AFC) database. Organized and hosted by the Communication and Information Technology Commission (CITC) of the Kingdom of Saudi Arabia, Aruba was honored to provide the APs and cloud management platform (Aruba Central) for the demonstration, while Federated Wireless, our partner, supplied the AFC system.
As a true, end-to-end validation of 6 GHz Standard Power operation coordinated via AFC, the event successfully demonstrated the following proof points:
Federated AFC's protection of incumbent licensed Fixed Service (FS) microwave operations by limiting the transmit power available to Standard Power Wi-Fi access points located at the CITC headquarters facility in Riyadh
Federated AFC's protection of Radio Astronomy Services (RAS) via the establishment of a simulated geographic exclusion zone for the specific frequency range in which they operate
Aruba AP-655 Access Points determining their geolocation coordinates and providing this to the AFC system during the registration process
Aruba AP-655 Access Points/Aruba Central, and the Federated AFC communicating using the Wi-Fi Alliance's AFC System to Device Interface (SDI) protocol specification,
Aruba AP-655 Access Points/Aruba Central selecting their 6 GHz operating channel and maximum transmit power levels in accordance with the Spectrum Inquiry Response message from the Federated AFC
4 AP-655s and 4 connected Wi-Fi 6E 2x2 client devices passing a total of almost 6 Gbps of data (~6 Gbps downstream and ~6 Gbps upstream) while operating on discrete 160 MHz wide channels – as an example of the type of capacity that opening the full 1200 MHz in the 6 GHz band enables for enterprises. [1]
"This demo is another testimony to CITC's global leadership in digital technologies and is another step towards the realization of CITC's strategy to become a data-driven digital regulator," said Mohammed AlSehali, Spectrum Allocation Expert with CITC.
"A key aspect of this strategy is to leverage intelligent database spectrum management systems to improve spectrum utilization at large and particularly in the 6 GHz band, where standard power Wi-Fi 6E use through AFC has the potential to enable a wide range of industrial and commercial use cases, as well as significantly expand Wi-Fi 6E coverage, capacity, and adoption across the Kingdom," he continued.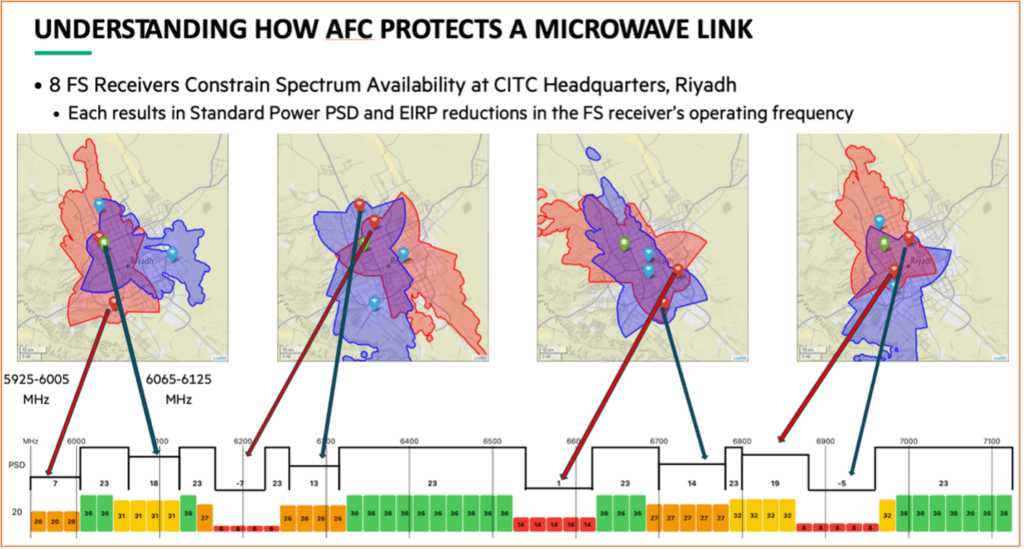 Wi-Fi 6E Standard Power and AFC: The Culmination of Years of Work
One of the reasons that this CITC demonstration is so exciting is that it is a tangible manifestation of more than two years of collective effort by industry to operationalize the Standard Power and AFC framework that was initially laid out by the US FCC when it was the first regulator in the world to authorize 6 GHz unlicensed in April 2020. While the FCC's LPI rules were all that was needed for the Wi-Fi industry to bring products to market almost immediately, the FCC charged industry stakeholders with working through some of the finer details on Standard Power and AFC operation and with developing the specifications and standards needed to operationalize the framework the FCC had laid out.
The Wi-Fi Alliance and the Wireless Innovation Forum (WInnForum) have been the two leading industry organizations to take up that work, with ongoing liaison exchanges to coordinate their efforts. The Aruba/Federated AFC demonstration with CITC was the first time that a number of the work products of these organizations had been publicly tested. Members of Aruba's CTO team have invested countless hours in these industry efforts, and we have been honored to lead/co-lead a number of them. It is very satisfying to witness the fruit of those efforts as they were demonstrated in Riyadh.
The success of the event was a direct result of the longstanding collaboration between Aruba and Federated Wireless. Since the companies formed our partnership in October 2021, our engineering, product management, standards development, and regulatory teams have established tight working relationships that allow us to quickly respond to opportunities such as this with a comprehensive AFC + Standard Power solution.
As you might expect, we are also hard at work to ensure that Aruba's innovations in Wi-Fi RAN technology are closely integrated with innovations that Federated is developing in the areas of spectrum coordination, propagation modeling, incumbent data management, etc. We're grateful that the Wi-Fi Alliance included a VendorExtension object in the AFC SDI protocol specification that will allow Aruba and Federated to develop new and exciting enhancements for Standard Power operations as we anticipate and respond to our customers' future use cases.
"We were thrilled to join CITC and Aruba in the first live demonstration of AFC-enabled Wi-Fi 6E AP standard power operation. The demo achieved an order-of-magnitude AP coverage and capacity increase while our AFC guaranteed protection of CITC-provided 6 GHz incumbents," said Sam MacMullan, Chief Spectrum Architect at Federated Wireless. "This groundbreaking event was the culmination of our close collaboration with Aruba to provide a quick path to market for AFC-based equipment anywhere in the world and CITC's leadership promoting the automation of data-driven dynamic spectrum sharing solutions."
The demo also clearly demonstrates the years of effort Aruba engineers have put into our range of 6 GHz solutions. We were proud to introduce the world's first enterprise Wi-Fi 6E Access Point with the AP-635, and we are thrilled to be the first to demonstrate AFC coordination of 6E APs. These milestones would not have been reached without the amazing skills and dedication of our hardware and software engineers, both for the APs and Aruba Central. Of course, such a groundbreaking demonstration wouldn't have been possible without a broad team effort, with critical roles performed by the local Aruba team in Riyadh, the CTO Wireless Policy folks, product line management, and many others.
As I've talked about in a previous blog series, this successful end-to-end demonstration of AFC-coordinated Wi-Fi operations is ushering in a bold new era in Dynamic Spectrum Access (DSA) and advancing the state of the art in spectrum management. Aruba is honored to have been the Wi-Fi partner for this event, and we'll continue pushing the envelope going forward.
Read the following post which examines the global race to AFC and Standard Power.
Additional resources:
Technical Guide to Wi-Fi 6E and the 6 GHz Band
Aruba 650 Series Wi-Fi 6E Access Points
[1] CITC made all 1200 MHz available for the Federated AFC to consider for Standard Power availability, while Standard Power in the United States will be limited to 850 MHz {UNII-5 and UNII-7} and in Canada Standard Power may operate in 950 MHz {5925-6875 MHz}