Why is 6 GHz (also known as Wi-Fi 6E) such a big deal for Europe? Let's take a look.
The figure below provides an historical overview of spectrum allocation in Europe: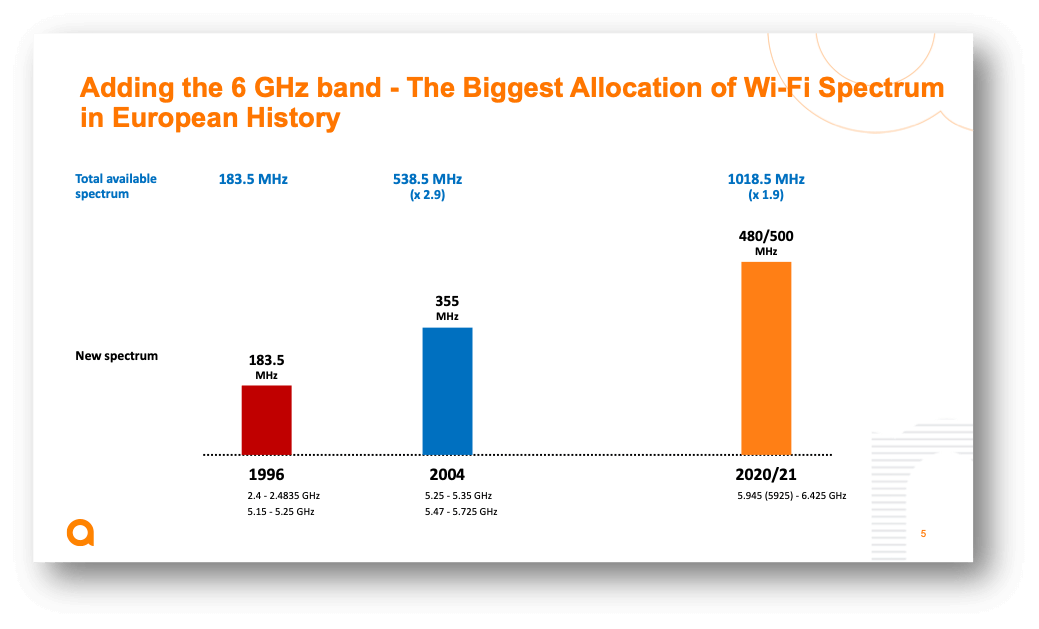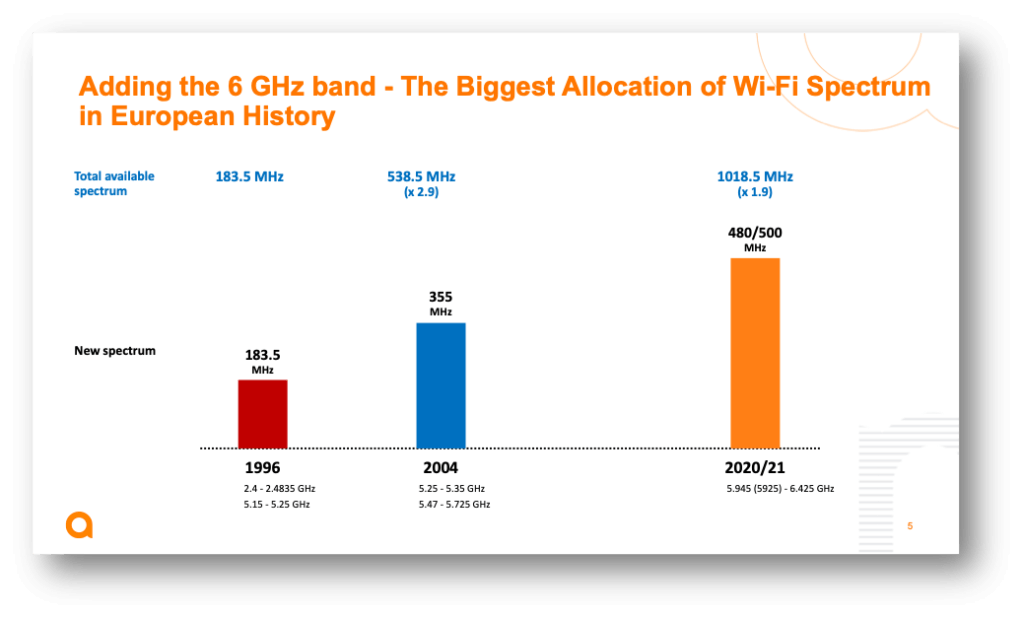 This new 6 GHz spectrum will drive additional innovation and use models. It's really great to see that the European Radio Regulation environment has made so much progress. An important note is that most non-EU countries are also part of the European regulation organization, known as the CEPT (European Conference of Postal and Telecommunications Administrations). This will guarantee a uniform or "harmonized" European spectrum regulation.
Below is an overview of all the CEPT countries:
I have been getting a lot of questions around Wi-Fi 6E in the past few month. As a reminder: Wi-Fi 6E is the trade name used by the Wi-Fi Alliance to identify products based on IEEE 802.11ax technology.
Below are the most common frequently asked questions around Wi-Fi 6E in the EU:
What are use cases for Wi-Fi 6E?
So many different devices and services are using the Wi-Fi network that this new allocated spectrum is really needed to meet the new requirements and use models. There is a wide variety of use cases like:
High density environments need more channels in order to provide new services

Airports, stadiums, buildings, event locations

City networks already made the shift towards 5 GHz but still quite dense to provide all new demanding services
Virtual/augmented reality (VR/AR)
Future IoT services
What is 6E and how is it different from Wi-Fi 6?
The current generation of Wi-Fi the industry refers to as Wi-Fi 6 (also known as 802.11ax), which operates on the congested 2.4 GHz and 5 GHz unlicensed bands. Wi-Fi 6 provides a lot of improvement and efficiency enhancement compared to the previous Wi-Fi 5 generation. For most organizations, Wi-Fi 6 will be a great fit.
When regulatory organizations across the world began assigning the 6 GHz band, Wi-Fi 6E was born. Therefore, a Wi-Fi 6E device is essentially a Wi-Fi 6 device that is capable of operating in the 6 GHz band. Wi-Fi 6E provides more adjacent spectrum to meet growing business demands, wider channels to deliver on the promise of 160 MHz, and zero interference from other electronic devices.


Does Europe have an own standard for Wi-Fi 6E?
Here, we have to distinguish between standards and regulations. Regulations define the technical conditions products have to fulfill to be allowed to operate in a certain band. The standard ensures that products put on the European market comply with these regulations.
In Europe, both regulations and standards are technology-neutral, meaning that manufacturers can use any technology in their products as long as the rules are followed.Europe will have its own standard (ETSI EN 303 687), which currently is under development. Europe also has its own regulation, which is different from that in the United States, mainly with respect to the amount of spectrum that has been assigned. The US has opened up the full 1200 MHz spectrum (5925-7125 MHz) for unlicensed systems. In Europe, so far, only the lower 500 MHz (480 MHz) have been opened up. See figure below:
The above figure shows that there is an agreement for Europe to allocate the band 5945 – 6425 MHz for Wi-Fi. Even though this is not the complete 6 GHz band, it still provides a lot of additional spectrum to use. However, to harmonize regulations globally and benefit from economies of scale and to accommodate future capacity needs, the Wi-Fi industry is working with regulators in Europe to open up the 6425 – 7125 MHz band, as well.
Within Europe, the UK and Denmark deviate slightly from the European agreement. The UK will allow slightly higher transmit power and have a little more spectrum to use (5925 – 6425 MHz). The following figure provides an overview:
Denmark will have a little less spectrum (5975 - 6425 MHz), at least initially, because of the Copenhagen metro which currently uses the band up to 5975 MHz for communication-based train control systems (CBTC).
Are there any restrictions to protect the incumbent users?
There is no restriction like you have with Dynamic Frequency Selection (DFS) in the 5 GHz band. Within the Europe 6 GHz regulation, there are defined two device classes:
Low Power Indoor (LPI)

Max transmission power is 200mW/23dBm EIRP
Device can only be used indoors
AP must be powered via cable (AC/DC or PoE), battery is not allowed
Client device is allowed to be battery powered

Very Low Power (VLP)

Max transmission power is 25mW/14dBm EIRP
Device can be used indoor and outdoor
No fixed installations focused on mobile/portable, more targeted toward AR/VR types of devices
In the UK the requirements for the two device classes are different:
Low Power Indoor (LPI)

Max transmission power is 250mW/24dBm EIRP
Devices may only be used within a building, onboard an aircraft or in any other enclosed space with attenuation characteristics at least as strong as those of either a building or an aircraft.

Very Low Power (VLP)

Indoor: Max transmission power is 250mW/24dBm EIRP
Outdoor: Max transmission power is 25mW/14dBm EIRP
Device can be used indoor and outdoor
Restriction to mobile/portable only use not explicitly stated
See figure below for summary overview: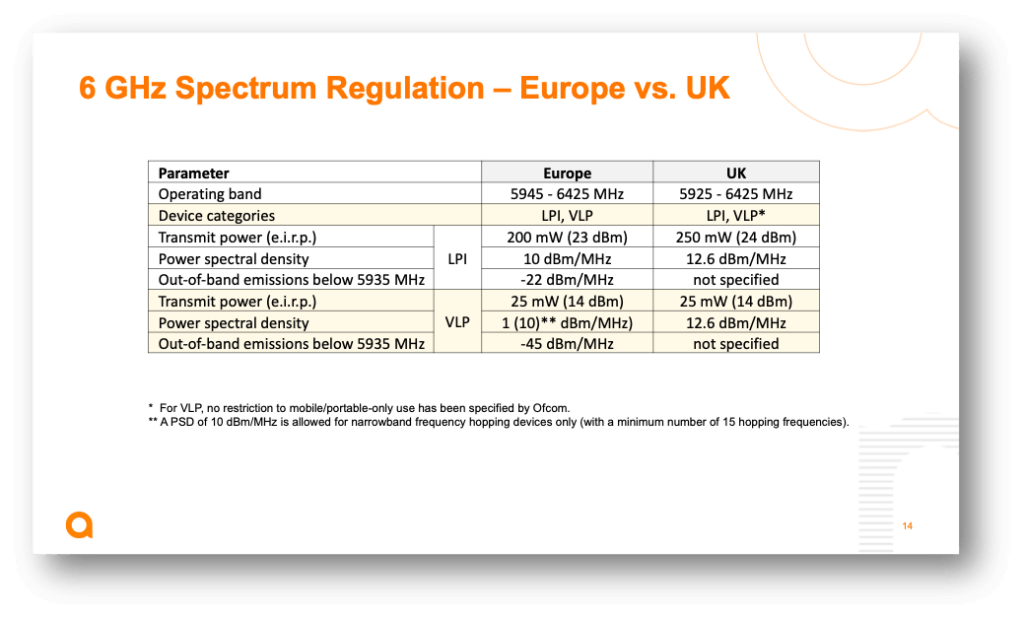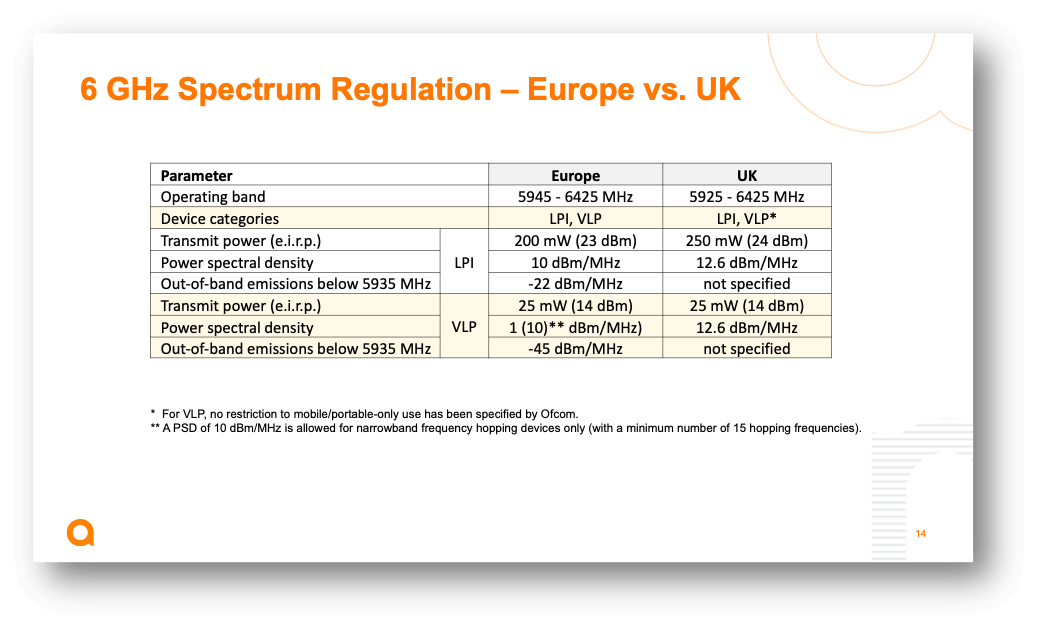 What is the status of 6 GHz-enabled devices?
Before devices can leverage the 6 GHz spectrum, it's important that chipsets supporting this band are be available. Thus far they include:
In addition, some higher-end or gaming phones are hitting the market with Wi-Fi 6E support:
In early January 2021, the Wi-Fi Alliance launched their certification program for Wi-Fi 6E and maintains a list of 6E enabled products. This means that Wi-Fi 6E is now ready for mass market adoption.
How does Aruba work with regulatory and standard bodies?
It's important that the Wi-Fi industry in general is allowed to use this additional spectrum. As Aruba, we are involved with other leading companies in the Wi-Fi industry and all the regulatory organizations across the world to do research and innovate on new standards to support the Wi-Fi industry.
What are the next steps for Aruba regarding spectrum in Europe?
First of all, it's great that we can use this additional spectrum in Europe. But it's important that in Europe we can also use the additional 480/500 MHz to fully leverage the entire 1200 MHz band (like the US regulation). To achieve this, we and our industry partners keep working with regulatory bodies to get approval for additional spectrum.
What does it mean for my organization today?
Many enterprises are upgrading their Wi-Fi infrastructure today to take advantage of existing capabilities within Wi-Fi 6. Features such as OFDMA and MU-MIMO provide greater multi-user efficiencies, Target Wake Time improves battery life for IoT devices, and WPA3 and Enhanced Open strengthen Wi-Fi security. These capabilities are available today and can be used with a wide range of Wi-Fi 6 enabled devices.
As a best practice, companies in the EU will also plan for the future with Wi-Fi 6E to take advantage of the additional spectrum once more Wi-Fi 6E-enabled devices become widely available. We at Aruba will continue to advocate for and innovate and develop products that will support 6E for Europe and for the global market.