What is Mobile Wayfinding?
Location, location, location. This doesn't only apply to real estate. This is becoming more and more important for healthcare industry businesses, such as hospitals. Mobile wayfinding and location services are at the forefront of importance because of the wide range of solutions they can provide. All of this can be done wirelessly, with a streamlined setup process and configuration.
Most of the location service networks controlling these functions utilize a network of either dedicated Bluetooth beacons or access points with Bluetooth capabilities that are built in. This process uses Bluetooth radios to locate Bluetooth capable devices without the need to "pair" like traditional Bluetooth usage. This makes it quick and easy to use for the network operators and users alike.
Tracking Your Healthcare Devices
When it comes to healthcare devices, inventory control and product support are very difficult things to manage. For example, a user put in a support ticket that a portable X-Ray machine was malfunctioning and needed maintenance. The problem with these types of devices is how mobile they are and how often they are used. The technician from the manufacturer showed up on-site to perform the maintenance and couldn't find the device in question. That is where this type of asset tracking comes in handy. Aruba location services have a solution that includes mounting a Bluetooth asset tag to each device. This way, these highly regulated medical devices can be still be tracked using Bluetooth. With Aruba location services, you can quickly track your tagged assets on a digital floor map for example and find exactly where the device you need is located in real time.
Providing a Better User Experience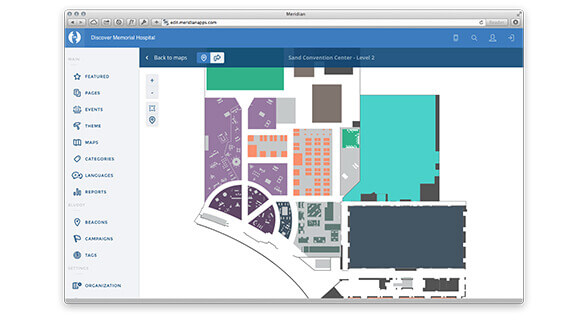 Users within a healthcare environment also present an opportunity for hospitals to use mobile wayfinding. There are a few commonly used applications that are very beneficial for all parties involved. Mobile apps, such as those made on Aruba's Meridian Mobile App platform, allow users to find their current location and get directions to where they need to go on a map. Imagine you are in a hospital and cannot find your new doctor's office. Mobile applications using mobile wayfinding can guide your requested location so you don't miss your appointment.
The benefits are not only for users themselves either. The business itself can have its own benefits surrounding the user experience too. By anonymously tracking devices through their buildings with location services, businesses can track where users are going and when. For instance, this knowledge can be used send a wide range of alerts, from a welcome to users when they walk through the front door to a special offer for the coffee shop when they walk nearby. Additionally, you can put together historical data, such as the highest foot traffic areas, to determine where to place advertising or assign more security guards. All of this is made possible by using location services.