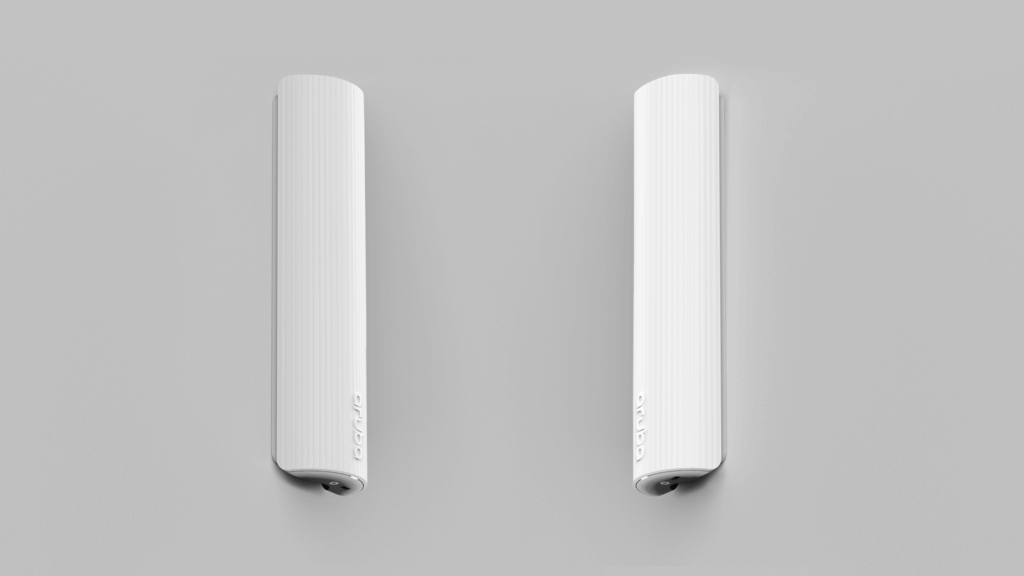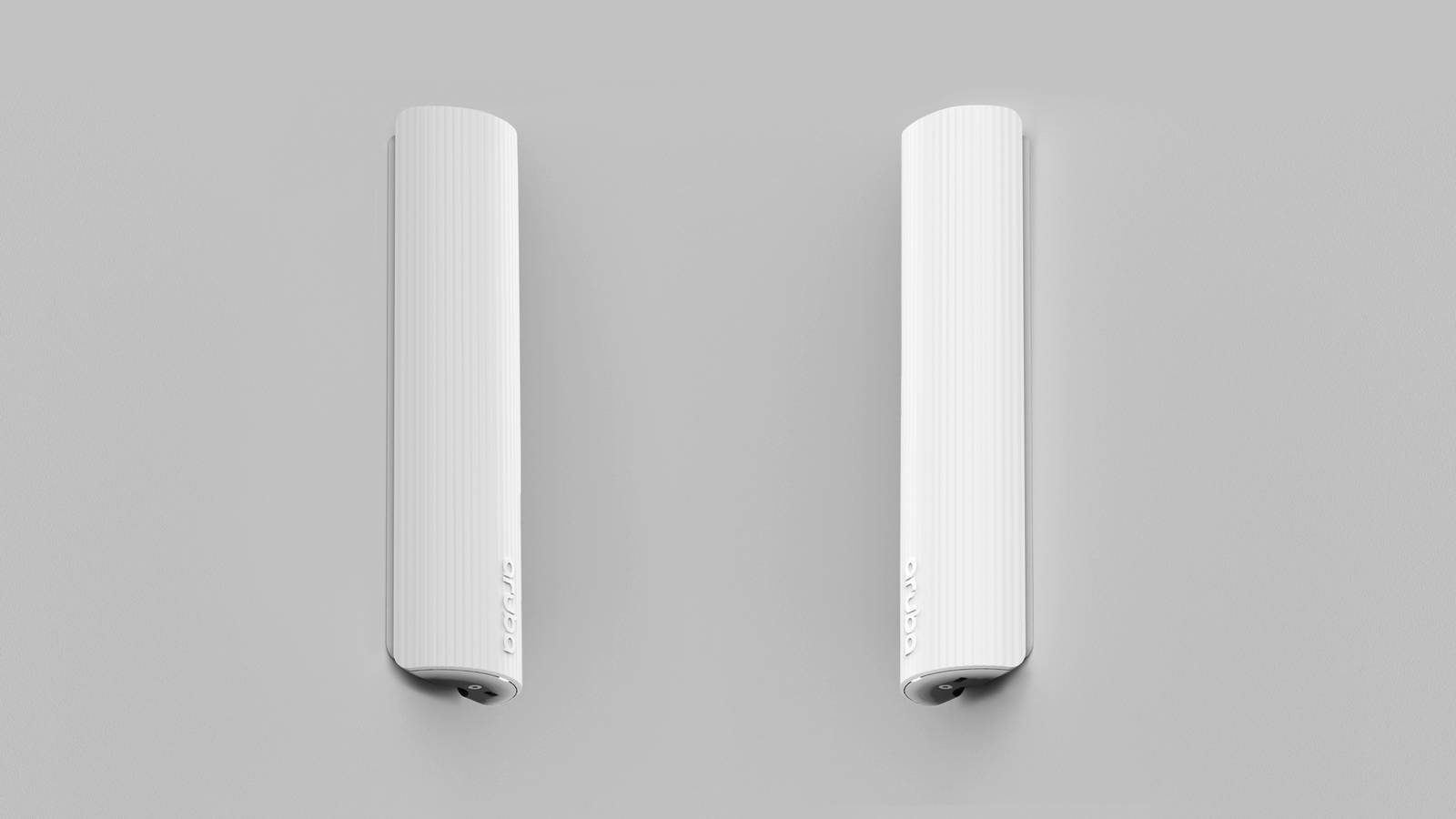 The new G-Series reimagines Aruba UXI sensor design. These sensors are even easier to install, onboard and use—in even more environments than before.
Two variants and new mounting options make it easier than ever to install sensors in any branch, campus, or industrial facility.
The distinctive new "column" design blends into any environment.
The new Aruba UXI app uses cryptography to enable true zero-touch deployment even for sensors without cellular or Ethernet connectivity: simply log in, and the app takes care of the rest.
Both sensors are now available for ordering worldwide (apart from in China, which will follow later this year). UXI sensors are vendor neutral and work with any Wi-Fi and Ethernet network infrastructure.
Read on for more about the new Aruba UXI G-Series sensors.
What are UXI sensors?
UXI sensors are client devices; they measure performance of business-critical applications as well as wireless and wired network services, from the end-user's perspective. That performance data is analyzed and displayed on UXI's easy-to-use cloud dashboard.
If you have used UXI's existing sensors, now renamed the UX-F5C, the new sensors' core capabilities will be familiar to you:
Dual-band, dual-stream 802.11ac Wi-Fi
Gigabit Ethernet 10/100/1000 and 802.3af PoE
Full Linux distribution running UXI's proprietary firmware and software, including features like dynamic packet capture and headless web browser for application testing
Quick (adhesive-based) and secure mounting options included
Hardened, end-to-end security, verified by third party penetration testing
During the last 12 months, with minimal fanfare, the number of active UXI sensors has grown almost 10X.
As a team, we took a step back to think about how to double down on two of the things our customers love about UXI sensors—ease of installation and simplicity of use—and introduce sensors with those attributes to even more customers.
We aimed to design sensors that are even easier to install and use in even more kinds of customer environments.
New "architectural" form factor
Everyone knows what a Wi-Fi access point looks like. We asked ourselves: what should a sensor look like?
Our customers install sensors alongside where people work, learn, and carry out their day-to-day lives. We want our sensors to be respectful co-inhabitants of those spaces.
We turned to timeless architecture for inspiration.
The G-Series "column" design is both a radical departure from typical networking products, and a familiar shape that fades into the background in virtually any space.
Its inconspicuous status LED, recessed in the sensor's chin, glows a subtle white when online. The new design is more than 20% smaller than the previous F-Series, in both volume and footprint area.
The understated vertical ridges add character to the design, softening the distinctive shape and hinting at the activity inside.
Two variants
UX-G5C (SKU R3S69A) is our new flagship sensor. It includes:
Fully managed global cellular connectivity for zero touch onboarding and out-of-band communication
Last-gasp power backup to distinguish between power issues and network issues
Universal AC power supply with 8 adapter plugs for global compatibility
We recommend that the UX-G5C be the first sensor customers install at any site. The cellular connectivity and included power supply means installation is fast and doesn't need expensive Ethernet cabling. Once installed, IT staff can use the cellular connectivity to troubleshoot user experience issues remotely, even if there is a WAN outage.
UX-G5E (SKU R3R67A) is ideal for densifying campus deployments where Ethernet ports are available.
Each sensor variant is now one global SKU, meaning that sensors ordered in Australia can be shipped to Zambia, or anywhere else, making it easy to order sensors for worldwide deployments.
Each sensor also comes standard with a 1 year warranty, up from 90 days.
More installation options
The G-Series form factor offers more installation options than ever before.
Desk mount: Four extra-long, high-grip rubber feet keep the sensor stable on tables and desks.
Quick install: 3M Command Strip adhesives (included) enable rapid, non-destructive mounting on walls and other vertical surfaces.
Standard install: Screws and anchors are included for a standard, secure wall installation.
Junction box: The width of the sensor and the screw holes in the mounting plate are designed to fit exactly onto common junction boxes.
Rail mount: An optional mount kit accessory provides adapters for a wide variety of rail mounts, including Wi-Fi stands commonly used at events.
K-Slot: A Kensington lock slot offers additional security for temporary or permanent installs.
Zero touch deployment
When first powered on, the new UX-G5C, like the UX-F5C before it, automatically connects via cellular or Ethernet to the UXI cloud in order to download configuration settings.
We challenged ourselves to provide a similar experience for the UX-G5E, which doesn't have a cellular connection. And in fact it may not have any connectivity to the outside world at all. How could we deliver the same zero touch deployment experience, if a sensor has no connectivity?
The solution is the light-weight Aruba UXI app (available on iOS, coming soon on Android). Users log in to the app, and then... well, they don't need to do anything else. The app automatically "jump starts" any nearby sensors without connectivity, typically in less than one minute.
The app can communicate with multiple sensors simultaneously, and doesn't use Bluetooth pairing, which requires user interaction and can be frustrating.
In short, the app:
Finds sensors nearby which are unable to connect to the UXI cloud via Wi-Fi, Ethernet, or cellular
Connects via Bluetooth and authenticates each sensor using unique encryption keys set during manufacturing
Downloads encrypted config settings from the UXI cloud to each sensor, with each message encrypted end-to-end.
The result is a fast, secure, and error-resistant onboarding process. It feels a bit like magic the first time you try it.
Comparison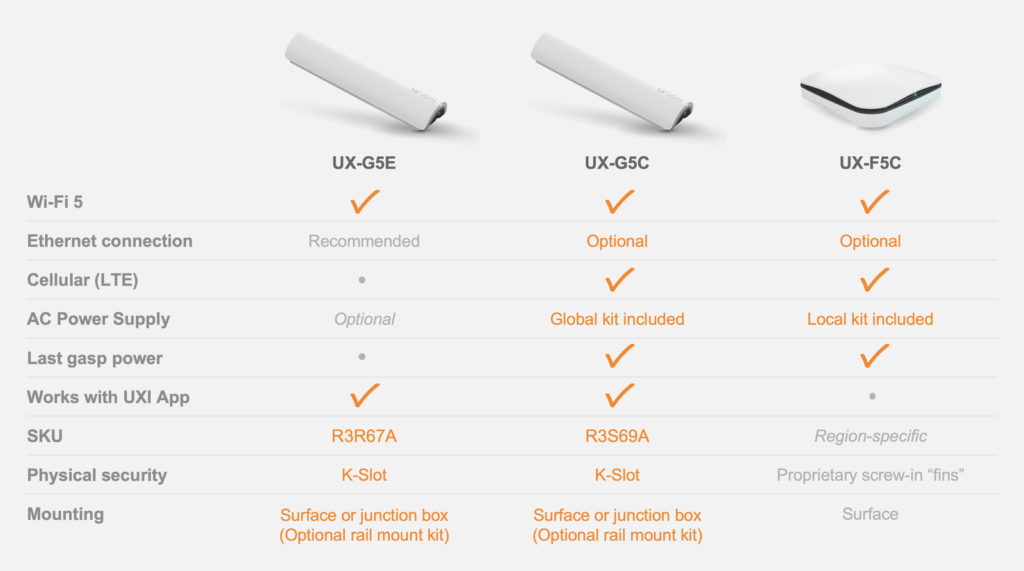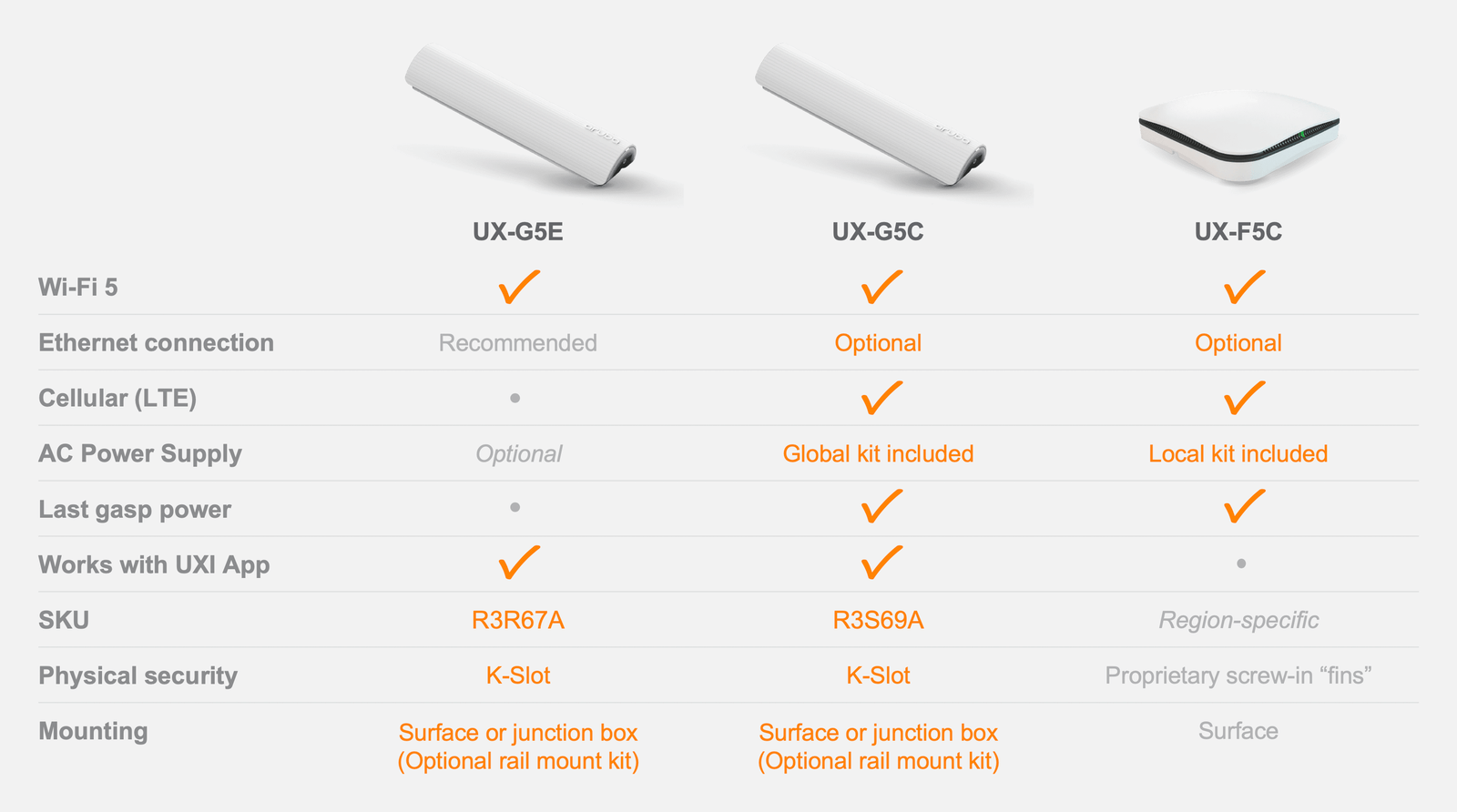 Detailed technical specs are available in our online sensor guide.
Sensors for every environment
The Aruba UXI G-Series is a reimagining of what sensors should look like and how they should work.
G-Series sensors are easier to install and use, in more environments, thanks to:
The distinctive new "column" design
Two variants, offering more flexibility
More installation options
Zero touch deployment, enabled via cellular, Ethernet, or the innovative Aruba UXI app
We can't wait for you to try the new G-Series sensors. Contact your Aruba sales rep or partner for more.
A word of thanks
Multiple teams at Aruba and our partners spent tens of thousands of hours designing and building these new sensors. A single post doesn't do justice to their tremendous care and effort.
Some of my favorite details are ones nobody will notice until they need them—or will hopefully seem so natural and frictionless that they go unnoticed: The calibration of LED colors, the just-so position of the K-slot, the serial number's location on the label—visible without removing the mounting plate.
If you'd like a rare peek behind the scenes, we're planning on revealing some more information about our design process and the thinking that goes into designing new products like the UX-G5C and UX-G5E.