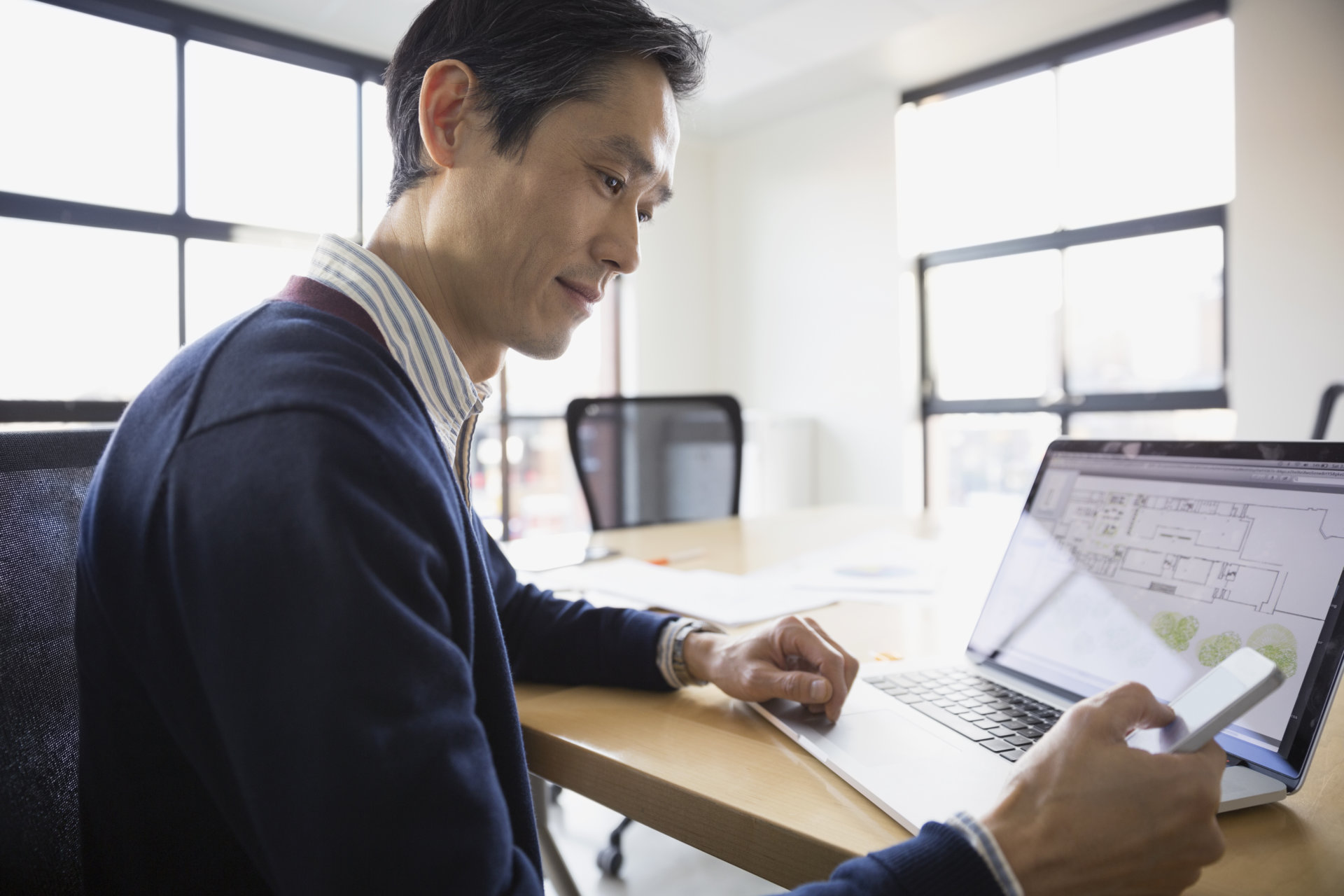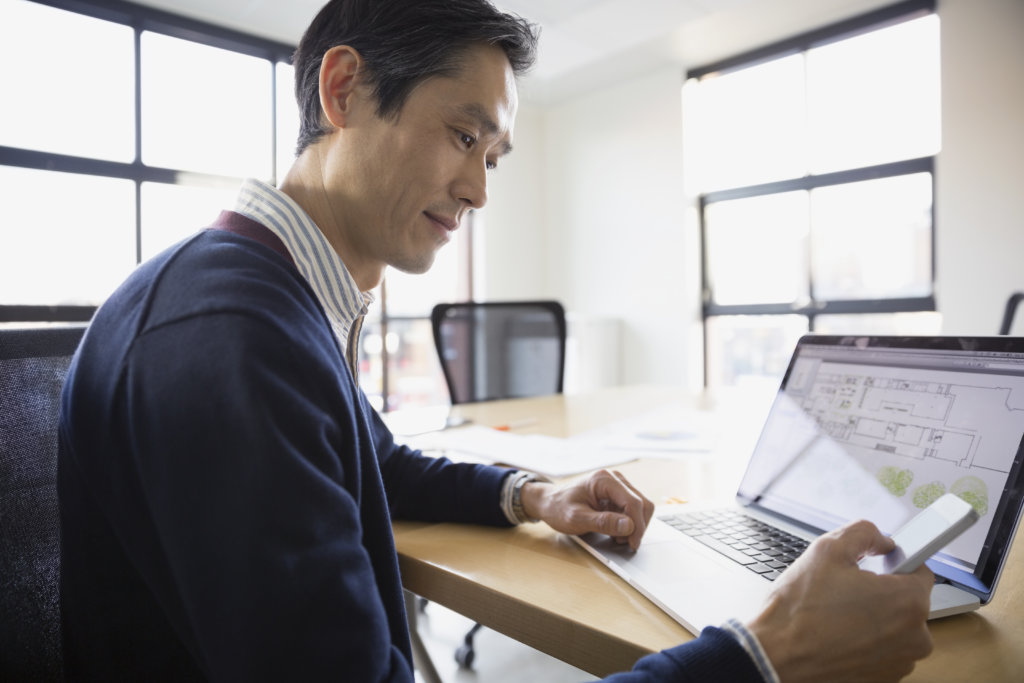 In my previous article, "Cutting the Cable? Where to Start?", I introduced a series of questions that need answers when you begin the design phase of your wireless build-out. If you've answered those questions and other design questions, broken out your Visio templates and drawn your architecture, and have used some tools (or outsourced) a heat map study, you're probably ready to start looking at device needs.
To provide some context for this discussion, let's consider a basic office building found around the world. It's a four-building campus, each building is three stories (32,000 square feet per floor), using tilt-wall construction, concrete flooring and sheetrock offices. Bluetooth Low Energy (BLE) support isn't required but could be a nice service for the business at a later date. The offices are interior to the building, and cubes line the outside of the "rectangle".
You can plan on 110 to 120 users per floor with corporate laptops, smartphones and tablets plus guest users. There's even some talk about BYOD, but that's a mystery! You plan eight wireless APs per floor to cover the square footage. The users love mobility and expect the softphones will work flawlessly on wired or wireless connections. Not overly aggressive, but, certainly a larger campus with some clear requirements that could be challenging.
One Ring to Rule Them All
These requirements necessitate a Wi-Fi controller architecture unless you really want to manage the hundreds of wireless APs needed to support this campus individually. With the Aruba product line, you'll be looking at three different models to support your needs. If your organization separates areas of responsibility between the network and server teams, there are two choices: Aruba 7000 and 7200 Series Mobility Controllers. You actually have a third choice, but more on that in a second.
The 7200 is the big brother to the 7000. The maximum amount of wireless APs supported and maximum network throughput and firewall throughput available are differentiators. For this campus we'll need to support at least 96 access points, which means the 7000 series controllers are not a good option; unless you want to put a 7024 or 7030 series, which support 32 and 64 wireless APs, respectively, in each building. The 700 series architecture certainly increases your management footprint and gives you no real added benefit. Well, maybe one benefit: Your failure domain is spread out among four controllers, assuming you've made no concession for high availability. The AP count settles on the 7200 series for a hardware-based solution.
You have an option to use the Aruba Mobility Controller Virtual Appliance (VMC). If the technology teams have little desire to manage additional hardware appliances and you are keen on virtualization, this may be a great option for your environment. The Aruba VMC runs ArubaOS just like the other controllers but is installed on hypervisors like VMware ESX. The maximum AP count lands at 1,000 with 16,000 clients supported. VMC definitely fits within our requirements. Make sure to determine your investment and growth projections of your virtual environment if you aren't sure on the appliance vs. virtual ArubaOS decision. You also need to accurately project your AP and user growth before a decision is made.
Aruba VMC and appliance implementations carry the same features with some slight deviations. The appliance is a bit more feature-rich with capabilities like third-party firewall support and zero-touch-provisioning. In fact, if in your needs assessment you discovered that your security posture could benefit from installing a firewall at the wireless edge, the appliance model is the way to go. The VMC uses a built-in stateful firewall that leverages Aruba ClearPass. The appliance model can support firewall integration with Palo Alto and Check Point via REST API. If these are running in your environment, you can get tighter integration within the wireless and security networks. Is NetDevOps in your future?
Catching Waves
Now that you can control your wireless APs, it is time to determine how to catch the RF waves from your clients. In these modern times, whether you have it on your wireless network or not, future proof your investment by spec'ing wireless APs that support 802.11ax (Wi-Fi 6). In our example, if the department budget allows, you should support 802.11ax so don't cut off your nose to spite your face. If you are fiscally constrained, consider 802.11ax support in targeted locations like outside conference rooms and engineering spaces. These would be more likely to be areas for early adoption of Wi-Fi 6 technology.
The Aruba 500 series wireless APs support 802.11ax with high data rates (up to nearly 6 Gbps in the 550 series) whereas the 300 series would be a great choice for general office space. Considering your floor plan, let us compare the features of the 500 and 300 series access points. This will help you determine where to best place devices to meet your customer's expectations.
The three options for this floorplan are the 340, 510  and 550 series access points, listed here. If we look at two significant factors for our standard-office environment—concurrent users and bandwidth—any of these three options would fit the bill. The 340, 510, and 550 can do 256, 512, and 1024 users with 2.2Gbps, 2.97Gbps and 5.95Gbps respectively. There is one other item to consider, which is what Aruba labels as "practical maximum client count indication (per radio)." This value is less than the maximum supported. The max number will never be practical due to the nature of end-user traffic. "Maximum" should really say, "We can support this number, but you should expect a lot of service desk tickets for poor performance."
I can appreciate knowing what the upper limit is, and really appreciate knowing what is feasible. If you review the practical limits of the 340 series, you'll see that the number drops from the max 256 to 100 concurrent users. Since we are spec'ing eight wireless APs per floor, we should never hit this effective limit unless all but one AP fails. You would have a larger problem on your hands if that happened, but you still may not oversubscribe the one 340 series you have left. Wireless devices' NICs may still connect to an AP on a floor above or below them and that spreads the load. In our scenario, if budgeting is an issue, you may save a few dollars going the 340 route and then replace a handful of APs in support of Wi-Fi 6 at a later date.
Parting Thoughts
We've barely scratched the surface on the Aruba product line and how it relates to your design needs. My big desire for this article is that you begin to see the design considerations, logic within the solution selection, and how to evaluate a product spec sheet. Ultimately, this helps make your wireless implementation a success. You have to think user counts in an area, what applications they use and the devices to best support them. Then consider the best device to meet that need plus ease your daily burden as you support your customer. If we do our job correctly, a user really shouldn't be able to tell the difference between a wired or wireless connection.
Get more design advice
Cutting the Cable? Where to Start?
Read My Other Blogs
Cutting the Cable: Where Do You Start?
Wireless Design: Turn up the Heat(map)
Voice over Wi-Fi Doesn't Have to Be Trouble
Understanding Wi-Fi Authentication
Guests Need Access Too, Ya'know