We will publish a series of blogs covering all aspects of 5G technology and how it relates to Wi-Fi.  This first installment talks about how Wi-Fi 6 prepares the path for 5G adoption.
The 5G rollout is advancing along two independent, parallel fronts: an evolutionary development of the air interface, known as 5G NR ("New Radio"), and a fundamental reconceptualization of the core network architecture.  These two paths have been explicitly and rigorously decoupled from one another so that they may each proceed at their own pace of development and commercialization.  As part of this decoupling, interfaces to the 5G core network have been defined as agnostic to the underlying radio technologies and provisions are being made for an unprecedented level of native 3GPP (3rd Generation Partnership Project) support for Wi-Fi as a radio access technology.  It is our expectation that, at least in indoor enterprise environments, Wi-Fi will assume the additional role of becoming the principal on-ramp to the emerging 5G core network.
Wi-Fi 6 Delivers the First 5G Small Cells
The 5G NR path promises improvements in efficiency over LTE, with more flexible timeslot management, new channel coding schemes, more aggressive use of MIMO, and expansion into millimeter-wave bands.  These innovations share much with 802.11ax (Wi-Fi 6) and 802.11ay, which will deliver comparable performance, have more rigorously proven methods for sharing spectrum among overlapping networks, and maintain far simpler network and client device management.  Wi-Fi 6 will also likely reach the market well in advance of any wide-scale deployment of 5G NR.
Carrier ambitions to achieve their goals of creating a widely-accessible, low-latency gigabit edge will require massive densification of cell sites, indoor small cell deployment, and aggregation with unlicensed spectrum – hurdles that have long frustrated the cellular industry but are already characteristic of enterprise Wi-Fi deployments.  Rather than seeing 5G NR as displacing enterprise Wi-Fi, it is our view that parallel developments in the core network architecture will put Wi-Fi in a strong position to fulfill many of the underlying requirements driving the 5G vision.
Technology-Agnostic 5G Core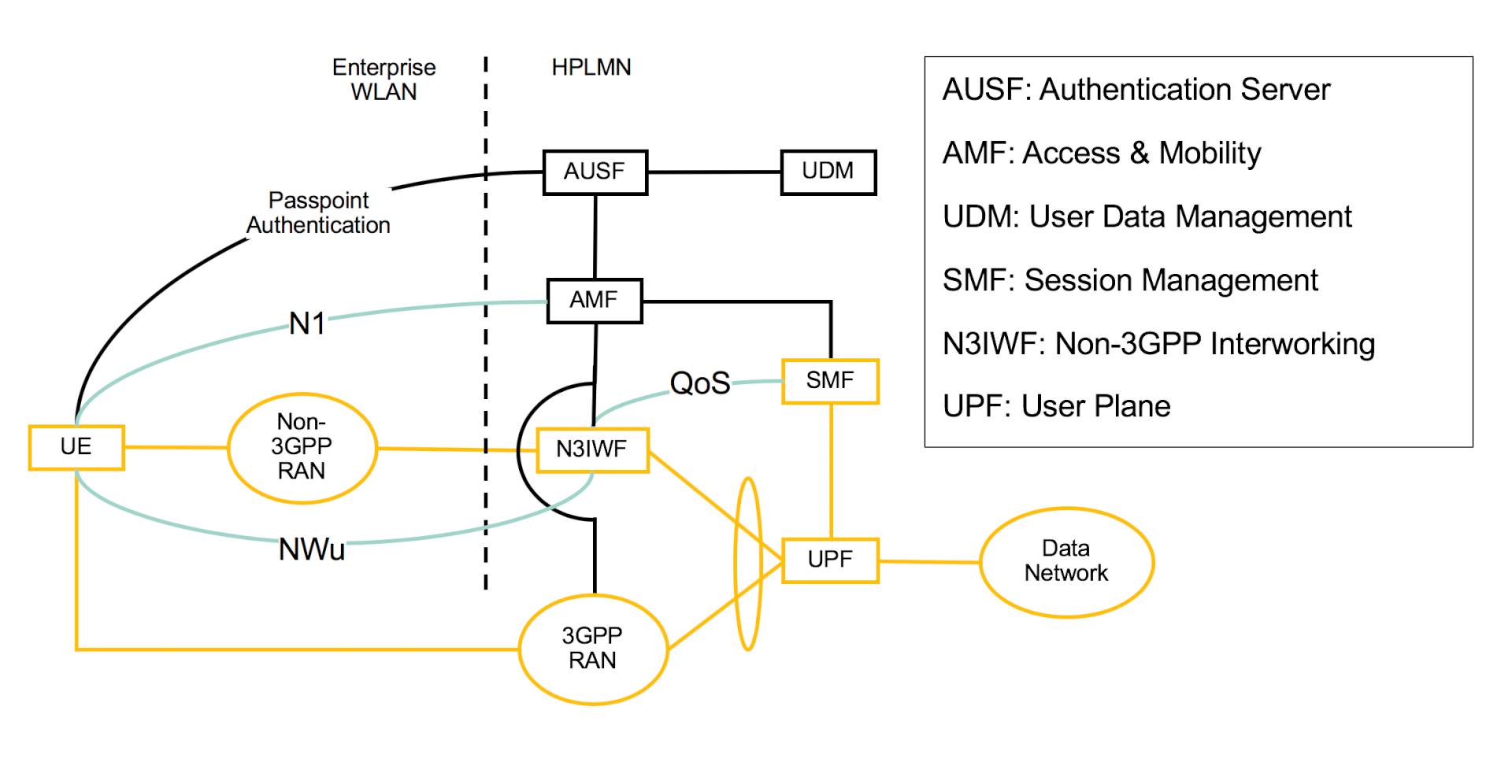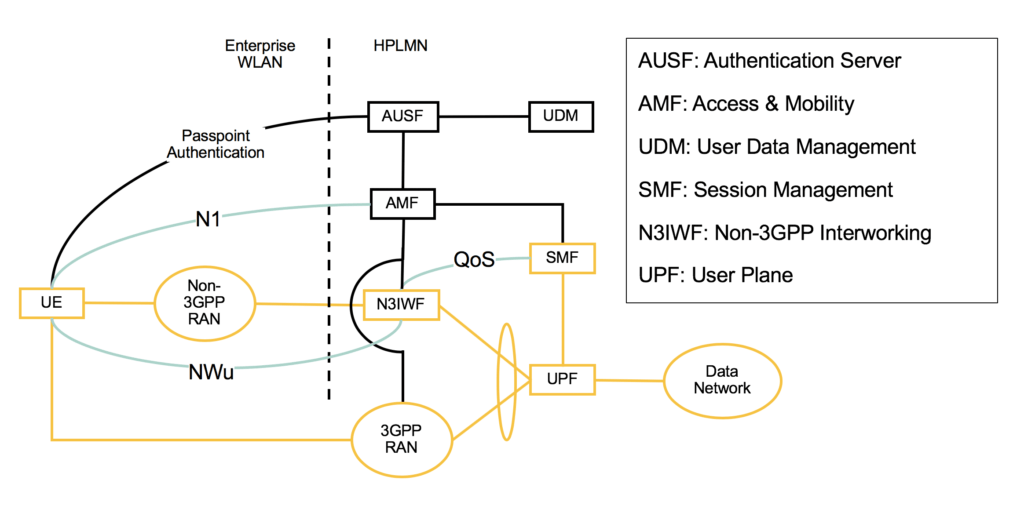 The 5G core network represents a more radical departure from the traditional layered architecture of communication networks. Virtualized network functions with service-based interfaces, network slicing, and a drive to bring data and compute resources closer to the network edge, promise vast improvements in network efficiency, scalability, and flexibility to customize services.  All of these advances will be available to any user on the 5G core network, regardless of what technology they may have used to connect.
In the past, the perceived drawbacks of Wi-Fi with respect to cellular radio networks have been network discovery, authentication, wide area mobility, control over the quality of service, and general awkwardness of integrating non-3GPP technologies.  Each of these is being addressed in the new 5G network architecture.  The current 3GPP Rel-15 specifications support network authentication of devices connected via Wi-Fi.  Standards such as PasspointTM, that are already in place, facilitate the use of 3GPP credentials for automatic authentication on Wi-Fi radio networks.  Future 5G releases will support mobility and aggregation by allowing Wi-Fi radio networks to exchange the same quality-of-service, resource loading and other neighbor cell information with the 5G core network as is commonly available from cellular radio networks.  And a study item on Access Traffic Steering, Switching, and Splitting (ATSSS) is well underway to address mobility and aggregation between Wi-Fi and cellular radio networks.
Wi-Fi 6 is the Best 5G Choice for the Enterprise
Enhancements to incumbent standards often win in the marketplace over replacement approaches.  Bearing in mind that Wi-Fi is already an inherently neutral host technology, and in light of the developments discussed above, it is our view that carriers will be motivated to work with our enterprise customers to leverage their investments in Wi-Fi as the most efficient means to extend coverage and deliver 5G services to their subscribers.
In the next blog, we will explore the commercial forces driving 5G, how these motivations map onto specific technology initiatives, and what this means for the future of Wi-Fi in the enterprise network.
For additional information on 5G: