When properly designed, three-wheeled vehicles can deliver superior handling, performance, and greater fuel efficiency compared to their four-wheeled counterparts and greater stability and safety than their 2 wheeled-counterparts.
However, not all designs are equal.  When improperly designed, three-wheeled vehicles can be tragic.  Take the Reliant Robin for example. A three-wheeled design catastrophe only a mother could love.  Watch the Reliant Robin in action.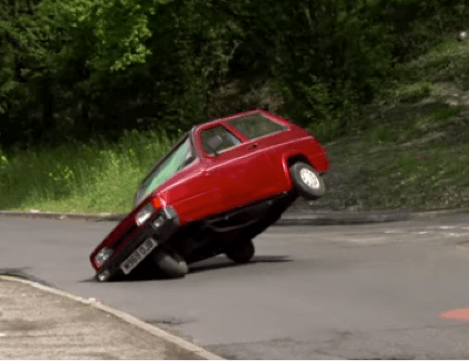 These same design principles also hold true for Access Points.  Like a car, an AP's performance is tied to how well the AP is designed and how well the underlying components work together to provide an output that is greater than the sum of its parts.
Aruba's AP-205 was purpose-built to bring the performance gains of 802.11ac at a cost-effective price point to high-density environments consisting predominately of single and dual-stream clients.

To validate the AP-205s design advantages in a high-density environment we decided to test it against Cisco's brand new AP-2700, which is a 3x4:3SS AP. When we tested Cisco's AP-3700, which boasts a 4th antenna, it didn't come close to matching the performance of Aruba's 3x3:3 AP-225.  We wondered if the AP-2700 had similar design flaws and would suffer the same fate as the AP-3700.
Multi-client TCP Throughput Test
In this sixty-client test, the Aruba AP-205 delivered 46% faster downstream throughput and 33% faster bidirectional throughput than Cisco's AP-2700.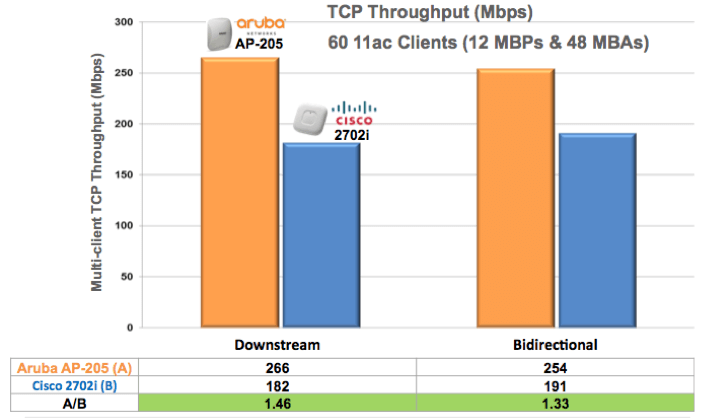 Small Packet Throughput Test (VoIP)
In this thirty-client test, we used packet sizes that are common in today's networks running VoIP and latency sensitive applications. The AP-205 delivered 4.3x more traffic with 256B packets and 2.8x with 512B packets than Cisco's AP-2700.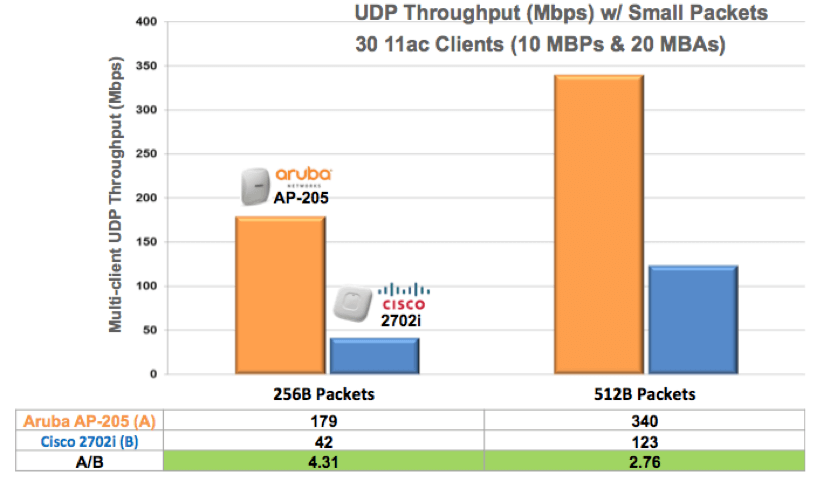 Multi-Client 3 Stream Throughput Test
To put the AP-205 to the ultimate test, we decided to test with only 3-stream clients. Remember, the AP-205 is a 2x2:2SS and the Cisco 2700 is a 3x4:3SS.  As you can see below, the AP-205 outperformed the AP-2700 by delivering 40% faster downstream throughput in a test that favored a :3SS AP.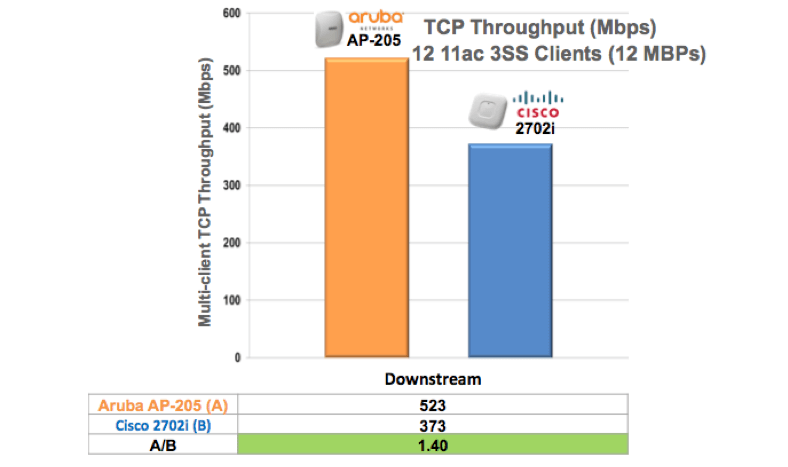 Multi-Client Throughput Test using PoE
One of the design elements of the AP-205 was to deliver full 11ac performance in dense environments with 802.3af power. As shown in the chart below, the AP-205 delivered 45% greater throughput than the AP-2700 and none of the clients were starved nor hogged the air. With the AP-2700, over half the clients were starved of airtime and got less than 2Mbps. One lucky client got 43Mbps, but this came at the expense of other clients.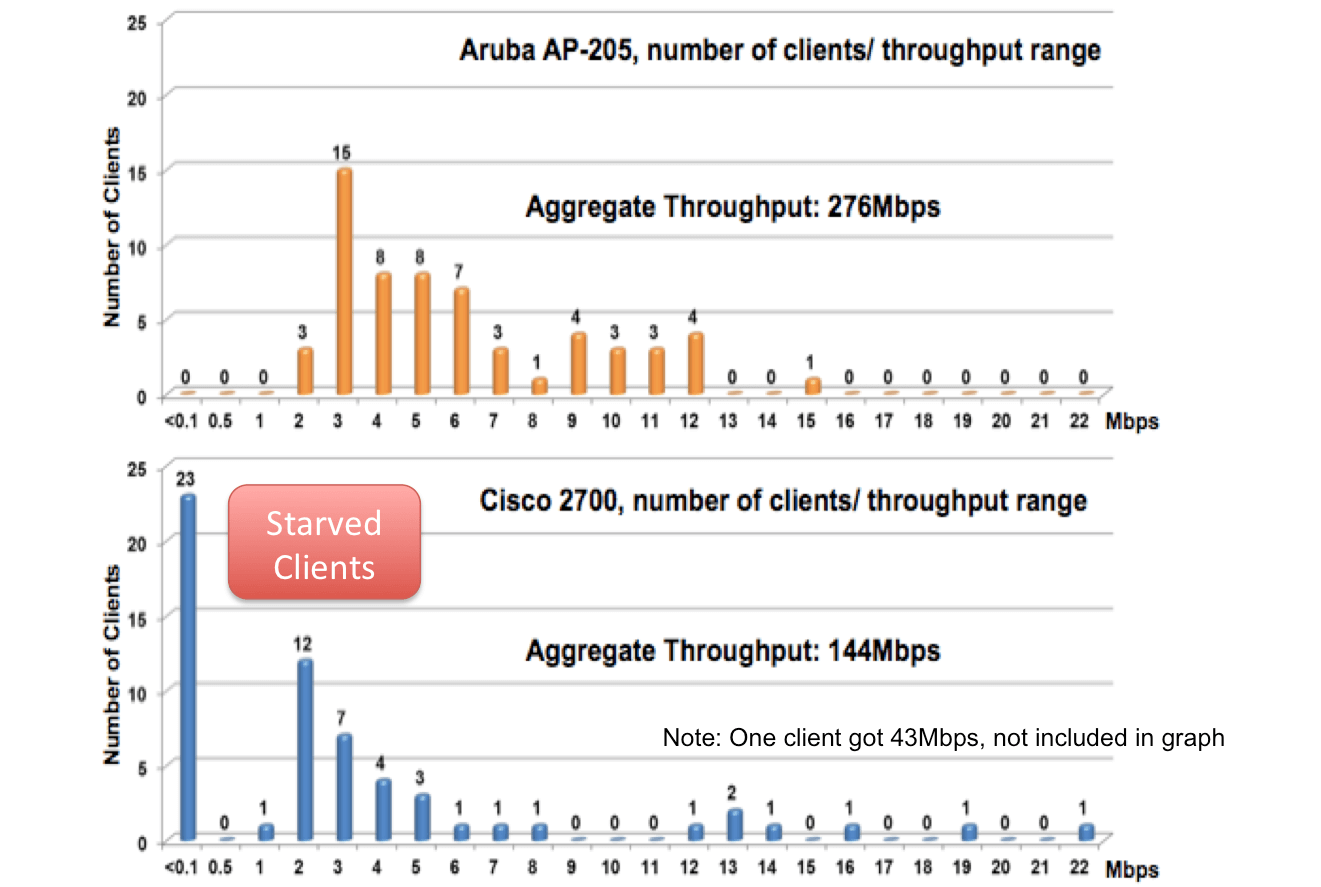 Performance is a function of product design and the underlying components. Adding a third-spatial stream to an AP is akin to adding a 3rd wheel to a vehicle. If it's not properly designed, it can lead to instability and poor performance, as evident in the AP-2700s test results.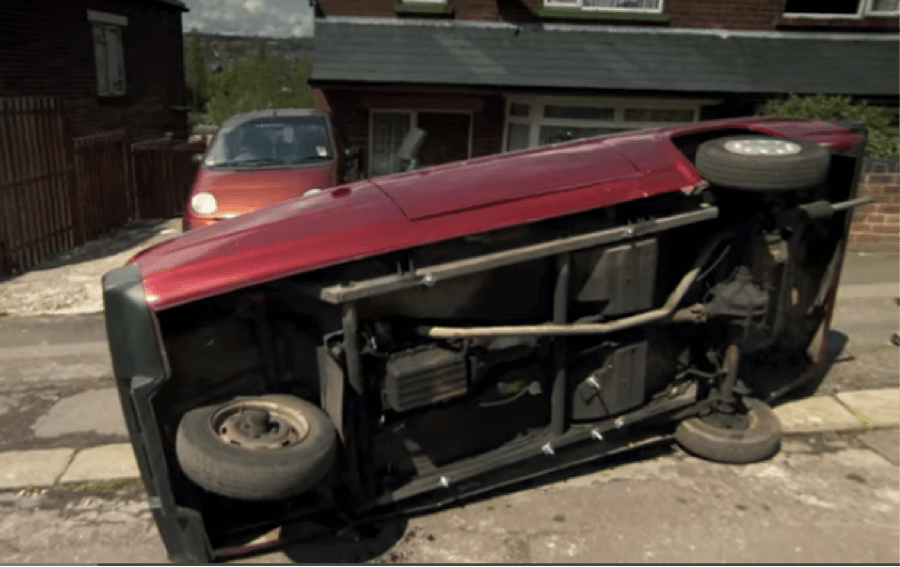 As you look to migrate to 802.11ac, be sure to take note of the devices on your network and don't be fooled by what's on the data sheet. Kick the11ac  tires and if you happen to be in the Bay Area, be sure to stop by 1344 Crossman and see for yourself how the AP-205 outperforms Cisco's AP-2700.
Test Bed Setup