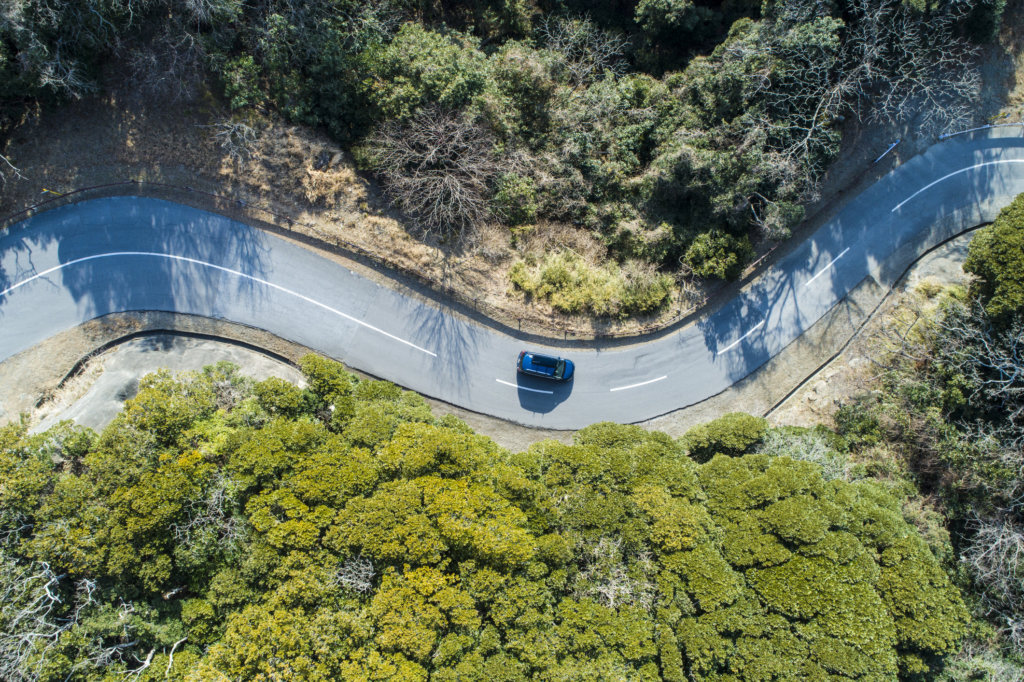 "It's the journey, not the destination" is a favorite saying of mine, and it speaks to Aruba's product strategy. Aruba has been—and is—on an ongoing portfolio journey that underscores our commitment to simplifying network operations.
Amazing user experiences are only possible by first simplifying life for the network team. In every organization "swivel-chair management" is a real problem, and it has been for decades. You see it in the network command center, which is rich in security, monitoring and management tools, but each only tells a slice of what is troubling the network.
From a dozen screens or more, network professionals can see alerts, graphs, charts and other signals that provide a clue as to how the network is performing. When a trouble ticket comes in, solving the problem requires swiveling from one screen to another to piece all the network information together. Turning to and from as many as a dozen tools to collect and solve network problems is dizzying and time-consuming.
Simplifying that painful process and collapsing a dozen screens to a more unified, manageable pane-of-glass view is integral to our continued journey.
When you consider the increasing number of mobile and IoT devices and sensors joining the network, the value of consistent network performance soars higher and higher. Network professionals need resources that make networks simpler to install and operate, easier to optimize and troubleshoot, and more secure. Those needs speak to the priorities designed and built in Aruba products.
Simplified: Our product portfolio is the definition of simplicity, as our solutions are engineered to reduce the burden of traditional time-consuming network operations. We constantly aim to simplify the daily provisioning, monitoring, management and control of devices and clients with features such as streamlined provisioning, intuitive operational workflows and enhanced device and client monitoring.
Optimized: By enhancing our solutions with AI and assurance, network professionals gain a helping hand with security and network optimization. In addition to AI, automated performance assurance identifies problems with detailed troubleshooting information that describes when, where and why a problem occurred and recommends a fix before users complain or business suffers. Together, AI and assurance maximize operator and user experiences and IoT security.
Secure: We offer a broad security portfolio that goes beyond firewalls. Aruba's enterprise network security solutions use AI to identify and adapt to threats, including using automatic device discovery that continuously profiles and categorizes devices and their respective threats. Behavior profiles are created for connected devices and traffic patterns, and then are monitored to reduce risks associated with latent attacks.
Cloud-Native Foundation with Management, AI, Assurance and Security
Our portfolio journey illustrates a map of thoughtfully acquired, built and methodically enhanced best-in-class technologies. Where competitors sometimes take a "buy and brand" approach to delivering solutions that at first glance appear to be integrated but in reality, are not, Aruba is true to its mission of building layers of innovation that deliver value to our customers. From there, we strategically and steadily bring together advanced technologies, such as AI, to enhance management, assurance and security to simplify network operations and simplify life.
Here's a snapshot of our innovations, acquisitions, increased integration, and improved network operations that has led to a proven portfolio that serves tens of thousands of satisfied customers.
Aruba Central, initially released in 2013, is a cloud-managed networking solution that delivers simple, cost-effective Wi-Fi, wired and SD-WAN management. Organizations rely on Aruba Central for provisioning, management, monitoring and value-added services such as guest Wi-Fi experience, connectivity health monitoring and SD-Branch and SD-WAN operations.
Aruba ClearPass Device Insight, a recent Aruba-developed solution, focuses on device-centric security, leveraging our underlying technology and AI-powered security domain expertise. ClearPass helps organizations create granular access policies, reduce security risks, and meet compliance regulations.
Aruba NetInsight, acquired in 2016, is a groundbreaking AI-powered solution with underlying machine learning. It enhances network operations by understanding an increasing number of performance metrics and problem root causes and sharing its learnings to improve network performance.
Aruba User Experience Insight, acquired in 2018, is a best-in-class assurance solution that enables proactive and rapid problem resolution on any network. It is network-independent and the vendor-agnostic sensors can be used by any organization including network service providers to understand the real-time status of network connectivity services.You can get a good overview of its features by reading "What is Assurance? Why do I need it? And why does it need to be independent from my network?"
When combined together, these time-tested solutions solve age-old network problems and deliver real value for scores of customers. The University of New Hampshire is an especially interesting example of the strength and power of our combined products.
Bringing It All Together
All these amazing technologies are now unified in Aruba Central or have a roadmap to be added soon. In unifying our portfolio into the Aruba Central Network Operations and Assurance platform, we are providing the only cloud-managed networking solution that seamlessly unifies network management with AI-powered network analytics, automation, user-centric assurance and IoT device security. Customers gain a single point of control for networks with any combination of Wi-Fi, wired and SD-WAN connections (see "Delivering Innovations to Drive the Next Wave of Intelligent Edge Adoption").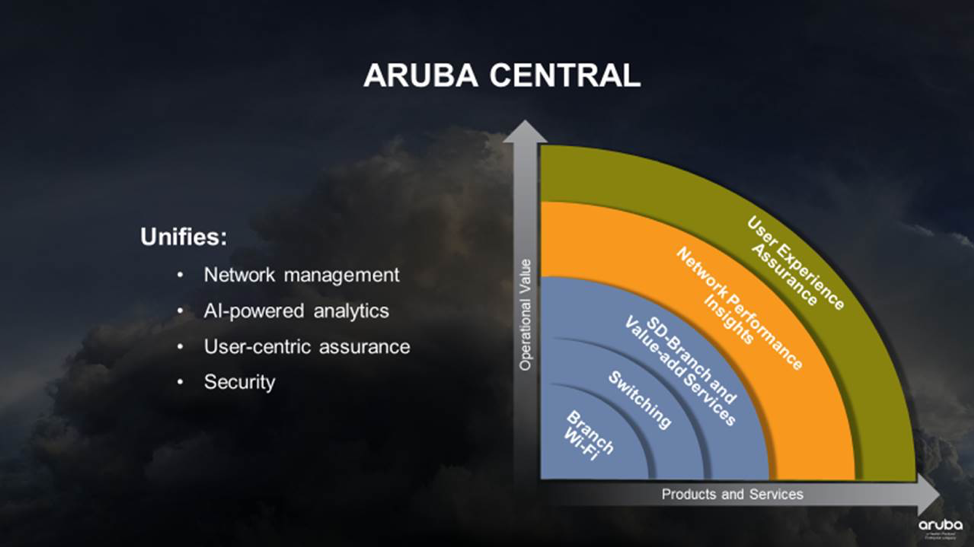 The recent release of Aruba Central is the result of the combined strategic decisions made during our journey, and it highlights HPE and Aruba's investments in cloud-hosted operations management, AI, assurance, automation and IoT-based security. It also showcases the results of our mission to build holistic network operations unified through an extensible, cloud-native platform. In every release and every advancement, we're making it simpler for IT professionals to deploy, manage and maintain their environments with increasingly more agile networks.
Every feature in our modern network management system is designed to assist the network team and help them support nonstop operation, mobility, distributed networks, scale, complexity and cyber threats. The platform consists of:
Shared microservices for provisioning, single sign-on, licensing and subscriptions, a data repository, and secure device access and control.
Network automation and orchestration to ensure federated access to platform services and devices for all supported SaaS applications.
Robust APIs to support automation, visualization and integration with solutions from Aruba and third parties.
It's important to note that while Central unifies these technologies, where appropriate some of our solutions are also available as stand-alone products. Aruba User Experience Insight, for example, is a network-independent solution that can be used to improve user experiences on any network.
Simplicity Without Sacrifice
Unifying our solutions was the right thing to do for Aruba, and more importantly, the right thing to do for our customers who can move beyond managing infrastructures to accelerating the delivery of new applications and services.
We embrace our journey of providing best-in-class network solutions as ongoing and never-ending. Every new feature is engineered with the challenging goals of increasing functionality while also simplifying operations.