Upgrades to 802.11ac access points are happening way faster than anyone expected.
Why, you ask? Well, a few big factors…. Wi-Fi Alliance certification, an abundance of 802.11ac devices hitting the market, and up to 300% better performance for 802.11n mobile devices! These three reasons alone make a compelling case for the upgrade.
The icing on the cake is that you get all this without having to upgrade your wired 802.3af infrastructure. Throw in a trade-in promotion for your old APs and you can see why the move is underway.
So the next step is to start looking at what's available in the way of enterprise-grade APs. There are basically two options emerging.
1. Modular APs – The only example in this case is Cisco's AP 3602i. Here you get an 802.11n AP with the option to add 802.11ac with a clip-on module.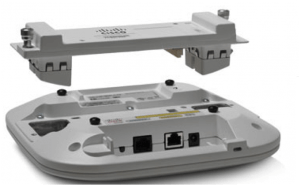 2. Purpose-built APs – The second approach is a purpose-built 802.11ac AP, designed from the ground-up, like Aruba's AP-220 series. You get the fastest 802.11n capabilities from Aruba's entire AP lineup, plus 802.11ac built-in.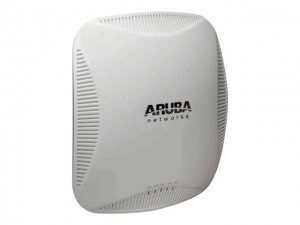 So which one's better? Well, we've done some testing and the results will surprise you.
For this test we used an AP-225 from Aruba with ArubaOS 6.3.0 and a Cisco 3602i upgraded with the 802.11ac module and code version 7.5.102. These were simple tests looking mainly at TCP throughput. No tomfoolery was used in the making of these test cases! In fact, we encourage you to try it yourself!
Test #1 – 802.11n rate vs. range
Wait. 802.11n? If you thought this was an 802.11ac test, it is. But one of the biggest advantages of new 802.11ac APs is what they can do for 802.11n clients.
Having the latest antenna and RF components along with updated processors and memory make a huge difference across a mix of clients.
When it comes to the internals of the AP, the newer Aruba hardware with updated components have a big advantage here and you would expect this to play out in performance numbers.
We tested this by taking a MacBook Pro 802.11n laptop and measuring TCP downstream speeds at different distances from each AP. Here are the results: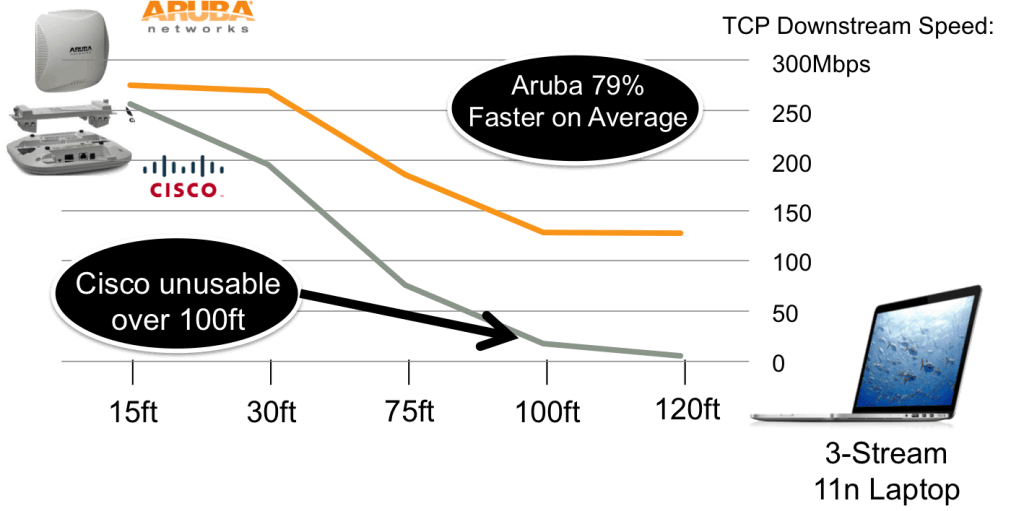 The results were dramatic. The Aruba AP averaged 79% faster download speeds for the MacBook Pro. And when the laptop moved beyond 100ft, the Cisco AP barely kept a connection going.
Test #2 – 802.11ac baseline speed
This is the simplest test to do. We took one three-stream laptop, put it close to the AP and see how fast it goes. In this case we used a Dell laptop five feet from each AP.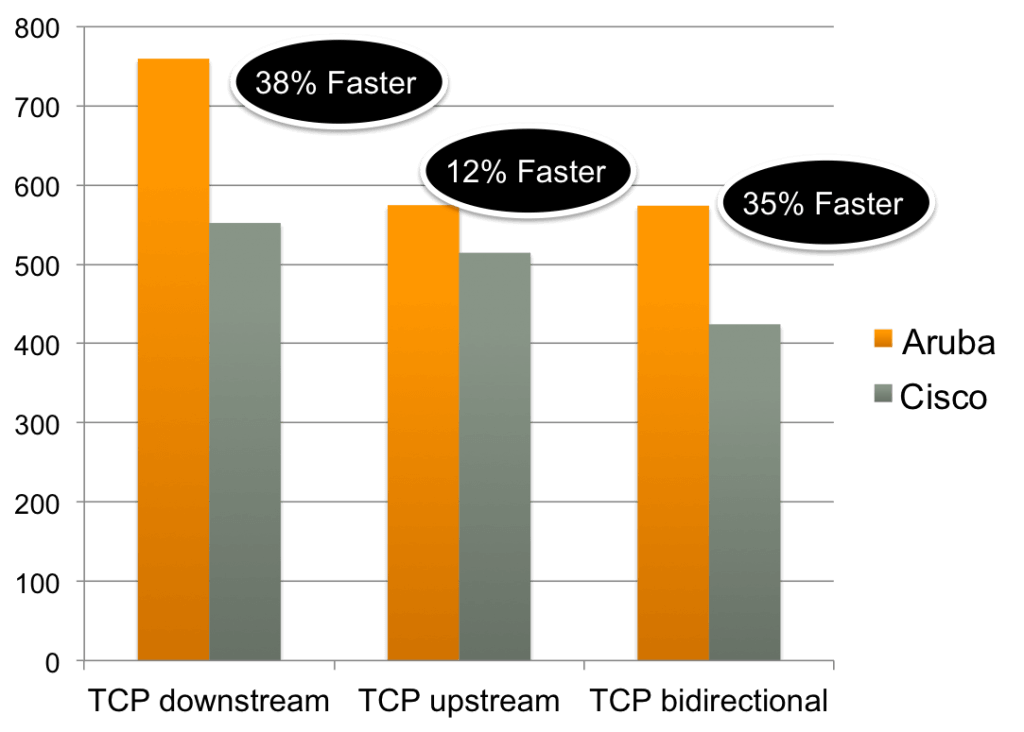 In every case, the purpose-built AP showed a marked improvement.
Test #3 – Three-stream 802.11ac rate vs. range
This is the key test for understanding real-world speeds of 802.11ac and how the different AP architectures compare. We took a Dell 802.11ac laptop and measured TCP downstream speeds at different distances from each AP. Here are the results: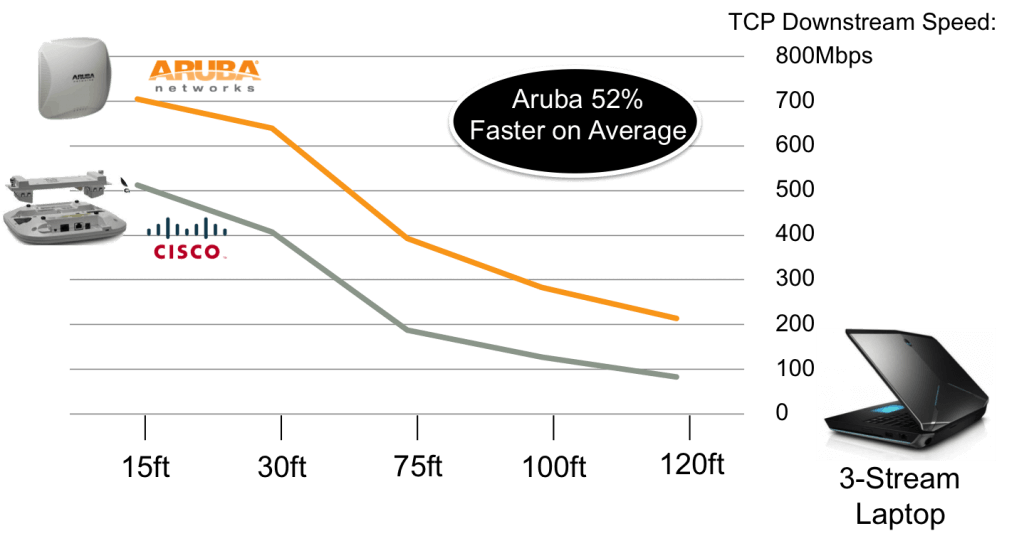 The result is that the Aruba AP averaged 52% faster download for the laptop.
Test #4 – Single-stream 802.11ac rate vs. range
 This is another important test, considering the number of new smartphones shipping with 802.11ac. The HTC One, Samsung GALAXY S4 and lots of new smartphones from Motorola come to mind.
In this test, we did the same thing as for the laptop. We took a GALAXY S4 and measured TCP downstream speeds at different distances from each AP. Here are the results: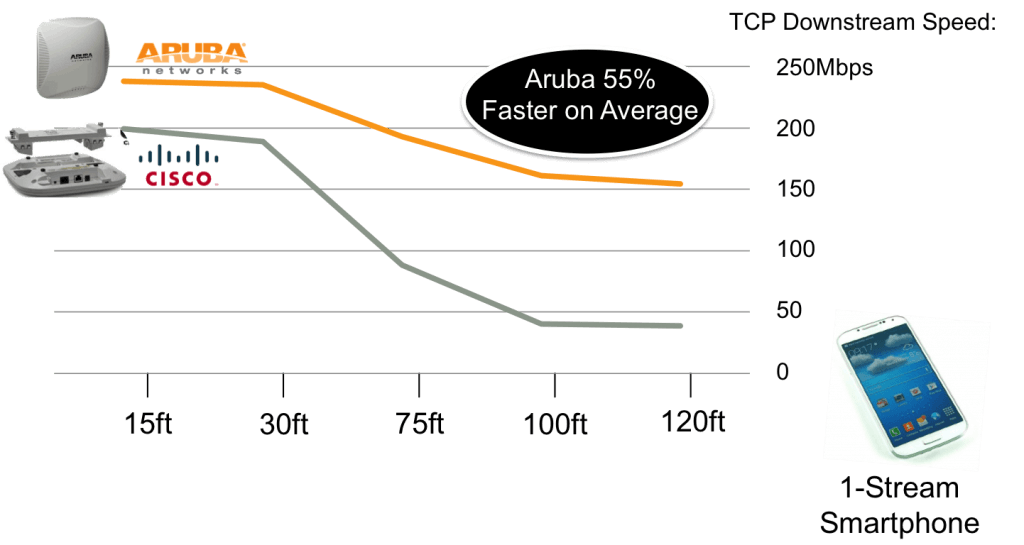 The result is that the Aruba AP averaged 55% faster downloads for the Samsung smartphone.
Test Setup
In these tests, we used the recommended code and configuration for Aruba and Cisco. The RF environment and test methodology was consistent for both vendors during the test. Traffic was generated using an Ixia Chariot server. Here's the network topology:

Price
 With such a significant performance advantage going to the Aruba purpose-built AP, you might expect a price premium. To start with, let's look at the list price of each AP:
Aruba AP-225: $1,295 USD
Cisco AP-3602i (802.11n only): $1,495 USD
Cisco AP-3602i with 802.11ac module: $1,995 USD
So the Aruba AP is actually much less expensive. In fact, the Cisco AP with the clip-on 802.11ac module is 50% more expensive than Aruba.
To make things more interesting, let's look at a more meaningful calculation of value – price per Mbps. This basically gives us a value for each metric of performance from the AP:

Not only is the Aruba AP-225 the clear bang-for-your-buck winner as an 802.11ac AP, it's also an incredible bargain even if you just use it for 802.11n.
Conclusion
It's abundantly clear from testing that the practice of retrofitting an 802.11n AP for 802.11ac duty is a recipe for disaster. It consistently underperformed Aruba's purpose-built 802.11ac on every test.
What was really surprising was the performance impact that Aruba's AP-225 had on 802.11n clients. This makes the Aruba AP-225 the top performer of Aruba's 802.11n offering and it's already future-proofed for 802.11ac gigabit Wi-Fi.
And no snap-on module is required.