Source: Google images
A recent research report published by Aruba, a Hewlett Packard Enterprise company – The Internet of Things: Today and Tomorrow, revealed that 57% of companies have already adopted Internet of Things (IoT) today and the number is expected to reach 85% by 2019. Five Industries are identified as the top IoT adopters with specific use cases:
Enterprises - implementing remote monitoring and indoor location-based services to enable a smart workplace that drives employee productivity and work effectiveness
Industrial Sector - using IoT to monitor and maintain industrial functions to increase business efficiency and visibility
Healthcare - using IoT to improve patient monitoring, asset tracking and equipment/system maintenance while reducing cost
Retailers - implementing location-based services to improve customer experience and boost sales revenues
Governments - deploying surveillance and remote monitoring functions to improve visibility across organizations while reducing cost
Regardless of the use cases, one of the keys for a successful IoT deployment in those industries is connectivity or Wi-Fi connectivity since many IoT devices are wireless. Having a high-performance WLAN that supports the highest densities of devices through MU-MIMO and multi-Gigabit speeds, while providing the best-in-class user experience is the foundation of the IoT adoption. Wi-Fi to IoT is like water to a fish. Without water, a fish can't survive, no matter how strong or how beautiful it is; without Wi-Fi, the "thing" of IoT will not be connected therefore lack the life or the meaning of existence.
Almost all enterprises have Wi-Fi nowadays. However, whether their network is able to support the influx of IoT devices with its adoption is still questionable. Many aspects of the network need to be re-evaluated to meet the requirements:
Maximum capacity
Ability to support numerous applications (video, unified communications, etc.)
Number of mobile and IoT devices supported
Network and device access security
Return on Investment (RoI)
Wi-Fi Infrastructure for IoT

Wi-Fi technology has been continuously and rapidly evolving from 802.11b to 802.11n, then to 802.11ac Wave 1 and now Wave 2. Although 802.11n still exists in some legacy networks, starting from 2015, it has been largely replaced by the Gigabit 802.11ac technology. It is estimated, from a 2016 Dell'Oro WLAN report that by 2018, 100% of WLAN deployments will utilize 802.11ac Wave 2 products.
As the most advanced 802.11 technology, 802.11ac Wave 2 is built on top of Wave 1 with additional features, including Multi-User MIMO, 4 Spatial Streams and 160MHz channels to enable a highly efficient network with the highest data rates. A network with Wave 2 technology is ideal to support the influx of mobile and IoT devices in an enterprise environment. Depending on enterprises' IoT schedule and planned budget, it is critical to have some flexibility when choosing the right products in order to boost the performance and reduce the cost. Aruba has a complete Wave 2 product portfolio to meet enterprises' varied requirements. Below table shows Aruba's indoor and outdoor Wave 2 APs for environments with different densities.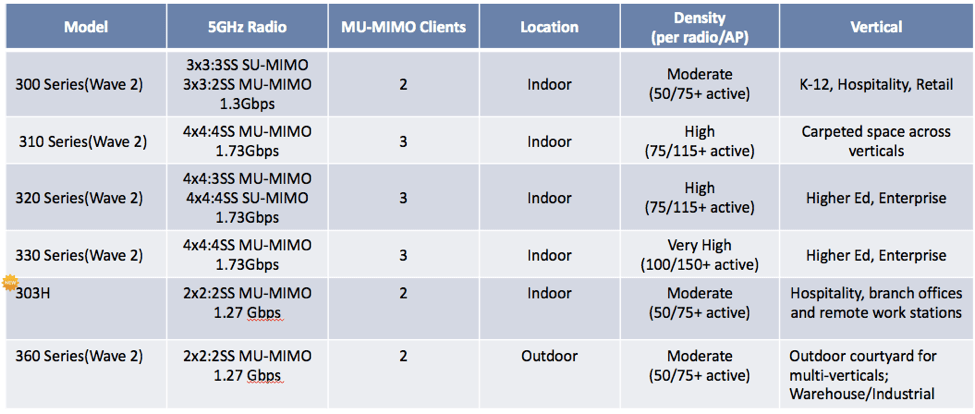 All of the above Aruba Wave 2 APs are IoT-ready. With their Gigabit data rates and unique Aruba enterprise-grade features, they can be deployed with the Aruba policy management tool – ClearPass to provide the desired capacity as well as the security for the IOT adoption. Additionally, Aruba Wave2 APs have integrated a Bluetooth Aruba Beacon that provides advanced indoor location based services and proximity-based push notification capabilities. With a mobile application that can be created from the cloud and downloaded to user devices, Aruba Wave 2 WLAN enables a dot by dot location service in the enterprise environment. With the expected applications and number of mobile and IoT devices on the network, enterprises can choose the most appropriate AP models to achieve the best network performance throughout the buildings and outdoor areas.
Secure the Network for IoT
Now that we have the blazing fast Wi-Fi, are we ready for the growth in IoT adoption? Not quite yet. With billions of the IoT devices that the enterprise network will have to support, the other big concern is securing all of these "things" at the edge and having visibility into the devices. Aruba ClearPass, one of the key components of the Aruba Mobile First Platform, can identify, connect and protect mobile and IoT devices at the edge. It enables a true IoT-ready Wave 2 network with the required security.
Maximize Your ROI
With the adoption of IoT, it will transform the way we live and the way we do business. An existing legacy network infrastructure, although maybe functional for basic network access purposes, won't be able to provide the required capacity and security for IoT adoption, therefore delaying the ROI. For enterprises, building a smart workplace with IoT-enabled remote monitoring and control capabilities and location-based services will improve workforce productivity and efficiency while maximizing the ROI.
Read more about Aruba Wave 2 and Aruba ClearPass.