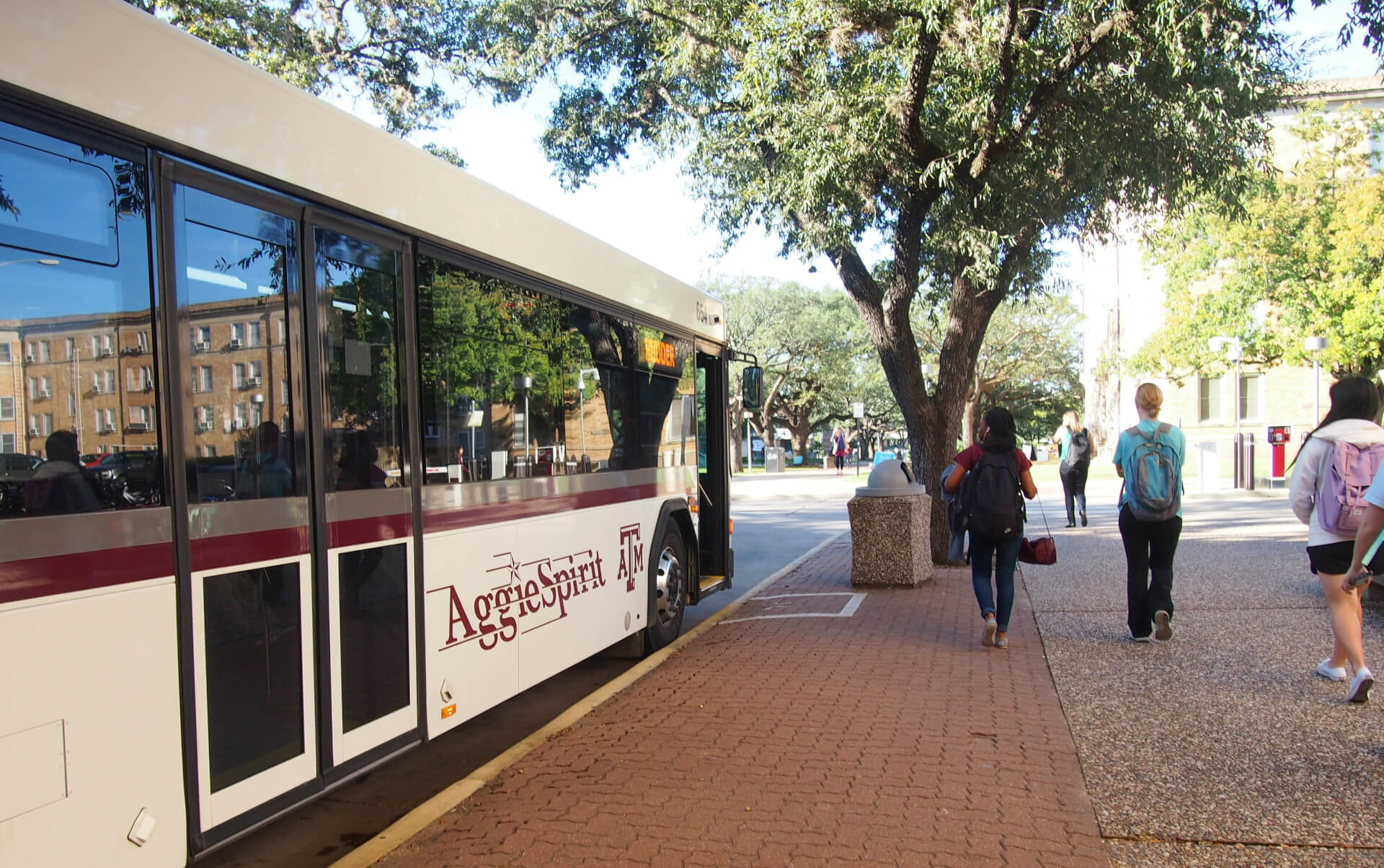 Beyond navigating the expansive 5,200-acre facility in College Station, many of the 61,000 students who attend Texas A&M University live off-campus and have some sort of commute to an on-campus location.
Travel modes include walking, biking, or the use of the expansive Texas A&M University transit system, run by Transportation Services, whose buses are often referred to as 'Aggie Spirit' buses. In addition, our 10,000 employees, and thousands of visitors annually, also need effective ways to reach their destinations.
The Aggie Spirit transit service includes 18 routes that average 145,000 riders per week – for a total ridership of 7.5 million annually – using a fleet of 98 transit and paratransit buses. The service consumes some 5,000 gallons of diesel fuel every day and logs about 1.8 million service miles annually.
On any given day, over 70 Aggie Spirit buses are on a route with a cost estimate of approximately $65 per hour to operate each bus. Also, Transportation Services trains and employs about 250 drivers per year, providing 140,000 service hours (FY16).
Where Aggies Go from Here
Optimizing such an expansive system is a continual priority and a number of the projects in the Texas A&M Campus Transportation Technology Initiative (CTTI) have focused on optimization and efficiency. Overall, the CTTI seeks to introduce private sector transportation innovation to the campus, with the goal of improving the safety, mobility, and quality of life of the campus community as a whole.
As a part of CTTI, Transportation Services partnered with the Texas A&M Transportation Institute (TTI) and developed a pilot project to study the flow of traffic from alighting passengers at critical campus stops to points within campus. This study is being done anonymously using WiFi signals from cellphones and other devices with WiFi connectivity, meaning there is no personally identifiable information tracked or kept as a result.
The Pilot
For the pilot, our study group selected the Memorial Student Center (MSC), a student hub and a historic building located in the heart of the campus. This hub acts as a central operations point for multiple Aggie Spirit bus routes that service students, faculty and staff campus.
Then, we partnered with Aruba, a Hewlett Packard Enterprise company, to leverage IoT and Big Data principles to conduct a next-generation foot fall analysis pilot study of bus stop rider dispersion.
We're using a combination of Aruba 270 Series outdoor 802.11ac APs and Aruba Analytics and Location Engine (ALE) for the study. Aruba also suggested we utilize their trusted technology partner, SkyFii, to provide the visualization of rider behavior we desired.
With Aruba's assistance, we've created a dense outdoor Wi-Fi research network to enable location triangulation using AP-275's, for their integrated omni-directional antennas, and AP-277's, for their integrated directional antennas.
ALE collects real-time presence data from mobile devices while protecting personal privacy. This data is seamlessly integrated with SkyFii to create visuals, like heat maps, and perform a variety of Big Data analytics.
Because all information is captured anonymously, we're essentially turning the mobile devices our riders already carry into smart IoT sensors. Then, using the Aruba ALE and SkyFii software tools, we gain actionable insights on rider dispersal patterns throughout the immediate vicinity.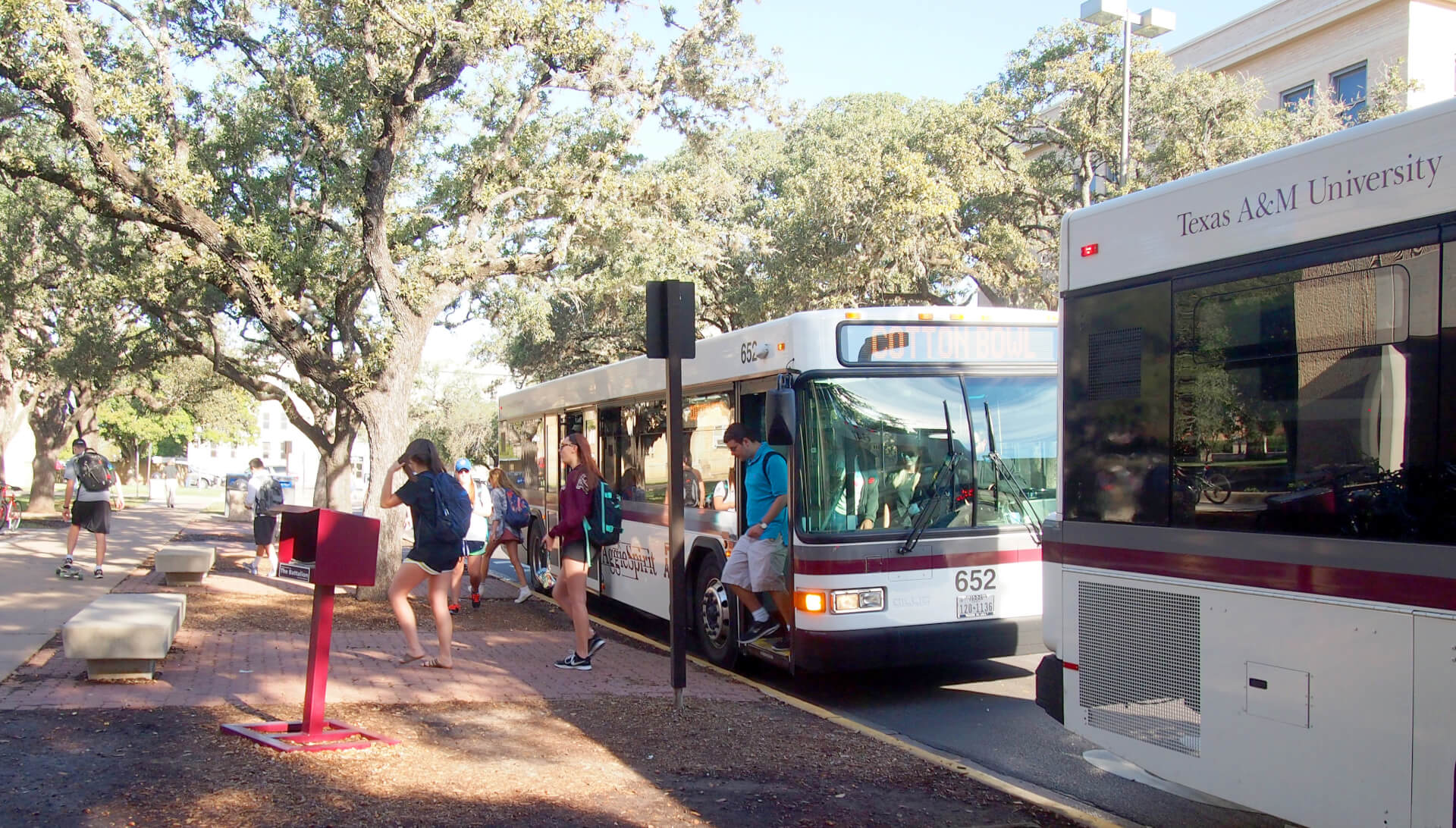 Who is Riding the Bus
At this stage in the study we are already learning far more than that we would using traditional data collection methodologies, such as surveys or simply counting the number of riders entering and exiting at each stop and each campus location within a time block.
With our Aruba solution, we're extending our visibility into the immediately surrounding area to gain new types of information, such as the percentages of visitors that travel to a particular venue and the dwell times associated with that venue. We're also significantly improving the granularity of existing metrics, like the busiest hours and days of the week.
Other examples of data we're collecting include visit counts, passersby (those who do not get on a bus), visit frequency, returning visitors, zone visitation rates and venue visitation rates.
Under faculty leadership, data analysis is being conducted by the Department of Industrial and Systems Engineering, in Texas A&M University College of Engineering, through a student team in the Capstone senior design course (ISEN 460). The Department was established in 1939 and has consistently ranked in the top 10 departments in the U.S. over the past decade by the Gourman Report, the National Research Council and U.S. News and World Report.
Getting to Our Goals
The primary goal of our foot fall pilot project is examining whether we've optimized the transit stops in the study area.
For example, should a high percentage of riders move from the current stop location to other venues where there is space for transit stops, perhaps the stopping locations of one or more routes should be adjusted.
Long-term goals of the pilot include assessing whether similar and more comprehensive studies should be performed across different Aggie Spirit transit locations, or across the campus. This data could provide a more robust understanding of foot traffic, particularly with the growth in student population the University is experiencing.
New Texas A&M University Transit Model
More broadly, transportation received considerable attention over the past two years as our entire institution undertook an extensive campus-wide planning initiative, which resulted in the finalizing of the 2017 Texas A&M University CampusPlan. The Campus Plan envisions a pedestrian-focused campus that relocates vehicles away from the center to create more opportunities for the exchange of ideas, chance meetings and places to collaborate and socialize.
Additionally, the CampusPlan specifically calls for the primary modes of transportation on campus to become walking, bicycling and transit. In addition to establishing dedicated pedestrian and bicycle pathways across both the East-West and North-South campus corridors, our transit system must evolve to support the new Texas A&M University mobility model.
"We are excited to be partnering with TTI and Aruba on such an important study of our transit system," says Associate Vice President, Peter Lange, Transportation Services. "The data collected throughout this study will be used as a resource as we develop our next steps as outlined in the Campus Plan,"
Naturally, this means data collection and advanced analytics are critical to successfully achieving the transit objectives in our Campus Plan. This could result in the expansion of what we learn from our current pilot foot fall traffic study to implement a campus-wide transit data analytics research effort to create pedestrian, bicycle and transit flow diagrams.
Regardless, this pilot study is only the beginning. We envision the continued application of innovative analysis and assessment of advanced technologies, such as wireless networking, IoT and Big Data technologies, to comprehensive transit planning and management to support academic schedules, optimize ridership and enhance campus commuting for our students, faculty, staff and visitors.
Robert E. Brydia is a senior research scientist at the Texas A&M Transportation Institute (TTI) and a recognized expert with more than 30 years of transportation research experience.
About Texas A&M Transportation Institute
Texas A&M Transportation Institute develops solutions to the problems and challenges facing all modes of transportation. The Institute conducts over 700 research projects annually with over 200 sponsors at all levels of government and the private sector. In the laboratory and the classroom, TTI researchers help prepare students for transportation careers. Recognized as one of the premier higher education-affiliated transportation research agencies in the nation, TTI's research and development program has resulted in significant breakthroughs across all facets of the transportation system.  For more information and links to TTI's social media channels, visit:  http://tti.tamu.edu.