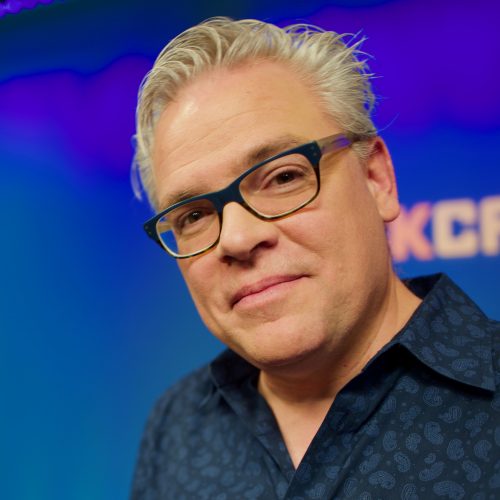 I'm excited about the 20th Tech Field Day event taking place on November 13-15. The founder of Tech Field Day, Stephen Foskett recalls the very early days and how the community has grown from 12 people in a room to millions of videostreams. Catch Stephen at Gestalt IT or follow him at @Sfoskett.
Register now to see the #TFD20 Aruba livestream on Friday, November 15 and learn how to simplify networking tasks with automation.
Jamie: The Tech Field Day events are run by Gestalt IT. What does the name 'Gestalt IT' mean?
Stephen: The name 'Gestalt IT' came before Tech Field Day events. I had been doing enterprise IT and storage consulting for 15 or 20 years. I was involved in industry publishing as well. But I was only looking at storage, and you can't understand IT by looking at only one thing.
There's a similar concept in psychology. If you go to the doctor and say, 'My arm hurts," the doctor might give you an aspirin. But if you ask, 'Why does my arm hurt?" it's related to your whole person. Maybe you had a heart attack. You need to take a holistic, big picture look at things.
Jamie: How did you come up with the idea for Tech Field Day events?
Stephen: I started reaching out to people like me, but who had other perspectives. I was interested in a diversity of people. Greg Ferro was the network pundit. Rich Brambley was the virtualization guy. We were going for a collaborative, discussion format.
At the same time, companies were getting the clue that people doing blogs and podcasts were worth talking to. EMC, VMware and HP got onboard early, as well as some startups. We were at an HP Storage event in Colorado Springs in 2009, and a bunch of us started talking about an event that would be two or three days. As we started putting ideas together, I said, I can do this.
I started calling people in the industry who might be interested – people at companies, bloggers, podcasters and speakers. I needed event logistics too. I contacted Claire Chaplais, who is an event manager, to find out what it costs and how to get hotel rooms, book dinners and get transportation. Claire and I still work together today.
We announced the event literally four days after coming up the idea. The first Tech Field Day event was held five weeks later. I didn't understand what it would take!
Jamie: What's your favorite memory from the early Tech Field Day events?
Stephen: My favorite memory was the party, which was at the Computer History Museum. Everyone in the industry came. We had a really cool demo of the Babbage Engine.
The funniest part was that I missed the whole first day of the Tech Field Day event. I had paid for the event on my credit card, and I spent the first day standing in VMware's parking lot talking to American Express so they wouldn't bounce that night's hotel bill. It was pretty hilarious. I had charged the card to the max, and paid it off, and charged more expenses. I had the money to pay, but at the time Amex wouldn't allow you to pay off the bill and charge more in the same month. But it all worked out in the end.
Jamie: Do you miss anything about the "old school" Tech Field Day events?
Stephen: I miss a lot of the people who have moved on in their careers. Of the original 15 people, only three or four are still independent technical influencers. Almost all of the companies are gone. Of the original sponsors, only VMware and Symantec still exist in their original form.
Jamie: What's the best part about how Tech Field Day events have evolved over time?
Stephen: My idea has changed over time. It was an event where bloggers could learn about companies. We had a video crew, but I didn't livestream or even post the vides. Only a few presentations were online.
Over time, we realized that the presentations are very valuable to the outside world, and it's a big audience. We have 12 people in a room, but we have 26,200 subscribers on YouTube and millions of views. On average, 5,000 people watch a two-hour presentation.
Even though I created Tech Field Day events for the people in the room, it's really for the people outside the room.
Jamie: How have vendors' approach to Tech Field Day events changed over time?
Stephen: Companies approach Tech Field Day events very differently now. It used to be 'How can I make the delegates like me,' and now it's 'What do I want on video?' That's really cool.
We tell the companies, it's not about the delegates, it's about the technology discussion. Don't focus on what these 12 people want to hear, focus on what you're doing that's cool that you want the world to hear. The video content has really changed the perspective.
Jamie: How do you find new delegates?
Stephen: We're constantly bringing in new delegates. At every event, one third of the delegates are new.
Bringing on new delegates is the most important, time-consuming work we do. We go to industry events, like Atmosphere, Cisco Live, VMworld and NetApp Insight to meet new people. I met someone at a conference two weeks ago who is an awesome technical guy and would be a perfect delegate.
We get to know people. I read thousands of blogs. When people publish, I comment and share. I am trying to build a community. What separates us from an event is our community. Anyone can throw together an event.
I always look for diversity in delegates. We have a strategic initiative to support women in their tech efforts. We want people to look at the delegates, and see a mix of delegates that reflect themselves.
Jamie: What's the value of Tech Field Day events?
Stephen: It's the community aspect. We are supportive of everyone. We encourage people to come out of their shell and participate. We have 250 active delegates and 400 in our overall pool of delegates. We have a private Slack group where delegates can meet each other, share ideas, get tips, review each other's work and get together.
Register now to see the #TFD20 Aruba livestream on Friday, November 15 and learn how to simplify networking tasks with automation.