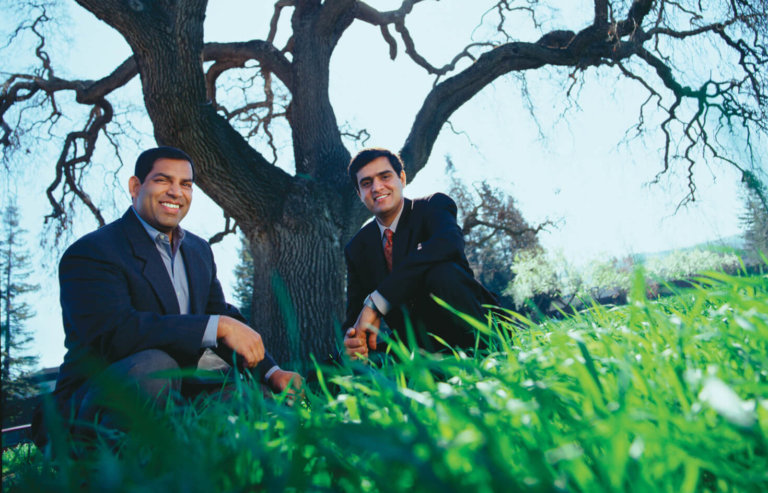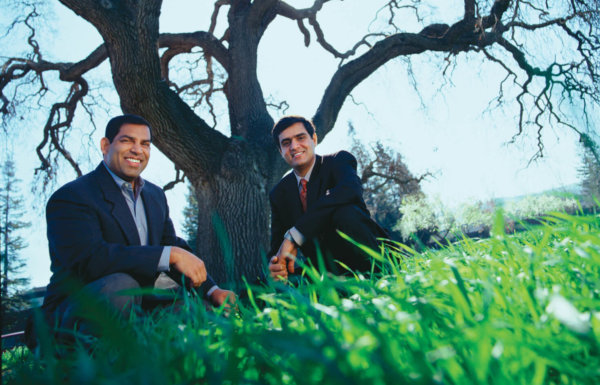 So began the journey 20 years ago, when my co-founder, Pankaj Manglik, and I decided to start Aruba. In the name, we wanted to connote a peaceful, easy feeling to IT admins who are always seen chasing the next fire. We took our idea to Dominic Orr, our mentor. He believed in us, helped us raise money for the venture, and served as an executive board member from the beginning.
Our vision was a user-centric network, instead of a port-centric network – and our tagline expressed it perfectly. "People move. Networks must follow." Our bet was on the future of networking, and we saw Wi-Fi as a cornerstone technology. Looking back, Wi-Fi has become more important and more successful than our wildest dreams, and Aruba's success became inextricably linked with it.
The most common comment I get about Aruba is – "It's your baby. You must be very proud." And it is true. Aruba is my baby. My second one in fact. The first is my daughter who was barely 4 months old when I quit my job to start Aruba. The pride I experience for Aruba is the same pride I experienced when my daughter accomplished her own milestones. Be it her first steps on her own two feet, her first solo dance performance in front of 600 people, or her going off to college a couple of years ago. Each milestone is a marker of her growth and a reflection of our journey together.
The early days
Aruba's accomplishments and milestones feel very much the same. I still vividly remember the small room in which a few of us would meet to form the ideas that are core to what Aruba is today. At that early stage, every new member who walked into the Aruba family felt like a milestone. First there was Merwyn Andrade who joined us as our first CTO, then Pradeep Iyer as our first engineer, and then Partha Narasimhan as our first deep wireless guru. And as we went from 2 to 20 team members, we started celebrating our milestones. Booting up our first controller-based Wi-Fi solution in our labs for the first time, showing it off to customers at the Tribeca Grill in NYC, getting the first PO from the late Al Foitag at Warner Bros — these were the key wins in Aruba's first year.
From there, Mike Kirby assembled an unstoppable enterprise go-to-market team that gave us significant momentum and also brought home our signature deal: the Microsoft campus in Redmond. We brought on Dominic Orr as CEO to take Aruba public, and went through our IPO in 2007. We introduced AirWave, innovated Aruba Instant, launched ClearPass Policy Manager for the BYOD world, and launched the Mobile-First era, which was the culmination of a decade of perfecting enterprise-grade Wi-Fi to become the primary access method for enterprise networks. Each of these milestones are significant in their own right. But together they are markers of a journey where we kept our focus on serving our customers and making the world's best Wi-Fi solutions for enterprises.
Joining Hewlett-Packard
In 2015, Aruba came together with another iconic technology company, Hewlett-Packard. Antonio Neri came to Aruba's offices in Sunnyvale, CA, to make the deal happen. And with the deal, we started another great chapter, blending Aruba's Wi-Fi with Hewlett-Packard's switching products to create the industry's first Mobile-First, Cloud-First network architecture for enterprises. Antonio said this would be a reverse acquisition, where we would keep the Aruba brand as the go-forward networking brand for HP, and to this day, Antonio has been our greatest supporter and cheerleader. There were many doubters that the combination of Aruba and HPE would work. It is fair to say that after 6 years, not only has it worked, it has succeeded spectacularly.
Last year we announced Aruba ESP (Edge Services Platform), providing the blueprint for an agile, AI-driven, cloud-first infrastructure allowing customers to adapt and grow with changing requirements. And finally, with the addition of Silver Peak to the family and SD-WAN technology in our portfolio, Aruba has all the pieces to truly deliver on our edge-to-cloud vision. And the momentum has been incredible. The Aruba business has continued to do very well in the post-pandemic market as we continue our growth trajectory and gain share in the market.
While there is never an easy time to leave the company you started, I believe the right time to do it is when things are going well. It is the best time to bring in new talent and leadership to fuel the energy needed to continue growth well into the future. It is with that thought in mind that I have decided that it's time for Aruba to write its next chapter.
The way I see it–it's time for me to let Aruba find its place in the world without me as an integral part of its everyday life. It's a bit like when my daughter started college a couple years ago. My hope when she went to college was that we had taught her the values that would guide her and serve her well while she found her own footing, honed her skills and instincts, and continued her growth journey.
In much the same way, I hope Aruba has learned the values reflected in our culture that will guide it to greater heights and success. I will be cheering for Aruba all the way.
The next chapter
With that said, it's with mixed emotion that I also announce two of our earliest team members, Partha Narasimhan, Aruba's CTO, and Pradeep Iyer, Aruba's Chief Architect, have decided to retire. Without their deep, long-lasting contributions to every generation of Aruba's solutions, architecture, and customers, Aruba would simply not be here. They are legends at Aruba and in the industry and will be sorely missed.
To fill the void Partha and Pradeep leave behind, David Hughes, the founder and CEO of Silver Peak, will take over as Aruba's Chief Product and Technology Officer. David is a very seasoned networking industry veteran and I am extremely confident in his ability to continue to develop our go-forward technology direction and product roadmap in our uniquely Aruba way.
And the reigns as Aruba's new President and General Manager will be assumed by Phil Mottram, who joins after most recently leading HPE's Communications Technology Group (CTG) business to great success. Phil is a seasoned, accomplished leader with global experience across Telecom and Networking, and I am confident in his ability to lead you all into the next phase of a successful future.
Partha, Pradeep, and I will continue to serve in advisory roles to help ensure a smooth transition. I have but one remaining request: Please let Phil and your leadership team know how to support your continued success – and in turn Aruba's success.
We are Aruba
All this leads me to that most essential question I ask myself whenever I experience all these emotions – "What is Aruba?"
Aruba to me is about us. All of us. We created Aruba together. It's the magic we create together that makes Aruba come alive for our customers and partners. It's the beautiful tapestry we weave with our own unique blend of innovation fueled by our "customer-first, customer-last" and "biggest small company" culture.
Each of you are Aruba, and your success is Aruba's success. And your continued success is what I will cheer for the most — every customer win, every product delivery milestone met, every patent award, every competitor beaten, every new member of the Aruba family, every returning member of the Aruba family, and finally everyone who has ever worn the Aruba badge — past and present.
Our partners also have a unique contribution in Aruba's success, having embraced us as part of their extended families. To Aruba's partners, we have stood by you all these years like you have stood by us and I hope that partnership will continue well into the future as we continue to innovate together for our joint customers.
Finally, our customers — you are the reason Aruba exists. You have supported us through the years encouraging us to innovate faster, to support you better, and to anticipate your needs as you evolve. You have formed the community we lovingly call the Airheads and the energy from this community is what gives Aruba direction and purpose every day. Please keep the faith as we venture into our next chapter as you are the light that guides us.
Thank you for the wonderful memories and the amazing journey. I am forever grateful, eternally indebted, and most of all totally humbled by the love and support from each one of you.
My final thank you is to the love of my life, Sneha. Without her, this entire adventure would not be possible, nor worth it. Sneha encouraged me to take the risk of leaving my job to start Aruba, endured my long absences from home traveling to various parts of the world or simply holed up in Aruba's offices. Through it all she held up her end of the bargain, unselfishly and with total love and support. She is the reason I was able to do what I did. Another secret for many of you, Sneha was our first HR team member, single handedly setting up our payroll, benefits, immigration, and many other HR functions. So, she too is an Aruban as much as any Aruban in the last 20 years.
I am incredibly proud of Aruba's leadership team. Each one of them is a senior, accomplished, and well-loved leader in their own right. But they have come together as a formidable world-beating unit. This leadership team, along with our team members, is what makes Aruba loved by our customers and partners and feared by our competitors. I have a lot of faith in their ability to continue to execute, win in the market, and keep our winning culture alive, led by Phil.
It's been an honor and a privilege of a lifetime to have served alongside all of you in building our Aruba together! The Aruba culture lives and endures within each of one you. Please keep that culture alive and it will serve you well!
I cannot wait to see what you will do next!
On-Belay!