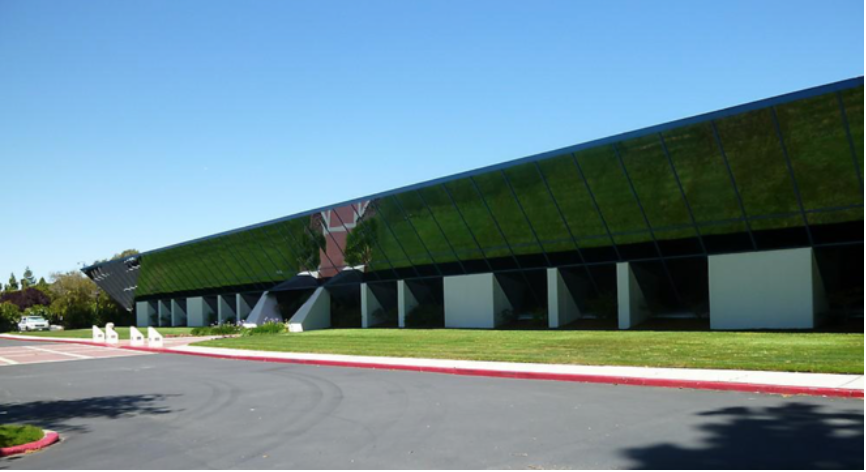 The backstory
The story of Aruba's Smart Digital Workplace journey started at our humble former HQ location in Sunnyvale, CA. Our corporate offices located on a campus formerly occupied by Atari boasted a futuristic exterior façade from the 80s and an interior design that complemented that design era.  You guessed it—high cube farms, closed artificially lit offices and oversized conference rooms.
Laughable as it sounds, fast forward to this new millennium, the vast amount of leasable office space exudes similar qualities of that era. Spaces generally remain institutional-looking and are time capsules that don't change. Wired desktop connectivity is no longer necessary for today's computing needs, yet continues to be grossly over-deployed, anchoring down furniture and fixtures.  Designing spaces in this antediluvian manner all but assures that workplaces can't change.
That all said, the Arubans who resided at those buildings were hard at work building the foundational wireless technologies that would give rise to a new wave of companies that would soon redefine the high-tech industry and Silicon Valley itself. An emerging set of Internet titans were starting to attract talent not only through core products and innovations, but by creating more vibrant, dynamic workplaces to support agile scrum teams. Much of it enabled by Aruba secure Wi-Fi technology that created an "all-wireless workplace."
Fast forward to present day, it's no longer just Silicon Valley and the Internet juggernauts. All industry segments from high tech to low tech are turning to technology to foster continuous innovation. Building a modern workplace environment that stimulates corporate innovation, group collaboration and work-life balance is more imperative than ever.
Our inspirations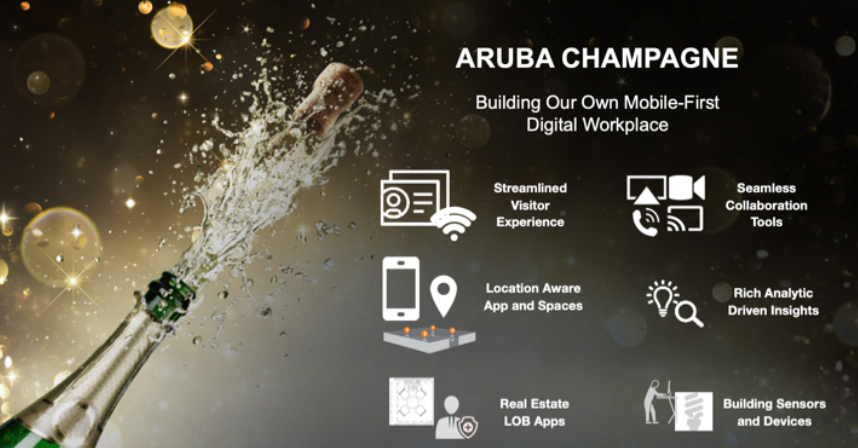 At Aruba, we shared the same challenges as many other organizations. Whether it was recruiting creative talent in a red-hot job market or maintaining a culture of innovation, community and inclusiveness, it was time for a new type of space to support these goals.
In 2017, we were so fortunate to move into a new HQ home in Santa Clara, California. It was our mission to build the "right space" to support our corporate goals for present and future. Additionally, we strived to build a living lab that could redefine the physical workplace itself with a mobile-first approach to prove our naysayers wrong. Hence the birth of Aruba Champagne, an internal project harnessing true creativity and collaboration among our internal IT, real estate and product teams.
The modern workplace is no longer just about things like cloud productivity tools, BYOD support and high quality Wi-Fi connectivity. It's a "bring your own app" and soon "bring your own experience" world powered at your fingertips through an occupant experience app. Sooner than you'd think physical space will adapt to your intent and needs automagically—leveraging the goodness of building IoT, mobile assistants and AI. Great spaces will be designed to continually adapt with the times.
Refining the formulation
Through our two vintages of Champagne, we've relentlessly aimed to reduce everyday friction that employees and guests experience on a daily basis. Whether it's redefining the visitor check-in and space reservation process, understanding the efficacy of an occupant experience app or gaining real time utilization assessments via IoT, we've likely integrated or tested it.
Last year, we publicly announced a set of revolutionary partnerships with a "who's who" of the real estate and design world to jointly tackle the unique intersection of technology and physical design. We're starting to realize the fruits of our labor with a new workplace floorplate that leverages the latest in furniture systems, technology integrations and automation. It's our core belief that building a high-performance smart workplace requires a mobile-first approach and a dynamic ecosystem of partners that can innovate at a faster pace than a single vendor.
I invite you to experience a taste of Aruba Champagne with this video.
Special thanks to our friends at #envoy, #robinpowered, #hermanmiller, #spaceiq, #polycompany that helped make this vision a reality!