The WFA recently announced the "Wi-Fi CERTIFIED Passpoint™ certification program for network infrastructure solutions and mobile devices, based on the Hotspot 2.0 specification.
So what is driving all the interest in Passpoint? The key issue from the operators' perspective is data offload. And from the end-user perspective it is about a simplified experience connecting to secure Wi-Fi networks – just like employees do in Wi-Fi enterprise deployments today.
With the exponential rise in "Smart" devices and consequently data consumption, operators are increasingly looking to Wi-Fi to provide congestion relief. While Wi-Fi has of course been widely available – in offices, homes, cafes, hotels, etc., and also is the preferred method of connecting to the network by consumers, the public "Hotspot" experience in most cases has never been simple, secure or seamless. Passpoint addresses these usability issues and provides a framework for operators to securely "integrate" Wi-Fi as an alternate access network.
Aruba has been strongly involved in the Hotspot 2.0 specification development efforts and has already participated in several of WBA's Phase 1 operator trials and will be participating further in Phase 2 trials.  Aruba's WLAN infrastructure is widely deployed in public venues / Hotspots by operators and Service Providers worldwide and this market is seeing tremendous growth. We view our infrastructure as not just for providing connectivity but an enabling platform for operators / SPs to deliver value add services including data offload. In this context, Passpoint is extremely relevant and important for Aruba and our customers.
To recap, the key goal of Hotspot 2.0 (Passpoint) is to make whole process of attaching to and roaming across Wi-Fi hotspots as simple and secure as roaming between the macro cellular networks. When you roam (to a different city or different country), do you ever recall having to manually reconfigure your cellular phone? Nope!  When you turn it on, it automatically registers with the home network, or with a roaming operator, and you are on the network. The cellular roaming infrastructure handles all the registration and authentication silently and securely. In a similar vein, a Passpoint capable infrastructure and device ecosystem will enable seamless and secure Wi-Fi network connections without requiring any manual intervention.
The key aspects of Passpoint are:
1)      Automatic service discovery and selection (based on the IEEE 802.11u amendment)
2)      Strong security (WPA2-Enterprise is mandated together with 4 EAP types including EAP-SIM)
Figure 1. Key Elements of Passpoint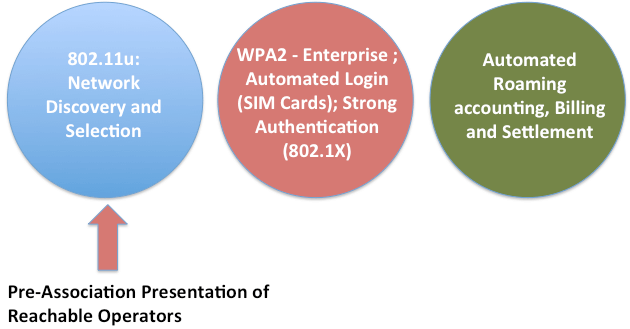 Passpoint allows devices to discover what services are available and prioritize which service to connect to – even before it associates to the network. The Wi-Fi Access Point advertises information about services from several Service Providers (for example AT&T, Verizon, Comcast, NTT, China Mobile, etc.), and with a roaming framework, the device can authenticate and attach to either its home operator's service or that of a roaming operator based on the subscription profiles.
Passpoint will enable MNOs/MSOs/Telcos to broaden their footprint cost effectively and enable independent hotspot operators and venue owners to gain additional revenue opportunities by offering offload services to operators. And of course for the consumer, Wi-Fi in public areas becomes more accessible and secure. Everyone wins!
For more details of Passpoint, please refer to the excellent White Paper written by my colleague Peter Thornycroft which can be found attached to this blog.
WFA's Passpoint program provides device and infrastructure certification of compliance to Hotspot 2.0 specification. In parallel, the Wireless Broadband Alliance (WBA), whose members include leading global operators and device vendors (including Aruba), is developing frameworks for operator policies and roaming agreements between different network operators. In essence, its charter is to bring the worlds of Wi-Fi and GSM together to develop large scale, international roaming frameworks. WBA is conducting trials (called Next Generation Hotspot or NGH) to test the broader operator roaming  with devices that are Passpoint certified.
Passpoint Release 1 certification for network equipment and end user devices is expected to begin in late June. Aruba will soon enter this formal certification process. We expect more consumer devices to be Passpoint certified through 2012 and into 2013 at which point the benefits of Passpoint will start to bear fruit.
In summary, Passpoint and WBA's NGH represents one of the most significant efforts by the industry to leverage Wi-Fi for data offload thus enabling a simpler and more secure access to Wi-Fi hotspot networks. And Aruba is more than ready to ensure success of this very important initiative. Watch this space for more details and announcements pertaining to Passpoint.