What is the Edge Network?
What is the edge when it comes to networking terminology? Unfortunately, there isn't a simple and clear answer.
One possible definition of edge switch is a switch located at the meeting point of two Layer 3 networks. For example, an edge switch connects usually a local area network (LAN) to another type of network like an Internet service provider (ISP) network acting as a router or firewall at the edge of the internal network perimeter. This is a common definition used in enterprise networks.
But another definition could be related to the peripheric layer of a switch distribution topology. In this case, an edge switch is the closest one to the devices, like in this schema:
To be honest, this is not a good definition. There is already an "access switch" term to define this specific case, according to the hierarchical internetworking model (see this post). In this case, the edge is not the end of the network where devices are connected.
The term "edge" also gets used a lot with  other areas like data center and cloud models. For example, there is a difference between enterprise data centers and edge data centers, usually based on the size of the environment.
The need for edge processing closest to the source of data becomes critical to process data and deliver content and services with minimal latency. The main request for edge data centers comes from Internet of Things (IoT) devices, but it has become quite commons to see the edge as a "tier" of a generic infrastructure with the locality principle.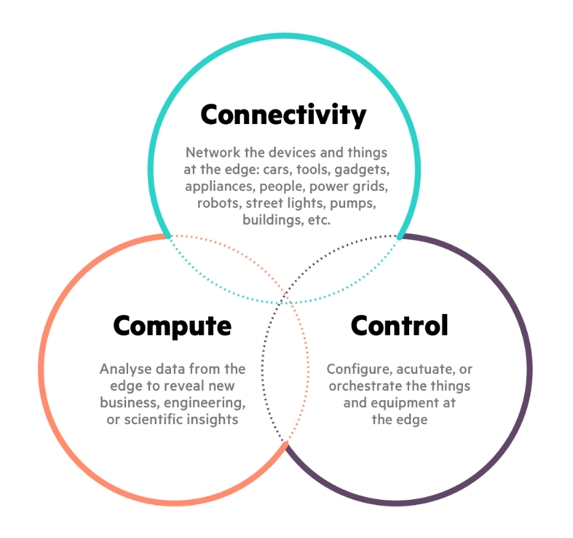 Generally speaking, we can talk about "edge" (or the need of it) when there are those three Cs:
Connect: You need to connect devices, people or things and facilitates data exchanges or data collection.
Compute: The collected data must be managed and processed as soon as possible or to minimize and optimize the data that must be sent to the central processing.
Control: These computed insights can then be used to take action, control the devices and things at the edge, or prompt other types of control actions associated with the business or enterprise to which the edge is connected.
Edge Data Center
Usually, edge data centers are relatively small, but they still need a rack with a proper cooling system and power management.
For this reason, there are several proposals from companies in the uninterruptible power supply (UPS) market in partnership with hardware vendors.
HPE has a nice solution (with ABB and Rittal) described on this page.
In this case, inside the rack, there will be common switches and devices like in a "normal" rack.
Edge (Access) Switch
As written, the term "edge switch" can be used to describe a generic "access" switch, usually in small environments.
For example, the HPE OfficeConnect 1405 series is an entry-level, plug-and-play unmanaged switch.
These are very simple, purpose-built switches. They are usually compact, and in most cases fan-less, but with limited features and performance.
Edge (Industrial) Switch
More interesting are the industrial switches designed to work at the edge close to the IoT devices.
They still are compact and small, but with a different design. Starting from the operating temperature range that is wider (-40 ~ 75°C) and compliance with FCC, UL, CE and EN50121-4 standard as well as compliance with industrial grade-high EMS protection. IoT devices don't always get to operate in optimal environmental conditions.
They usually have a metal shell and robust mechanical and components provide long MTBF. Also, there are more flexible connectivity options, such as 10/100Base-T(X) and 100Base-FX optical fiber, to provide stable and reliable transmission for industrial Ethernet connections. Most also have a relay output of power-failures warning and broadcast storm (or that can be programmed for other purposes). There are many different models and options, including Layer 3 or higher appliances (for example to include GSM connectivity).
In the future, we will probably see more of this solution as well as new types of solutions, such as with converged compute power or a more standardization for edge devices.
Related Content
Aruba Central
The Intelligent Edge: What It Is, What It's Not and Why It's Useful
Read My Other Blogs
Stacking Network Switches: Why and Why Not
Why SMBs Need Switches with Modern Security
Network Topologies: Logical vs Physical