Yep, that's Buzz and Woody, human size, made out of Lego pieces. I used to love Legos as a child,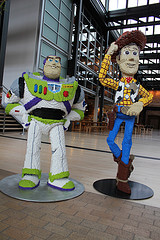 they were my favorite toy. All those small pieces helped you build something that looked so… "perfect!"
Our recent survey of wireless network engineers (200+ participants across different verticals) revealed that wireless LANs are not yet that perfect. 70% of them said their users often or once in a while complain about mobile app performance over Wi-Fi.
Many of these organizations plan on installing more WLAN access points to their networks – which might help solve some of the problems – but it is not going to solve the problem for good. If you are interested in learning why, keep reading.
When users submit an IT trouble ticket complaining about wireless LAN performance, they're actually complaining about their poor mobile app experience, such as a dropped FaceTime call or an unsuccessful file upload to Box. If the wireless LAN does not offer visibility into the types of apps that are traveling over the air, installing more and more WLAN access points is just not going to fix the problem.
Folks at Flurry report that time spent on mobile apps has outpaced time spent on the web by 30%. MobileFuture.org reports that smartphones generate thirty-five times more traffic compared to regular phones – and most of that traffic is on the wireless LAN. And as the screen size gets bigger, more Wi-Fi bandwidth each mobile app demands. Same study shows that tablets generate three times more traffic than smartphones. Not only that, according to another research by Flurry, while the time spent on smartphone apps averages about four minutes per session, time spent on tablets apps average about eight minutes.
So the more tablets you have on your network – in addition to the laptops and smartphones everyone is carrying around these days – you are destined to face more congestion on your wireless LAN. And it's a big problem when you consider OnlineColleges.net reports that for 89% of colleges, tablet is the biggest data consumer.
Not only is the traffic load increasing but also the type of traffic that we see on a wireless LAN is changing rapidly. Folks at iMomentous highlight that smartphones consume two timesmore multimedia- heavy video and audio traffic than regular web sites. That simply means that mobile apps demand much lower latency and faster response times.
Here is an example. A mobile device camera with 8-megapixel resolution can create 3 MB of data per photo and 270 MB of data per one-minute video over Wi-Fi – thanks to cloud-based storage apps like Box, iCloud and Google Drive. These apps automatically download and upload data, whether the mobile device is in your pocket or your briefcase. And by default they are configured to use as much Wi-Fi bandwidth as they can.
Not surprisingly, many Wi-Fi networks report that upload traffic equals or exceeds download traffic. There are more photo uploads to Facebook and iCloud, more document uploads to Dropbox and Amazon Cloud, and more video uploads to Vimeo and YouTube than ever before.
Let's get to the point and ask the million dollar question: Which mobile apps place the greatest demand on a wireless LAN? Here's our top-5:
Video & Web Conferencing: Examples include GoToMeeting, Google+ Hangout, Cisco WebEx, Microsoft Lync and Skype. If more people join the video conference with mobile devices that have a larger screen size, the more wireless LAN bandwidth is required. For instance, Skype requires 4 Mbps for five-way conferencing, and WebEx requires doubles the bandwidth for a laptop versus an iPad.
Cloud Storage: Apps such as Dropbox, Box, iCloud and Google Drive capture as much wireless LAN bandwidth as they can, unless default settings are modified by the end user. Many higher education institutions today are trying to take control of their Wi-Fi and WAN bandwidth due to sudden increase in the use of "free 5GB" cloud backup options offered by many of these apps.
AirPrint and AirPlay: Until the multicast DNS traffic of Bonjour can be optimized over the air, most IT departments will disable it to limit broadcast traffic. And each screen mirror requires about ~1 Mbps for each Apple device – adding more to the challenge. With Aruba AirGroup, we are trying to tackle the challenge and optimize Apple Bonjour over the air.
Audio & Video Streaming: Spotify, Pandora, YouTube, Vimeo, Netflix and others are the leading consumers of wireless LAN bandwidth today. It is now common for users to stream audio at work and at school. Each audio stream requires about 500 Kbps of Wi-Fi bandwidth, and each video stream up to 2 Mbps. That's a lot of airtime, especially if mobile devices are not using highest possible Wi-Fi rates when connected to the WLAN access points. Special note on Spotify: It is the only on-demand music streaming service that's not web-based. Instead, it uses peer-to-peer communication among subscribers. Only 9% of music playback comes from Spotify servers, unless you are using a smartphone. The rest of the traffic is served within the point-to-point network (36%) or the mobile device local cache (55%).
Virtual Desktops: Examples include Citrix XenDesktop and VMware View. Laptops and tablets that rely on these apps require a minimum of 1.5 Mbps bandwidth – a great challenge for any wireless LAN, especially in high-density environments. Bandwidth needs vary depending on the type of traffic. For instance, internet and office-based sessions require 150 Kbps bandwidth, while printing and standard video sessions require over 500 Kbps.
Bottomline: We only have so much Wi-Fi bandwidth over the air and something's gotta give. We need to start protecting the most important mobile apps over the others based on policy. QoS mechanisms can no longer be assigned to VLANs, subnets or SSIDs in a wireless LAN; they need to assigned to each specific application flow. Aruba AppRF is supposed to do just that: