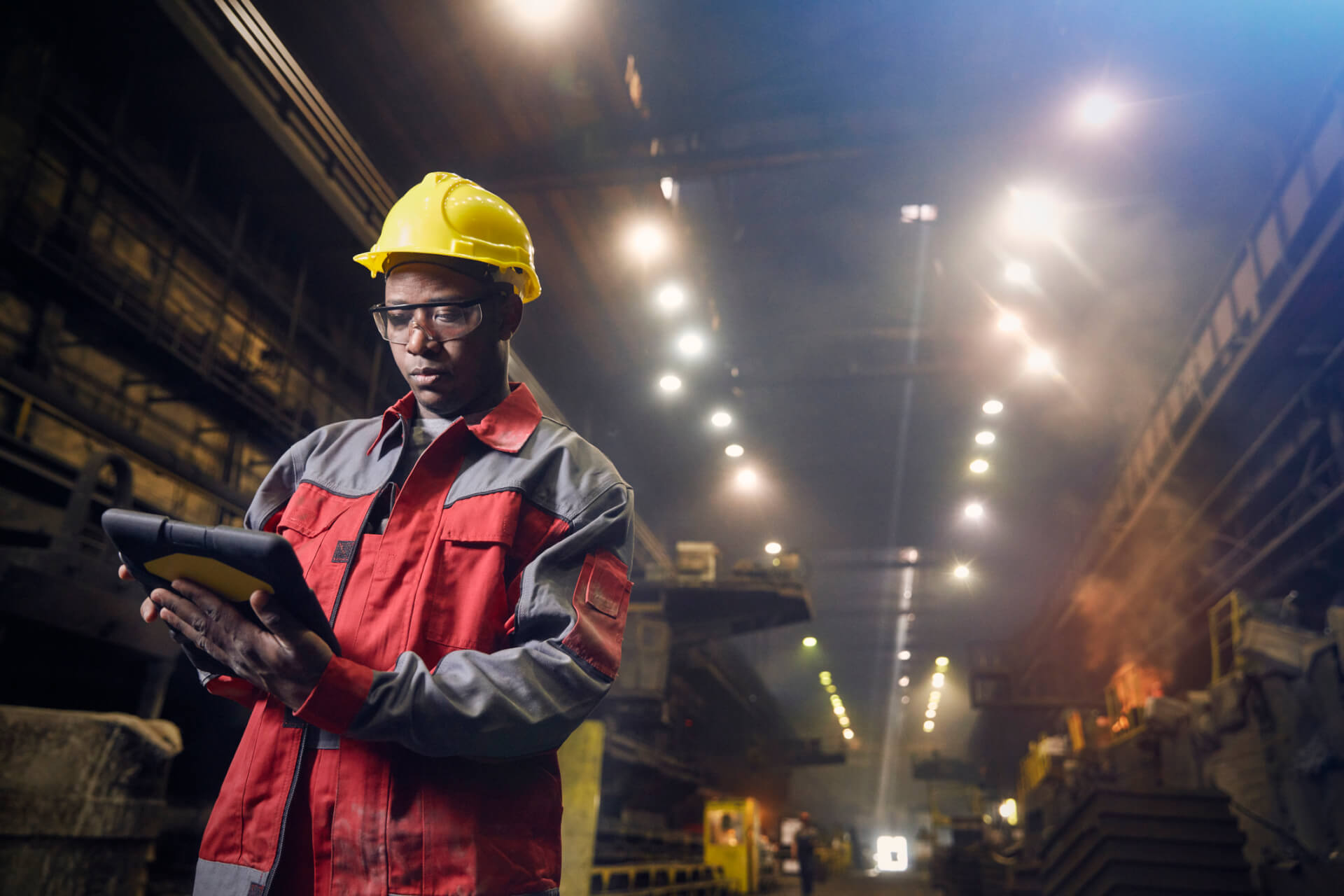 From outdoor IP video cameras in smart cities above the Arctic Circle to motor drives in oil fields sweltering in the desert heat, unforgiving unconditioned environments present unique connectivity challenges. LAN switches in these applications often need to operate inside enclosures, without fans, across wide temperature ranges while delivering the same performance for IT, Internet of Things (IoT), and Operational Technology (OT) applications as pampered enterprise switches in temperature-controlled utility closets.

Aruba CX 4100i Ruggedized Switch Series
Rising to this challenge, Aruba announced two new ruggedized additions to the CX switch family: the CX 4100i 12G CL4/6 POE 2SFP+ DIN Rail Mount Switch and the CX 4100i 24G CL4/6 POE 4SFP+ Rack Mount Switch. These Layer 2 static route switches all run the AOS-CX operating systems, and feature fanless operation from -40°C to +70°C, 10/100/1000 BaseT ​ports, 100/1G/10G SFP+ slots, unified role-based access with secure dynamic segmentation, advanced configuration and programmability, and a choice of on-premises or Aruba Central cloud management.
Extend the Intelligent Edge to Harsh Environments
Ideal for mounting on DIN rails in control cabinets, junction boxes, and electronic enclosures, the compact CX 4100i 12G incorporates an innovative design that adjusts wiring port orientation for rear or side mounting in shallow or deep cabinets. Twelve 10/100/1000 BaseT ​ports — four ports of PoE IEEE 802.3bt (60W/port) and eight ports of 802.3at PoE (30W/port) — are available to run IP cameras, RFID and card access readers, IP phones, sensors, LED lighting, Wi-Fi access points, and other IT, IoT, and OT devices.
Two 100/1G/10G SFP+ slots support new -40°C to +85°C industrial transceivers with transmission distances up to 10km:
| Transceiver Model | Maximum Transmission Distance |
| --- | --- |
| 1000M SX | ~0.5km (OM2) (MMF only) |
| 1000M LX | 10km (SMF), ~0.5km (MMF) |
| 10GBase-SR | ~0.4km (OM4) (MMF only) |
| 10GBase-LR | 10km (SMF) |
Three available DIN rail power supply options (480W 100-240VAC, 240W 12-54VAC, and 240W 12-48DC) with input and output screw terminal connections accommodate a broad array of indoor, factory-floor, shipboard, and outdoor deployment scenarios.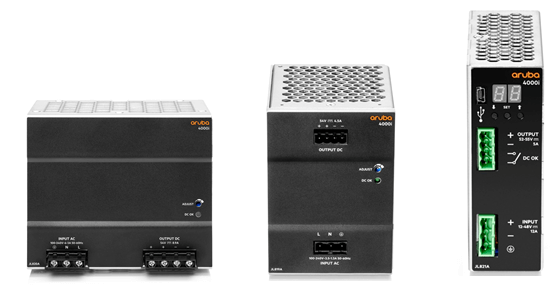 Aruba CX 4100i DIN Rail 480W AC-DC, 240W AC-DC, and 240W DC-DC Power Supplies
For 19-inch rack mount applications the CX 4100i 24G features an internal power supply and twenty-four 10/100/1000 BaseT ​ports — four ports of PoE IEEE 802.3bt (60W/port) and twenty ports of 802.3at PoE (30W/port) — for connecting and powering IT, IoT, and OT devices.  Four 100/1G/10G SFP+ slots are provided for use with the new SPF+ industrial transceivers.
Connect, Protect, and Simplify from Edge to Core
AOS-CX is a cloud-native operating system, built on a microservices architecture that simplifies IT operations by automating configuration, using distributed analytics to speed troubleshooting, and using a resilient switch architecture for high availability. Sharing a common OS across all CX switches simplifies training, deployment, and maintenance. And since all of the features are accessible on purchase — without burdensome a la carte licenses — and covered by a five-year warranty, the switches are also easy on your budget.
Designed on a Zero Trust framework, AOS-CX switches offer unified role-based access: no device can connect until its identity has been asserted and a security policy applied. Aruba Dynamic Segmentation simplifies and enhances security by eliminating manual configuration of VLANs and access lists. Appropriate access and security policies are dynamically applied and enforced across wired, Wi-Fi, and WAN for users and devices.

Aruba Dynamic Segmentation Provides Device-to-Application Security
The AOS-CX architecture provides unparalleled management flexibility including on-premises, Web GUI, or Aruba Central cloud management. Choose the management paradigm that works best at deployment time knowing that you can change in the future without a rip-and-replace.
Redefine the Intelligent Edge with Aruba ESP
These latest innovations are part of Aruba ESP (Edge Services Platform), the industry's first AI-powered, cloud-native platform to automate, unify, and protect the Edge. Aruba ESP's unified infrastructure provides unmatched context visibility and control across all domains, so you can easily and efficiently harness the potential of the Edge.
Let Aruba ESP help you unlock the potential of data generated in inhospitable places. The ruggedized design, wide operating temperature, zero trust architecture, automated configuration, and management options make the CX 4100i switches well suited for industrial, manufacturing, smart city, and building automation applications. Whether they're used with programmable logic controllers in a manufacturing cell, rooftop HVAC chillers, perimeter physical security systems, or pipeline supervisory control and data acquisition remote terminal units, the CX 4100i will provide years of trouble-free, high availability service.
Ready to learn more about CX 4100i switches? Check out these resources: