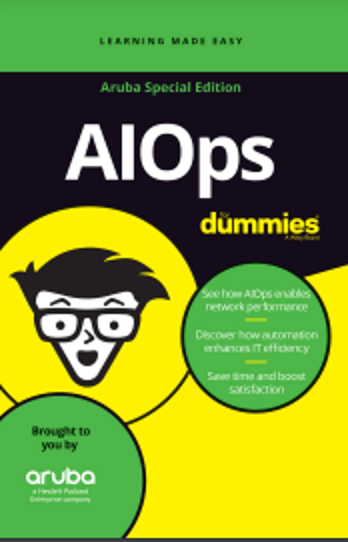 When we announced Aruba ESP in 2020, we talked about AIOps, or AI for IT Operations, being one of the building blocks for our edge-to-cloud architecture. It didn't take long to discover that some easy-to-read content that helps answer, "What is AIOps?" was definitely needed. And more importantly, how AIOps helps IT teams do their jobs more efficiently.
So, we set out to put together something that explains how the AI and machine learning used in our daily lives (we've all seen the targeted ads in social media), is being used to address network issues. IT teams now have 24/7 access to intelligence and automation that can keep mobile users happy as they roam a building, or point out a site that's not performing like it used to – and get a recommendation on how to make it better.
You'll also learn how natural language processing-based search with smart cards is a valuable tool. And, why those chatbots you see in browsers that aren't quite as helpful as speaking to a human also use AI, but in a different way.
The AIOps For Dummies, Aruba Special Edition eBook, gives you a foundation for understanding AI, AIOps, why data is important, and a wealth of additional information in that easy-to-read format you've come to expect from a Dummies book.
Additional topics include:
IT challenges where AIOps can help
Knowing what to look for in an AIOps solution
Use cases where AI is helping IT today
The 10 immediate benefits of using an AIOps solution
And, how you can start your AI journey with the Aruba portfolio
Another thing to remember is AIOps is here to help. And in today's work from home world, I haven't spoken to a single IT team that hasn't needed a little help.
Tags: