Every NBA season is full of surprises but the 2019-20 season, with the league's new teams, this one may hold more shakeups than usual. No one knows how Lebron James will share the floor with Anthony Davis or if Kevin Durant and Kyrie Irving will partner up on offense or put all their efforts into one-on-one opportunities. How will Stephen Curry deal with the new team of younger Golden State players?
With so many unknowns this season, I'm counting on Wi-Fi, my mobile phone and cool new apps that help me stay on top of all the NBA action. Honestly, more and more frequently my fan experience depends on wireless. I've been reading about pre-season activities and watching video highlights on my smartphone and connecting to the Wi-Fi is the first thing I do when I attend a game. It wasn't that long ago that I always wondered how well it would work when the arena filled up.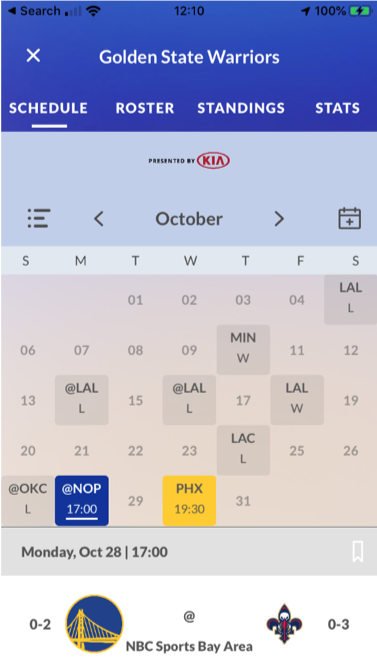 Realizing how often I turn to my phone for my sport fix, I was stunned at how reliant I had become on Wi-Fi – especially where cell coverage is limited.
Here's a breakdown of my recent experience.
Pre-game Warmup
I love living in the Bay Area and was thrilled to be able to check out the new Chase Center and watch my favorite Golden State Warriors in their new home. Being picky about watching my first game there and wanting an offense-heavy game with interesting matchups, I needed to research the teams, potential player line-ups, individual player stats and available tickets.
Once I decided to move forward, I checked the online schedule to see which dates would fit my calendar and decided on opening night. Next, I went to buy tickets online. I quickly tapped the screen for two great seats, purchased them by credit card and selected the mobile ticketing option.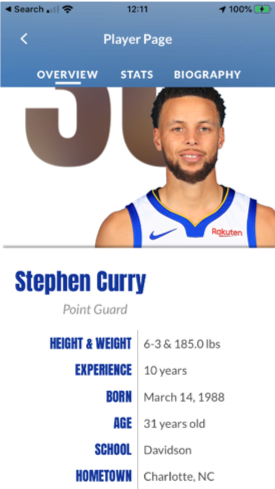 Game Day Readiness
On game day, I connected to Wi-Fi at home to help me find the best route to Chase Center and to keep an eye on traffic. The last thing I wanted to do is miss the iconic pre-game long shots! I made the decision to take my bicycle to the arena and take advantage of the excellent free Valet Bike parking. The new Chase Center app helped choose this option and I knew I had to leave a little earlier for early arrival.
I'll also spend lots of pre-game time looking at player stats and schooling myself on what matchups to expect and who to watch on the mobile app.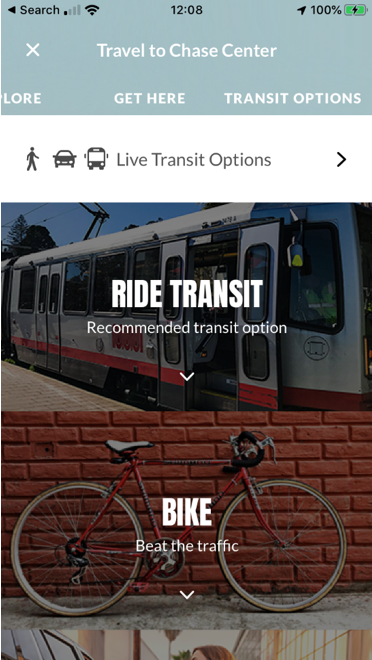 Once in my seat, I connected to the excellent Chase Center Wi-Fi network and shared some pics and posts about the exciting pre-show activities. A lot of my family and friends enjoy sports and we love sharing experiences. Beyond social media, I relied on the Wi-Fi network to look at replays that were not posted on the arena's big screen and to keep an eye on how other teams were doing.
In between the action, I checked the Chase Center Mobile app to see what food options were in the arena, picked my Bay Area favorite – Sam's Chowder House – and utilized mobile ordering to not miss a fast break.  Of course, I couldn't help myself and ordered a new edition Golden State Warrior hoodie to remember this first trip to where I hope the Warriors bring many more championship trophies.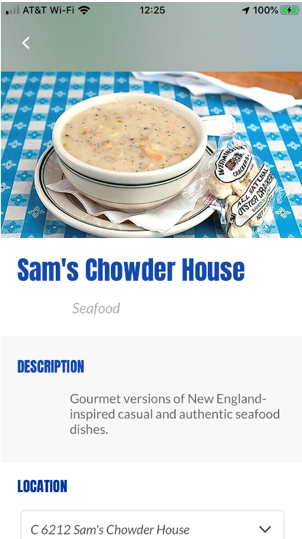 As the game was coming to an end, it was time to plan for the trip home.
I decided to take a detour to discuss the game outcome and the amazing new facility with my friend. A quick look at the map to search for available restaurants and bars in the vicinity made the decision easy. The Ramp, a local favorite and cozy waterfront bar stays open after games and was the perfect choice for a post-game drink.
Within the next year, Chase Center will have restaurants and retail locations right at Thrive City where we can stay after the game for a bite to eat or a drink.
Once I was home again, I was able to revisit highlights from the game and check out a replay of Klay Thompson addressing the noisy crowd.
Aruba Gives Fans What They Want
For me and a lot more sports fans, stable, secure Wi-Fi makes or breaks the in-game experience. This is not just big league stadiums anymore, we all expect Wi-Fi in sports arenas and stadiums for basketball, football and soccer. Fans love Wi-Fi in the UK, 62,000 Hotspur fans connect to Aruba Wi-Fi via 1,670 access points at the Tottenham Hotspur football stadium. They enjoy a sleek, friendly mobile app paired with high capacity Wi-Fi so they can use e-tickets and use wayfinding to locate their seats.
In the U.S., Aruba continues to break our own records for most Wi-Fi data used during a single-day event and for the peak capacity in the stadium. Fans attending the recent Michigan State vs. Ohio State football game at the Shoe in Ohio sent 25.6 TB of data. More than 2,000 Aruba Wi-Fi access points supported 74,940 unique connections as fans sent messages, posted on social media, and downloaded video.
What I love about these stories is that the fans never have to think about the Wi-Fi. The Aruba network works as promised, providing the best possible fan experience. As I waited eagerly to see my first game at Chase Center, I wasn't worried about poor performance. The Aruba-powered network has already proven it's dressed and ready to hit the court.