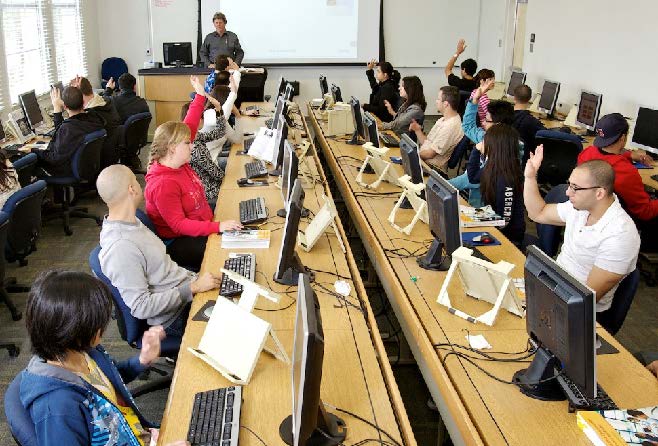 Pierce College, situated in the Chalk Hills region of Woodland Hills, is one of nine campuses in the Los Angeles Community College District. Our IT team recently partnered with Aruba to implement network upgrades to better support the on-campus experiences and safety of our students and staff.
Assuring Student Safety
Like any college, Pierce takes student safety to heart. With that in mind, last year we began a project to install 150 security surveillance cameras around the campus. To do this, we needed to refresh our network infrastructure.
We have long been a Hewlett Packard Enterprise customer, so it made sense to turn to Aruba to bulk up our network. The security camera project was part of a larger plan to upgrade our infrastructure to deliver performance and reliability of our 22,000 students and more than 1,000 faculty and staff.
An Intelligent Access Layer
We wanted to make sure we had cameras not only in the remote areas on campus but also the more populated spaces. It was critical to tie the cameras to a highly reliable and available network.
Accordingly, we installed 32 Aruba 2930F Layer 3 access switches, Aruba 7220 Series Mobility controllers and AP-325 802.11ac access points (APs) with the AOS-8 operating system. We've completed the initial phase of our deployment, installing 96 cameras around the campus, and sometime next year we'll implement a second phase, with up to 150 cameras.
The Role of Wireless in Higher Education
Upgrading the wireless network is crucial for an educational institution, so we're also pursuing a larger project to standardize on Aruba wireless products throughout our 35-building campus. To do this, we're installing AP-345 APs and plan to finish this upgrade in the first quarter next year.
Why is this important? For one thing, we have a farm for veterinary sciences and similar life sciences programs. This requires students to be out of the classroom, so connectivity for distance learning and general communication is very important.
And both inside and outside the classroom, students and faculty are using applications such as Canvas, Portfolio and Office365. The plan is to expand the use of wireless connectivity throughout the campus, including installing outdoor APs at the farm.
Upgrading the Core
As part of the upgrade, we chose to migrate our existing core as well. Our IT team plans each technology upgrade with a forward-thinking approach, and this upgrade was no different. After careful consideration, we chose to become one of the first adopters of the Aruba 8400 and deployed two of the core switches. These switches not only form a reliable backbone for our security camera project but allow us to expand our network across our campus and future-proof our infrastructure for when we move to 40Gb or 100Gb. This upgrade will also help us with our Internet of Things (IoT) program and our growing use of the cloud.
Our LAN architecture needed to be updated and expanded and we didn't want to simply buy a newer version of old technology. With the 8400s, we got high performance, high capacity and high availability, as well as enhanced visibility, analytics and automation in the ideal part of the network to support these features. For instance, with the AOS-CX operating system and Network Analytics Engine, we get continual insights into the health and operations of the network.
We'll soon be able to do more with analytics and will better understand how to shape our traffic. This will help us allocate networking capacity based on need.
For instance, during registration periods and the first few weeks of classes, there is a lot of activity on the network. It dies down a bit as the semester rolls on, so we need to dynamically adjust capacity to certain parts of the network as needed.
More to Come with ClearPass and Dynamic Segmentation
We've only really scratched the surface on our plans with Aruba. We are beginning to explore what we can do with ClearPass, Aruba's network access control (NAC) and policy management software.
ClearPass will give us greater visibility into devices and users that are accessing the network and will enable us to determine what they will have access to. This is important because students and faculty expect easy connectivity to the wireless network, so we need to be able to reliably and securely give them that access.
Also, many of our academic departments include interactive programs that require constant connectivity to third-party resources. For example, our automotive and electronics groups work with third parties when teaching students, so network reliability and security are important.
ClearPass will also help us implement the exciting capabilities of Dynamic Segmentation. This will help us to automatically segment multiple traffic classes from multiple sources; for instance, we can easily keep our academic or surveillance camera traffic from interfering with the networking needs of the computer science, automotive or engineering groups.
Staying on the Leading Edge
The response so far has been terrific. Previously, there were major complaints from students, staff and even our 16 IT workers in regard to reliability, performance and configurability. We've had far fewer complaints since we've brought Aruba onboard. Even with the wireless security cameras, we've had almost 100 percent uptime due in large part to the 8400 switches.
As a modern community college, having a secure and reliable network that we know will allow us to adopt emerging technologies in the future is key to addressing the growing and changing needs of our students, faculty and staff.