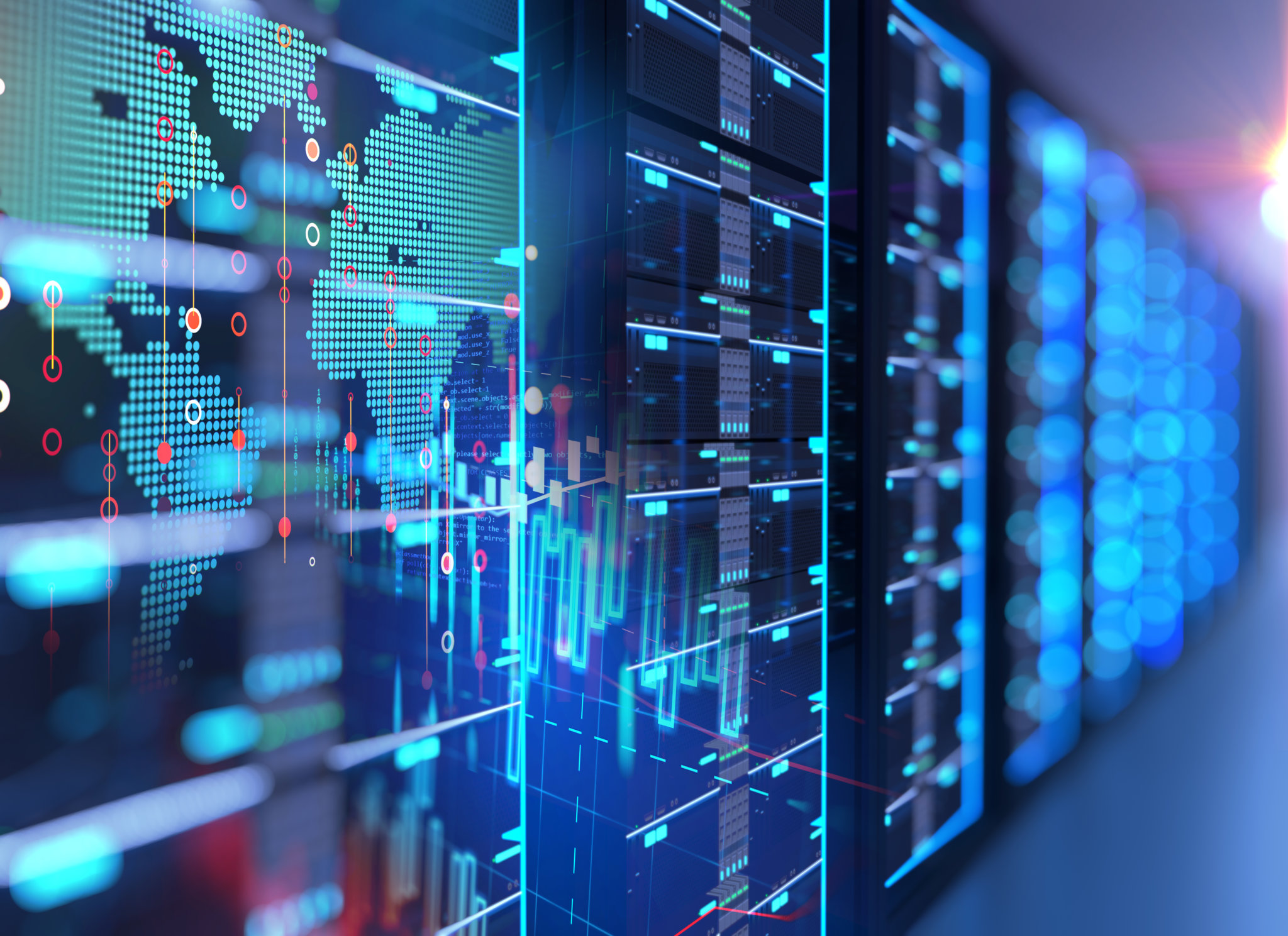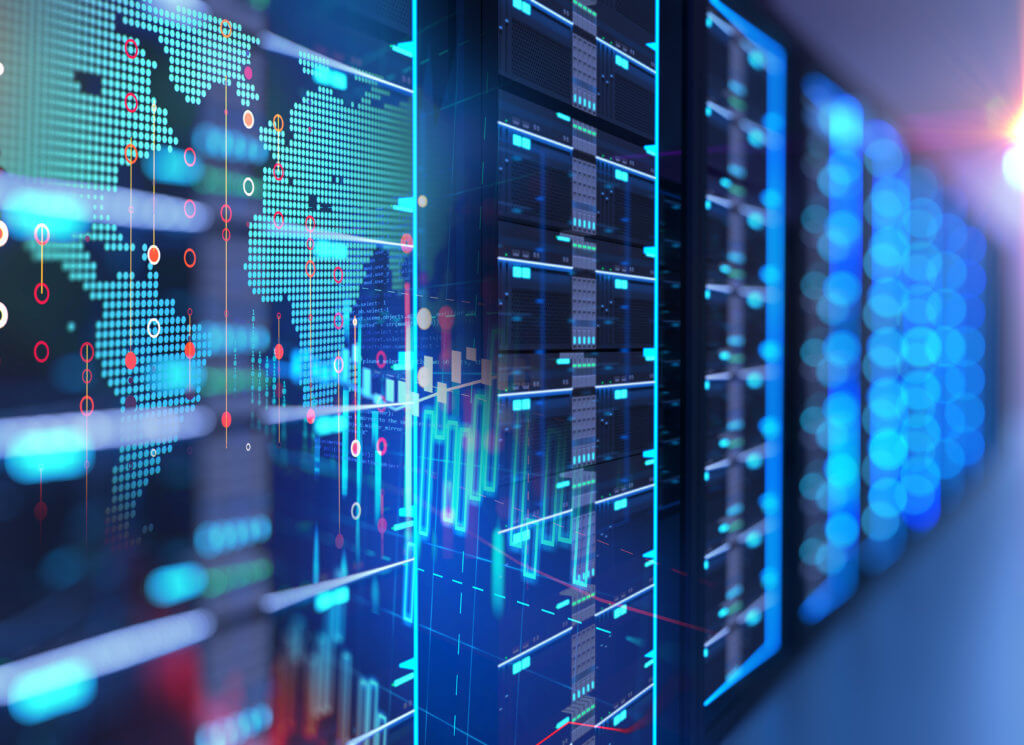 Federal data center consolidation is a $6 billion success story, according to a February 2023 GAO report. Beyond the massive cost savings to taxpayers, data center modernization and optimization allows agencies to make sure critical applications are available and secure, and that resources are used efficiently.
Agencies have also embraced the cloud, but where security is a chief concern, private data centers continue to be a vital part of the overall federal IT strategy. And that means federal IT leaders will have an ongoing focus on data center availability, utilization and efficiency so they can deliver IT services responsively to support their organization's mission, whether that is to provide healthcare to veterans and their families, protect our borders, support forward operating bases, or other government function.
Reimagine the Data Center Network
As federal IT leaders continue data center modernization, it is critical to consider how network services are delivered. Building a cohesive digital foundation allows applications and resources to be deployed swiftly and securely with administrative ease and operational efficiency.
But that vision requires a re-imagining of the network. Traditionally, different network architectures were used for the data center, edge and campus networks, and those siloed domains have led to network complexity and inflexibility. Network services to support new applications or locations are typically provisioned manually, and the time-consuming work creates delays and causes friction with other application, infrastructure and project owners. When application availability or performance issues arise, IT staff often lack end-to-end visibility into what's happening on the network, and problems are escalated to experienced engineering teams, diverting their attention from strategic projects. In fact, it's estimated that network teams spend 70% of their time trying to identify and diagnose issues.
Modern Data Center Networking from Edge to Cloud
Aruba's approach to networking can eliminate that friction and help federal teams accelerate IT service delivery. With Aruba, the data center network fabric can extend from the edge to the cloud.
At the heart of our approach is AOS-CX, our cloud-native, microservices network software running on Aruba switches. AOS-CX is a modern network operating system designed to deliver high availability, simplified programmability, and automated visibility to resolve issues faster.
A data center fabric built using a spine-leaf architecture is ideal to deliver high performance, low-latency connectivity to support the growth of the cloud-native and containerized applications as server-to-server traffic continues to grow. EVPN-VXLAN, as the overlay network, enables agencies to connect geographically dispersed locations using Layer 2 bridging at cloud scale, allowing resources from different data centers to deliver a single service.
For the physical network, Aruba offers next-generation, cloud-native switches ready for the demands of the data center core and edge. The Aruba CX 10000 Series combines best-of-breed L2/L3 switching with the industry's first hardware-accelerated services processor, while the Aruba CX 9300 Series is a compact 100/200/400GbE switch. A broad portfolio of data center, edge and campus switches allows technology decision makers to choose the best-fit switches while maintaining operational familiarity and procurement simplicity.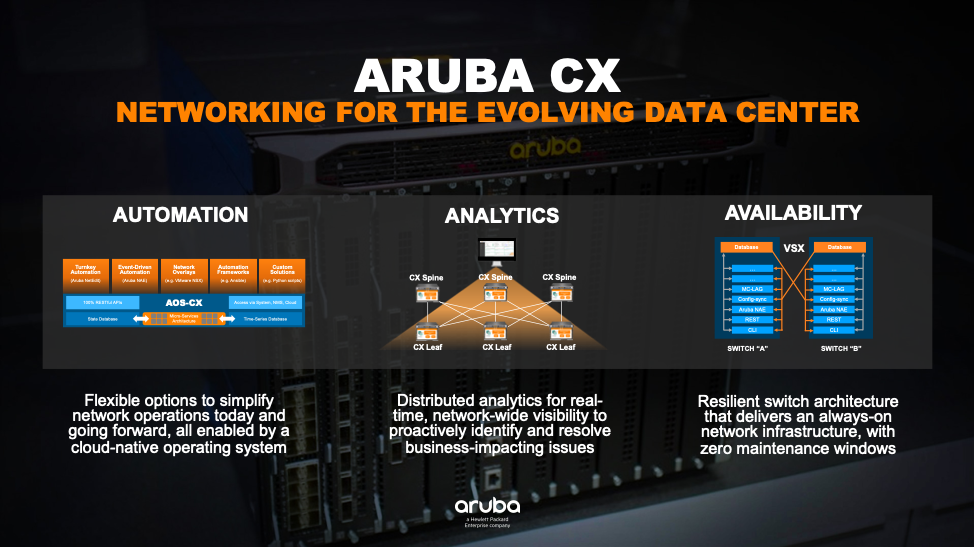 Simplify and Accelerate IT Operations
With Aruba, IT can automate recurring and routine network tasks to eliminate manual work, reduce the risk of human error, and free up IT teams to focus on strategic projects.
IT teams can use Aruba Fabric Composer, our software-defined orchestration tool, to provision the leaf-spine network across compute and storage. Automation and orchestration allow network services to be delivered quickly to support applications and workloads and without over-provisioning. Cohesively managing individual switches simplifies configuration and operations and provides the clear visibility when troubleshooting is needed.
Modernization is also an opportunity to build a more environmentally sustainable data center, with modern server, storage, and network gear that require less power and cooling, which ultimately drives OpEx savings and aligns with the government's sustainability plans. HPE is committed to sustainability, and was ranked in the top 1% of global companies for sustainability practices in 2020.
At Aruba, Advanced Networking and Security is Our Mission
Aruba has consistently been a leader in delivering secure network connectivity and services to all parts of the Federal government. We are proud of our ability to offer secure, scalable network solutions to support military and civilian agencies. As agencies continue to close aging, inefficient data centers and build modern, flexible, and efficient digital infrastructure, Aruba is also committed to delivering network solutions from edge to cloud that support the government mission to accelerate service delivery.
Learn more about modern data center networks from edge to cloud.