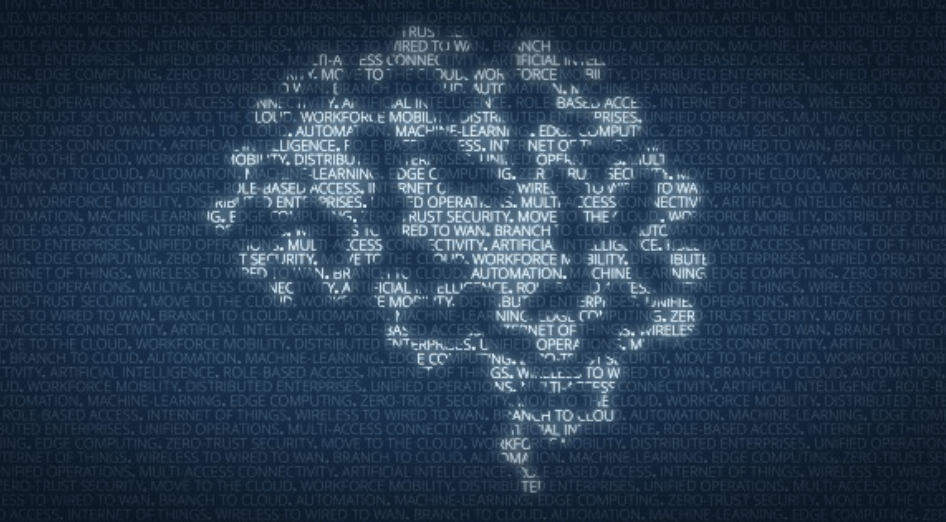 Aruba's vision is to transform how we work, live and play at the edge. We envision a world where new business outcomes can be achieved and new experiences delight users. We imagine new ways for businesses to interact with their customers, for products to be designed and made, and how employees interact with their peers and surroundings. We envision better ways to shop, explore, and be entertained. It is a vision we share across industries like retail, healthcare, manufacturing, hospitality and education. It is a vision that will be made possible by the next major market shift – the Data Era.
Data Drives Business Outcomes at the Edge
Data is being produced at higher volumes and greater velocity across shops, factories, banks, hospitals and offices. IoT, artificial intelligence, machine learning and edge computing are working in concert with the cloud while being deployed closest to where the work gets done—the Edge. Harnessing the power of data reveals insights that can be acted upon locally to accelerate decision making, improve operational efficiency, and transform business models. We call this the Intelligent Edge.
Networking is the foundation of the Intelligent Edge. It is what connects users, devices and things to applications and services, while capturing data about where, how, what and who is connecting to the network. To realize the promise of the Intelligent Edge, you need a secure modern networking foundation that consistently and reliably connects and converts the edge data into business outcomes.
Unfortunately, the complexity of use cases and the diversity of devices and applications taxes even the most modern network infrastructure, as traditional network management systems are not able to scale to meet these demanding needs. They're only as agile and effective as the people that manage them. To compete at digital speeds, IT needs a network operations platform that provides intelligence to facilitate a  "Self Optimizing" network – one that can free network operators from the mundane tasks that hold the business back. And with businesses increasingly depending on generating and acting on this data in real time to drive new business outcomes, the network needs to do more than just connect and protect – it needs to analyze and act.
Automate and Protect the Edge with Aruba
Today, Aruba is introducing Aruba ESP (Edge Services Platform), the industry's first AI-powered, cloud-native platform designed to automate, unify and protect the Intelligent Edge. Purpose-built for the new requirements at the edge, Aruba ESP continuously connects, protects, analyzes and acts.
Aruba ESP is built on three key pillars including Unified Network infrastructure, AI Ops and Zero Trust Security.  And, it's been designed to deliver a cloud experience at the edge that can be consumed either as a service in the cloud or on-premises, and as a managed service delivered through Aruba partners or via network as a service through HPE GreenLake. Aruba ESP is the industry's first comprehensive edge services platform for managing Wired, Wireless and SD-WAN infrastructure across campus, branch, remote worker and data center locations.
AIOps to Optimize the Network
While network management systems have evolved over the years, they continue to fall short of delivering proactive operations and optimization, key requirements for today's large scale, distributed enterprises challenged with increased complexity associated with the volume of traffic, and diversity of devices and applications. Network operators are tasked with determining where they invest their time, what issues are causing users the most pain, and trying to identify what issues are lurking under the surface that they may not be aware of that can erupt an impact users.
The AIOps capabilities of Aruba ESP ensure reliable, optimized network operations by revealing and troubleshooting issues before they impact the business. Driven by AI, machine learning, and network and user-centric analytics, Aruba's AIOps reduces time-to-resolution and redefines IT outcomes. With AI-driven guidance, IT professionals can accomplish tasks quickly and easily, and ensure that the network service levels of users and devices are met. What's more,
Aruba AIOps shows issues virtually undetectable by humans and then provides prescriptive step-by-step guidance on how to resolve them.
Unified Infrastructure to Simplify Management
For network administrators, the ability to embrace a single operational model across the infrastructure is a breath of fresh air. Administrators no longer need to juggle a half-dozen tools, copying and pasting information from one to the other to execute everyday operations. Aruba ESP unifies all networking domains (wired, wireless and WAN) and all locations (branch, campus, data center and even remote worker) onto a single unified platform. Using Aruba Central, the cloud-native single-pane-of-glass for Aruba ESP operations, IT managers can deploy networks faster and resolve problems quickly, freeing up resources for more meaningful work.
Like Aruba ESP, we've taken a cloud-native approach to our infrastructure devices as well. For example, our new line of CX switches are built using a microservices-based operating system which runs across the entire line of switches from edge access to data center core. And enhancements like this also allow us to move management and control plane services from our Wi-Fi access points to the cloud, enabling greater scale, resiliency and feature velocity for our customers. As a result, with this model, Aruba is now the only vendor that is delivering cloud-native Wi-Fi without the need for controllers, and the ability for a single customer to manage up to 100,000 network devices and 1 million client devices.
With Aruba ESP's common data lake, Aruba ESP can correlate cross-domain events and display the information in Aruba Central in a context that provides most, if not all, the information needed for IT to quickly get to issue root cause and implement actions. For example, getting to a "client cannot connect" root cause can be done in two clicks of the mouse. By entering the user or machine name in the AI Search window, Aruba Central uses Natural Language Processing (NLP) to display all related information. By selecting the user's name, Central's Client view displays the current connectivity status of that client including the SSID, AP, switch and SD-WAN Gateway being used, and if applicable, the root cause of any issue.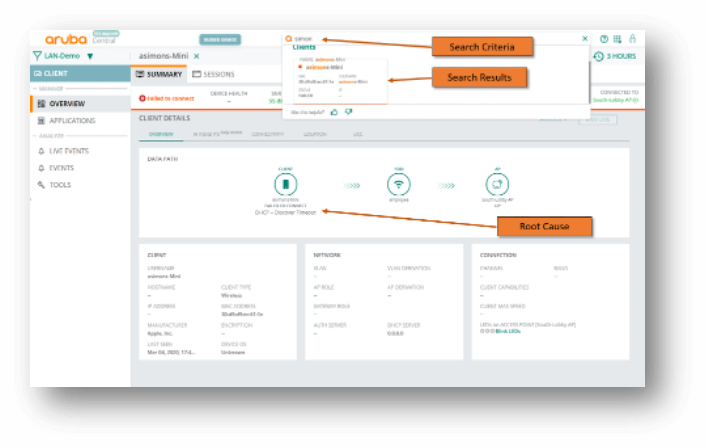 Without a unified infrastructure, IT is faced with manually interrogating multiple platforms using multiple tools. This creates unneeded delays that impact the performance of the Intelligent Edge that could prevent the business from realizing their business goals.
Zero Trust to Protect the Network
According to research, it takes just five minutes on average for an IoT device to be attacked once it's connected to the Internet. With the proliferation of IoT devices and mobility, cyberattacks can come from any direction. It's no longer prudent to trust any entity inside or outside the network perimeter.
Aruba ESP uses the principles of Zero Trust security to assure the identity of a wired or wireless endpoint, enforcing policies applied to those endpoints with an application-aware firewall and adapting to new threats by sharing information with other security platforms and dynamically adjusting policies to networked devices. Aruba has long supported role-based policies, making it easy for network administrators to embrace Zero Trust security without adding complexity.
Built into Aruba ESP are innovations like Dynamic Segmentation, Policy Enforcement Firewall and ClearPass Policy Manager, empowering network administrators to virtually eliminate the need for VLANs and ACLs by providing traffic isolation using centralized policies based on device and role.
Aruba's dynamic approach is in stark contrast to today's approach of managing security policies with static VLANs, ACLs and subnets. A minor policy change can entail dozens of CLI commands, replicated across every impacted network device. It's this time-consuming, human-constrained process that holds back innovation.
Flexible Financing and Consumption Models
To assist organizations who are facing budget and/or resource challenges, Aruba ESP has flexible deployment and financing models. Aruba ESP enables customers to manage the platform and Aruba infrastructure on premises, or in the cloud using a subscription-based SaaS service model, or consume it as a turnkey network-as-a-service. Aruba also offers a range of financial and asset lifecycle solutions through HPE Financial Services to reduce transition barriers and accelerate your digital transformation.
Harness the Power of Innovation at the Edge
The possibility of unprecedented digital innovation awaits. Data at the edge is driving enriched experiences, new revenue streams, predictive operations and increased profitability. Free your networks from their human constraints and overcome economic headwinds so your organization can compete at digital speeds.
With the introduction of Aruba ESP, Aruba offers an Intelligent Edge architecture with AI-powered insights and automation, unified network operations and zero trust security to drive new IT and business outcomes. The Aruba ESP platform is a foundation to capture your digital opportunity at the edge today and for years to come.
Watch Keerti Melkote, co-founder and President of Aruba in his keynote at ATM Digital, and learn more about Aruba ESP.