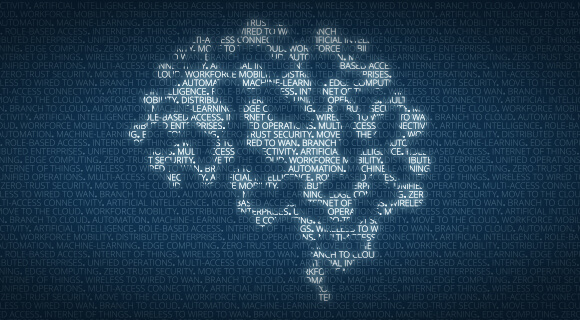 It's clear that it's  increasingly difficult to manage the complexity with the same tools and manual processes. Network management systems haven't kept pace with technology innovation. They fall short of proactively optimizing for a modern large-scale infrastructure.
Do-more-with-less dynamics force network operators to grapple with core questions: Where do we invest our limited time? What issues are causing the most pain for our end user community? What issues am I not aware of that are lurking under the surface and could boil up at any moment to impact the end user experience?
It's Time to Transform IT Operations
AI is common in our everyday lives—in our phones, our home appliances, and increasingly, our cars.
Finally, AI can help network operators cope with some of their most pressing issues. AI can help businesses ensure they have the right foundation, responding quickly to new market opportunities and pivoting quickly as business conditions change.
Gartner's glossary describes AIOps as: "AIOps (AI intelligence for IT operations) combines big data and machine learning to automate IT operations processes, including event correlation, anomaly detection and causality determination."
Great AIOps Starts with Great Data
Aruba ESP (Edge Services Platform) is the industry's first AI-powered platform designed to unify, automate, and secure the Edge. The foundation of effective AI-driven network operations is deep networking expertise, effective AI models, and rich and diverse data.
AIOps is a core attribute of Aruba ESP, along with Unified Infrastructure and Zero Trust Security. AIOps is integrated into Aruba Central, our single-pane-of-glass that empowers operators to manage unified infrastructure, SD-WAN, and security.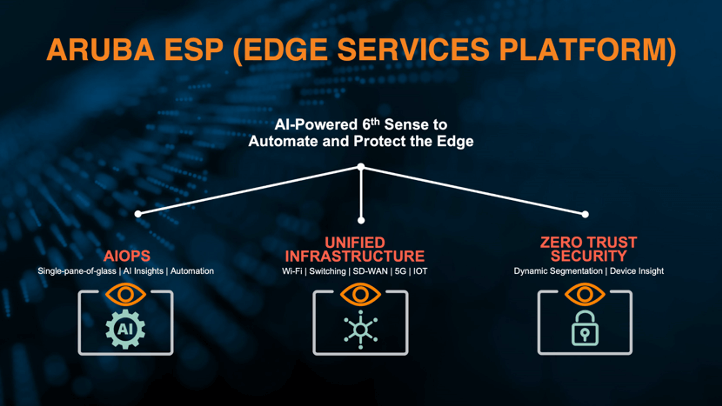 We draw on our deep domain expertise to build AIOps models. Our models leverage hundreds of metrics such as throughput, latency, and resource efficiency. Each metric on its own or in combination with others quantifies how the network is behaving, how well it's working, and how it impacts the user experience.
Over the years, we have  aggregated rich network metadata resources across industries; wired, wireless, and SD-WAN infrastructures; data center; and a broad range of devices.  All these data has resulted in a massive data lake that is home to network telemetry from 1 million network devices, 55 million clients, and 65,000 customer configurations. More than 1.5 billion new data points are added each day.
Data is only useful when it drives actionable insights. Massive streams of data are analyzed by machine learning (ML) and advanced mathematical models to understand network packets in relation to environmental factors, traffic characteristics, user and device behavior, and the overall user experience.
Ultimately, our AI/ML models power the self-driving or self-optimizing network.
You are in the Driver's Seat with AI Guidance
A self-driving or self-optimizing network must first provide stable, resilient network connectivity. Second, the network must guarantee a great user experience with the highest quality of service possible.
To accomplish these objectives, AI-driven network operations must deliver key outcomes:
Root cause analysis that nip issues in the bud
Prescriptive configuration for proactive performance tuning
Take the guesswork out of configuration changes
Validate that a change has truly improved the quality of experience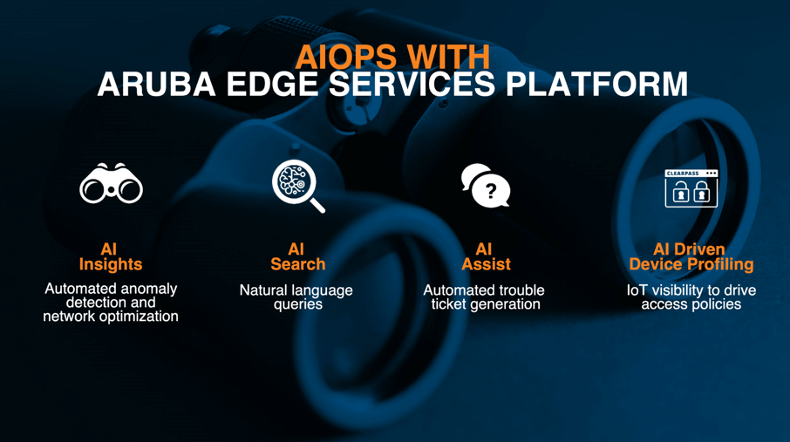 AIOps with Aruba ESP is multifaceted: AI Insights, AI Search, AI Assist, and AI Driven Device Profiling. Aruba's AI Insights provide automated anomaly detection and network optimization. Operators can use AI Search for natural-language search queries to find the most relevant information with the least number of mouse clicks. AI Assist automates tasks like packet capture and opening trouble tickets. AI Driven Device Profiling can accurately identify all devices, including IoT, and apply access control policies for dynamic policy enforcement everywhere in the enterprise network.
To see how AIOps can help you solve connectivity problems, optimize performance based on peer group analysis, deliver increased group performance, and automate log collection and TAC assist, view the demonstration in my keynote at 11:05.
Power Your Network with a Sixth Sense
Aruba can help organizations lift the heavy burden of managing complex enterprise networks. Aruba ESP combines AIOps, Zero Trust Security, and a Unified Infrastructure, with financial and consumption flexibility to help IT identify and resolve issues quickly, protect against advanced threats, simplify management across the enterprise, and quickly deploy network services at scale to support evolving business needs. And, customers can consume Aruba ESP as a cloud-based or on-premises SaaS.
Go Deeper
 View my keynote "Aruba AI and automation can transform IT operations" at #ATM Digital.
Download the latest IDC report, Five Key Enterprise Networking Trends to Watch in 2020, to get key takeaways and recommended actions for this year and beyond.