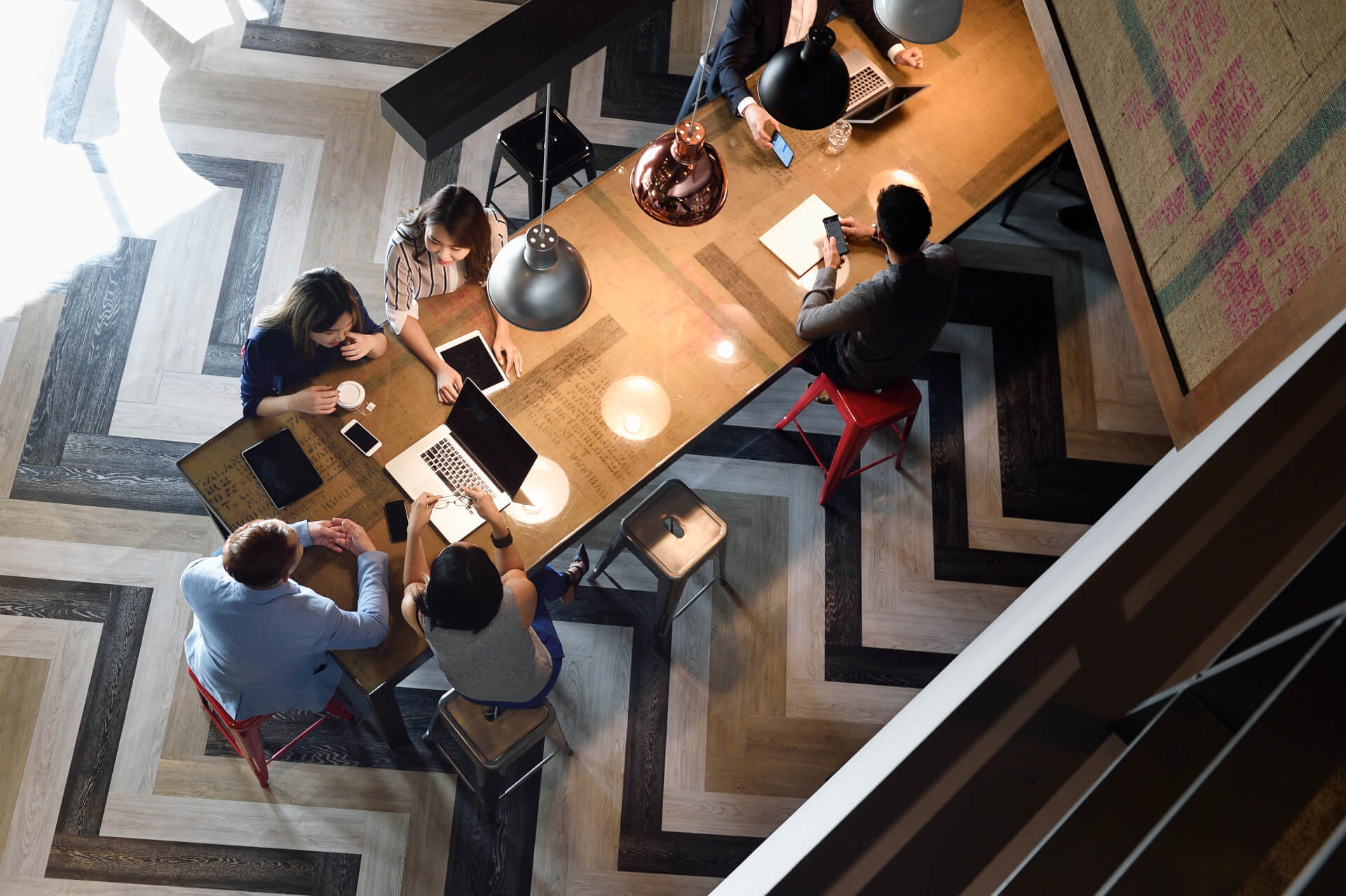 Cloud networking has grown in importance and popularity over the past few years. As businesses continue to adapt their operations in response to COVID-19, such solutions will only become more prominent – more than 50% of enterprises plan to accelerate investments in cloud-managed networking capabilities[1].
The uptick in cloud networking adoption comes as no surprise. With an increasingly distributed and remote workforce, equipping IT with timely insights into user-impacting problems and live troubleshooting support from anywhere is paramount.
What's more, the pandemic proved that network agility is no longer a nice-to-have – it's mission critical. For example, many organizations are deploying more IoT services to streamline operations and ensure workplace safety, requiring fast onboarding of such devices and secure partitioning from other network resources.
These are precisely the types of outcomes Aruba is delivering to customers. Over the past few months, we've introduced several significant enhancements to Aruba Central, our cloud networking management platform, to help customers navigate the uncertainties associated with the pandemic and prepare for whatever lies ahead.
Let's take a look at five of Aruba Central's latest cloud innovations that can help enable the hybrid workplace, simplify IoT initiatives, and deliver better user experiences so businesses can achieve desired outcomes.
1. Enriched AIOps, including closed-loop remediation, to prevent network issues
In today's distributed environments, it's often not a matter of if problems will arise – it's a matter of when. To become more proactive in addressing issues, customers are turning to AIOps capabilities to rapidly surface network issues, pinpoint the exact root cause, and accelerate mean time to resolution (MTTR).
Aruba has been making significant strides in the areas of AI and machine learning, delivering a number of recent AIOps enhancements, including:
The industry's first true self-healing workflow, which automates configuration changes on behalf of the IT admin when the network deviates from desired thresholds or service-level agreements (SLAs) to dynamically fix performance or availability issues. Audit trails and weekly insight reports are also generated to clearly track the occurrence of such issues, what actions take place for remediation, and quantify the impact of the changes.
New AIOps capabilities for SD-Branch Gateways, which help proactively optimize the performance of all available WAN uplinks across each site with little to no guesswork or effort required by IT admins. Read more about these solutions in a blog by my colleague Jeff Olson.
An AP-to-switch mapping insight, which is an AIOps capability that works across wired and wireless infrastructure to improve network resiliency. Aruba Central pinpoints potential gaps in Wi-Fi coverage in the event a switch within a stack were to experience an outage. It then provides prescriptive recommendations of which switch ports each access point should instead connect to, improving LAN topologies while highlighting the percentage increase in wireless coverage across a site.
Additionally, we've introduced Live Chat support (under select availability at this time), which provides direct and timely access to Aruba TAC engineers to address a variety of issues, all via an integrated, proactive support experience.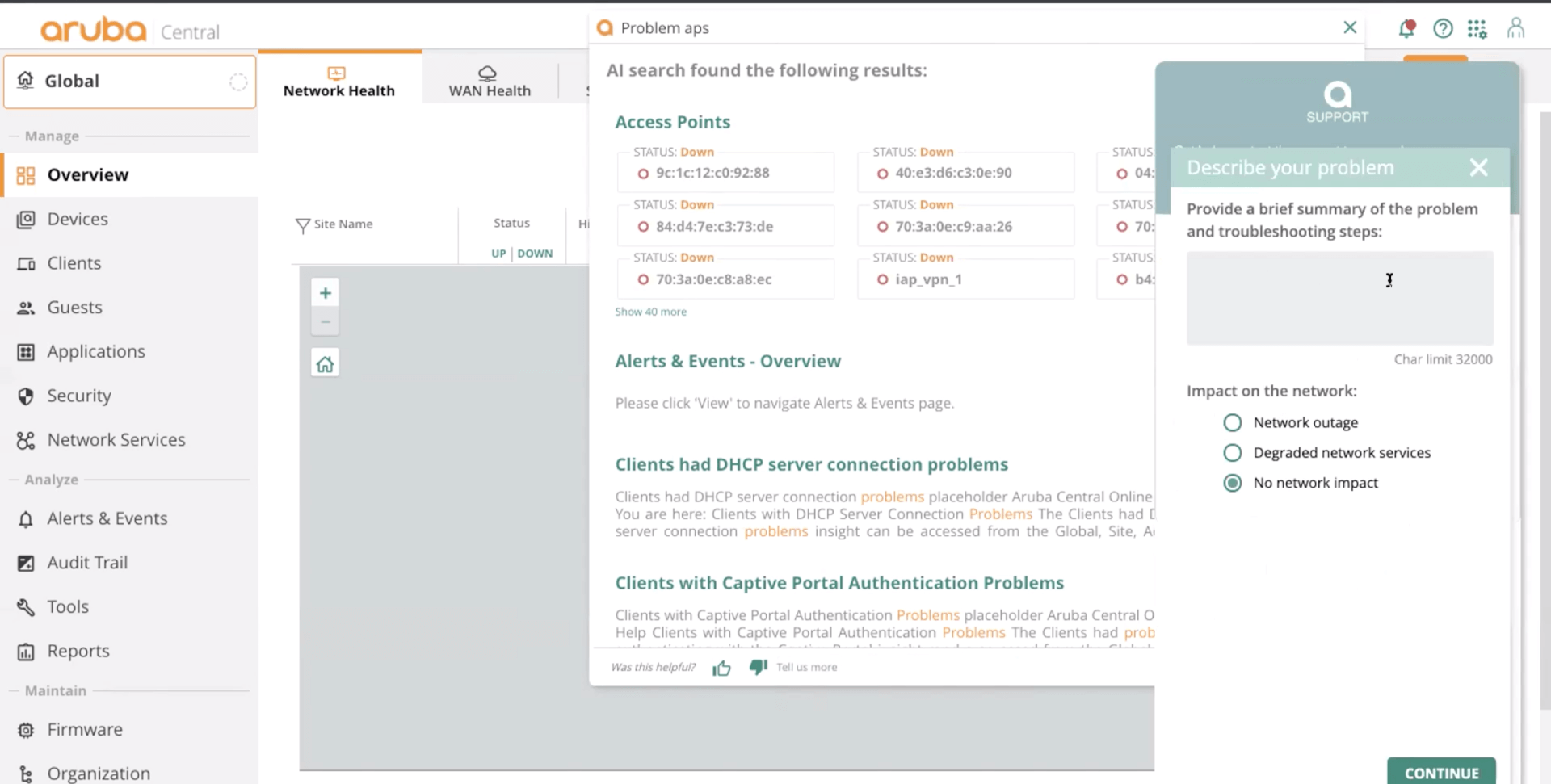 Integrated live chat augments Central's AI-driven search engine to expedite issue resolution and completion of other workflows
2. Simplified management of remote work initiatives
Work-from-home or remote work initiatives are here to stay, even after COVID-related concerns subside. To help IT better manage this new employee experience, Aruba Central and AOS 10.3 enables what we refer to as the microbranch, which extends WAN functionality to home offices in a single Aruba access point – no gateways or additional hardware required.
Cloud security inspection: Tunnel orchestration to Zscaler for cloud security inspection and other advanced protection measures.
Office-like experience: Access to the same corporate resources at home as in the office and the ability to plug into VoIP devices.
No more dropped video conferences: Multiple tunnels and multiple uplink or ISP connections, plus policy-based routing to ensure the absolute highest levels of availability.
Streamlined IT operations: Comprehensive visibility into network performance at campus, branch, and remote worker locations, delivered via a combined dashboard in Aruba Central.
Remote work insights: Deep insights into the most challenging performance problems, including home ISP slowdowns.
Microbranch functionality dramatically simplifies how IT deploys, secures, and monitors connectivity for the hybrid workforce, delivering in-office experiences to remote employees to ensure productivity and protect the network with minimal overhead and lower costs.
*AOS 10 is currently under early access. Contact your Aruba account team or partner for more details. 
3. Frictionless connectivity for end users, with less burden for IT
As employees, customers, and guests return to traditional offices, IT will need to ensure users have seamless access to corporate networks without compromising security measures. Moreover, IT will need deeper insights into the new types of endpoints that are connecting to the network, as well as the usage and behavior those endpoints are exhibiting, in order to make more informed decisions regarding policy enforcement and capacity planning.
Aruba Central addresses these needs through a combination of a new Cloud Authentication and Policy service, as well as by providing AI-powered insights into all clients connecting to the network.
Cloud Authentication and Policy allows you to configure user and client access policies in a more seamless fashion. Integration with cloud identity stores such as Azure Active Directory and Google Workspace help authenticate a user's information and assign them the right level of network access, and IT gains visibility into authentication requests, connected sessions, and traffic usage. End users can also connect by downloading a client app that works with mobile devices, desktops, and laptops across macOS, Windows, iOS, and Android platforms.
With AI-powered client insights, Aruba Central can pinpoint the characteristics of each connecting endpoint, helping administrators understand what's on their network at all times by automatically receiving rich profiling telemetry from Aruba APs, CX Switches, and SD-Branch Gateways – no separate collectors, agents, or additional device configurations required. The capability also complements Cloud Authentication and Policy by helping IT ensure proper policy enforcement for all connecting clients, including for headless IoT devices that can't be onboarded using captive portals or other standard approaches.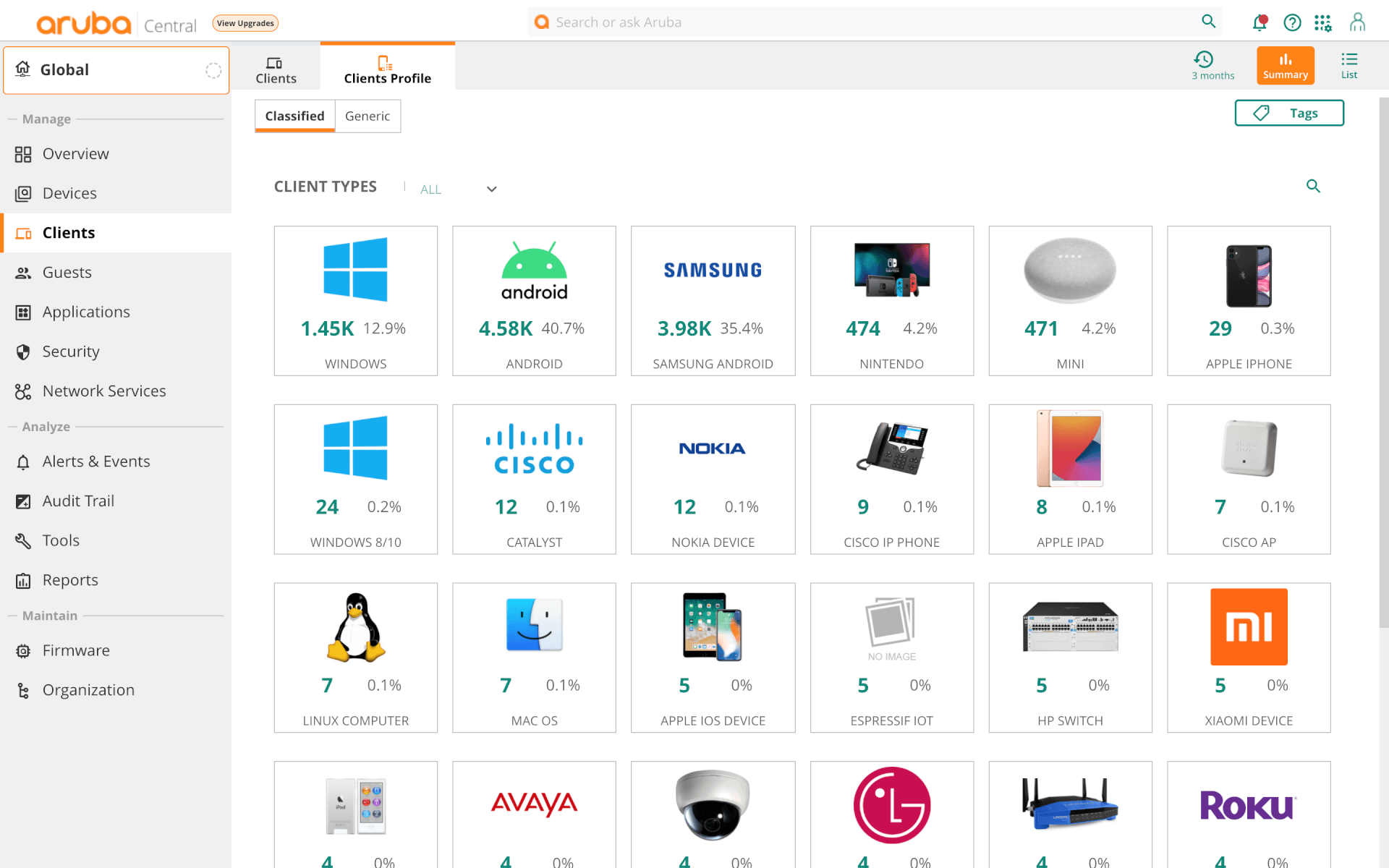 AI-powered client visibility and classification helps IT understand what endpoints are running on the network, including IoT devices
4. Reduced complexity with IoT projects
Closing the visibility gap into the IoT devices running on the network is a strong start, but Aruba Central further simplifies IoT initiatives with an integrated IoT Operations service.
Available for Aruba APs running AOS 10 within Central, IoT Operations delivers three key ingredients that help IT deploy, monitor, and manage new IoT services with ease:
IoT Dashboard: Provides granular visibility into IoT apps, as well as the BLE and Zigbee devices on the network. See which Aruba AP is sensing the devices and where the telemetry is flowing to improve monitoring and security postures.
IoT App Store: Customers can enable new Aruba IoT partner applications in a more frictionless fashion by simply browsing the integrated app store and installing the appropriate partner plugins with a single mouse click.
IoT Connectors: Provides the required edge compute to power newly deployed IoT partner applications, aggregating device data and running business logic on the metadata before sending it to Central for monitoring and analysis.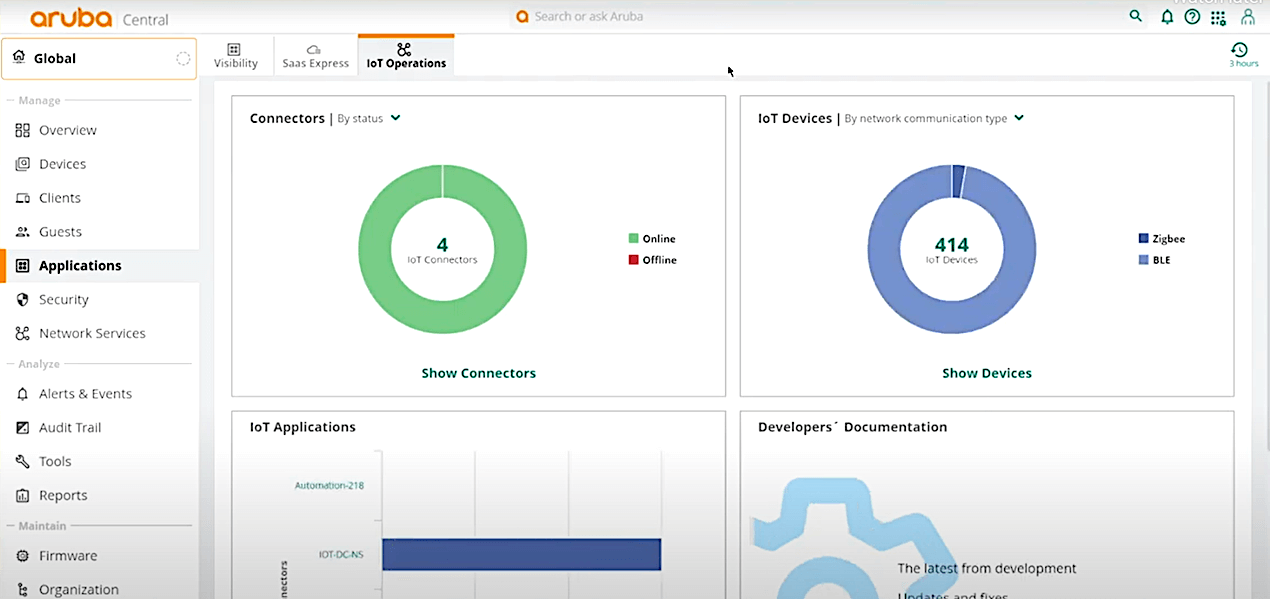 The IoT Operations dashboard in Central helps unify visibility between traditional network infrastructure and the diversity of IoT devices on the network
 5. Usability enhancements for managing wired networks
In today's era of mobility, cloud, and IoT, it's easy to forget how integral the wired network is in supporting digital transformation. Thousands of companies worldwide rely on the Aruba CX Switching Portfolio to deliver the requisite levels of wired performance, power, and analytics for current and upcoming digital projects.
Within Aruba Central, customers can now tap into the following capabilities to manage their CX switches:
Create, deploy, monitor, and optimize VSF switch stacks with ease. This includes the ability to onboard pre-existing stacks directly into Central, allowing customers to more seamlessly transition to cloud-based management of their wired networks.
Extend wired management to challenging, harsh environments. With the introduction of the Aruba CX 4100i series in September 2021, Aruba can now help customers power industrial spaces, as well as wired IoT devices. The latest release of Aruba Central adds robust management capabilities for these non-carpeted environments, with support for the full complement of configuration options – GUI, group templates, and multi-editor.
Leverage the flexibility of configuration and management options within Aruba Central, without compromising the integrity of individual configuration files. For instance, customers can use group templates for larger-scale deployments – just as they've always done -- but then instantly make use of the GUI-based workflows for more routine changes to a subset of devices. Better yet, they can revert devices to a "golden template" should they choose to reset individual switches down the road.
 Make the Shift to Cloud Networking
Organizations continue to deploy new IoT and cloud services to improve business resiliency and prepare for new realities brought on by COVID-19. Corporate networks require equal levels of adaptability and agility, and Aruba Central is poised to deliver. With the latest enhancements to Aruba Central, IT admins can do more than ever before from a single cloud-native management console – resulting in simpler, more efficient operations and better network experiences for employees, customers, and guests.
Explore more of the latest cloud innovations we're bringing to Aruba Central, or give it a test drive for your business today with our guided demos.
[1] IDC, Future of Enterprise Networking: Emergence of the New Normal, March 2021