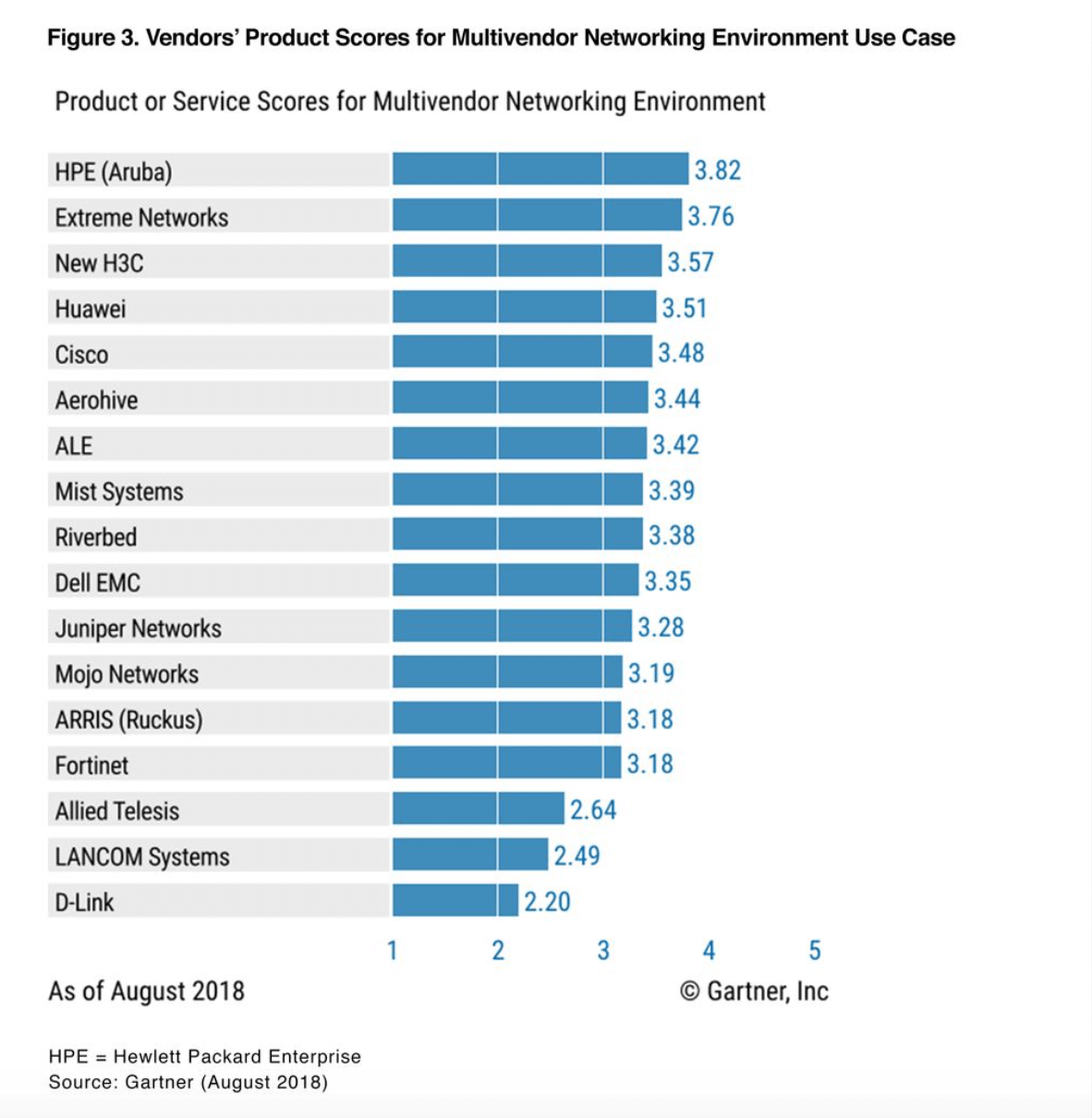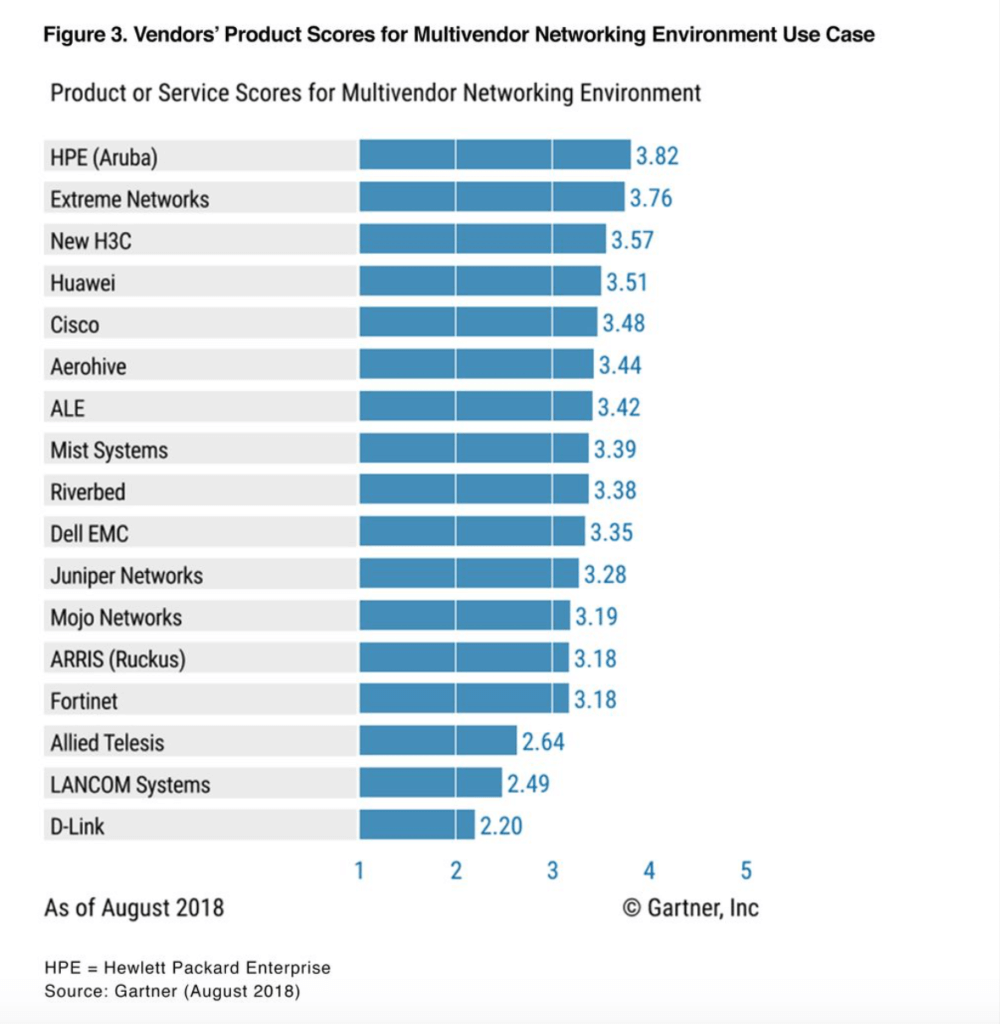 After being named a leader again last month in Gartner's Magic Quadrant for the Wired and Wireless LAN Access Infrastructure, Aruba now is highly ranked in Gartner Critical Capabilities for the Wired and Wireless LAN Access Infrastructure. Aruba received the highest score in five out of the six most prevalent use cases for enterprise networking deployments, including:
Unified Wired and WLAN Access
WLAN-only refresh or new build
Performance Stringent Applications
Multivendor Networking Environment
Remote Branch Office with Corporate HQ
You can read the full Gartner Critical Capabilities and Magic Quadrant reports here.
Aruba's Commitment to Helping Customers Thrive in the Experience Economy
Today's purveyors of goods and services are creating a new type of value for customers by becoming purveyors of experiences. The ability to deliver consistent and valuable experiences, no matter where your customers are, is replacing basic goods and services transactions. The value comes from lowering customer sacrifice. The less customers need to give up to adopt your products, goods and services, the more value you create for them. This is the experience economy.
As digital continues to transform our world, it is also disrupting businesses and industries of all kinds, from retail to hospitality, to healthcare and beyond. To survive this digital disruption, organizations must evolve from simply providing goods and services to delivering amazing experiences to win and retain business, and stay ahead of the competition. Organizations must also think about creating personalized, enhanced experiences for employees to attract strong talent, improve employee engagement and retention, and empower their workforce.
What does an extraordinary experience look like? Imagine if your desk, chair and surrounding office climate adapted to your personal needs, automatically tuning the workplace to your unique preferences from the moment you sat down. And what if your chair reminded you that it's time to stand up? This is the future of the smart digital workplace.
Outside of the enterprise, imagine a school where teachers can create engaging, personalized experiences so that each student can progress at their own pace. Where classrooms are able to connect with other classrooms across the country to collaborate on joint science projects and learn about differing communities to teach students about real-world diversity. Schools where students can explore and immerse themselves in cultural sites around the world from their desks.
These are the types of experiences that Aruba is helping to deliver in this digital era of mobile, IoT and cloud. And in this world, the network has never been more critical. The network is the onramp to cloud applications, and the way mobile users connect, work and collaborate. And it is what enables memorable customer experiences.
The Technology Behind Smart Digital Experiences
Gartner recommends that in addition to evaluating networking hardware, Enterprises should focus on the capabilities that a vendor is able to deliver around network services applications, IoT and artificial intelligence and machine learning. These technology areas are core to Aruba's innovation agenda and reflect the high scores we were awarded in the Critical Capabilities report.
Network Services Applications
Aruba's unique automated, micro-policy approach dramatically simplifies the network and allows policy to follow the user anywhere and on any device for a seamless experience. Our network management platform provides a single pane of glass for managing multivendor wired and wireless infrastructures and can be deployed on-premises or in the cloud. Our location services solution enables mobile engagement and asset tracking, allowing IT and line of business leaders to create exceptional employee and customer experiences.
IoT
IoT devices are introducing significant security risks, particularly since these endpoints lack adequate authentication capabilities. Aruba recognizes this threat and has introduced Dynamic Segmentation. This solution automatically detects new devices as they connect to the network, recognizes the device type, applies policy, and isolates the IoT endpoints from the corporate network to mitigate the security risk.
Artificial Intelligence and Machine Learning
Aruba applies machine learning to a broad range of use cases, including RF optimization, network assurance and advanced attack detection. By selecting the right problems to address, knowing and accessing the right data, and then curating the results in real-world environments, Aruba has set the standard in delivering AI-powered secure, autonomous networks.
Customer First, Customer Last
Aruba's Customer First, Customer Last philosophy is at the core of everything we do. It's this guiding principle that informs our innovation agenda and how we address the key use cases – the very same
Critical Capabilities that Gartner identifies as crucial to enabling digital transformation – that define our technology and solutions roadmap. This core tenant has also influenced thousands of organizations to put their trust in Aruba as they build next-generation networks for the mobile, IoT and cloud era.
We are delighted with Aruba's ranking in the 2018 Gartner Critical Capabilities for Wired and Wireless LAN Access Infrastructure. And we want to thank our customers and partners for putting their trust in us.