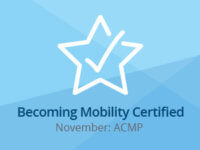 Join the ACMP Study Group Today! 
The Aruba-Certified Mobility Professional (ACMP) exam questions cover the topics listed below. The questions include key concepts, networking and topology design, GUI and CLI interpretation, GUI and CLI troubleshooting and interpretation of CLI configuration file segments.
An ACMP certified engineer is able to deploy and manage a large scale, multi-controller Aruba wireless LAN. Certification exam topics include Aruba system architecture and design,RF planning with Visual RF, authentication, encryption, firewall operation and policies, role based access control, multi-controller environments and redundancy, S3500 configuration and deployment, Layer 2 and Layer 3 roaming,and wireless intrusion detection with RFProtect.Candidates are recommended to complete Implementing Aruba Wireless (IAW) and Scalable WLAN Design and Implementation (SWDI) course prior to taking the ACMP exam. Alternatively, candidates can attend the Mobility Boot Camp (MBC). The Pearson/VUE administered exam consists of 75 multiple-choice questions that must be completed within 90 minutes.
The exam fee is $125.
Key Points are below:
Product Knowledge
Firewall Roles and Policies
Operations
Planning and Design
RF Protect
Troubleshooting
ACMP Playlist
Also check out last year's 2014 Becoming Mobility Certified - ACMP