With these trends, many professional services firms are moving their applications to the cloud. Some are off-the-shelf applications such as Microsoft 365, and some are domain-specific applications such as contract lifecycle management and CAD applications. Professional services firms are also taking advantage of this migration to refactor some of them into cloud-native applications. Additionally, professional services are often geographically distributed, and with an increasingly remote workforce, professional services are evolving into a hyper-distributed edge environment. Professional services also process highly sensitive documents and are more exposed to cybersecurity risks. This requires providing secure connectivity to applications, services, data hosted in the cloud and data centers.
An advanced SD-WAN solution helps professional services achieve this transformation and tackle five use cases to streamline digital transformation efforts and reduce cybersecurity risks.
Use case #1: Support cloud-first strategy
Professional services organizations often rely on legacy MPLS lines and a network architecture that routes all the traffic to the data center. With this architecture, the traffic is backhauled to the data center for security reasons, adding latency. It impacts application performance – and hence, customer experience - since most applications are now hosted in the cloud.
An advanced SD-WAN helps support a cloud-first strategy. Application traffic is identified on the first packet and intelligently steered to the cloud based on security requirements for the application and the performance of the underlying WAN services. If the traffic is from a trusted application such as Microsoft 365, it is sent directly to the cloud without requiring additional examination.
Additionally, virtual instances of SD-WAN can be seamlessly deployed in public cloud providers offering edge-to-cloud connectivity. The solution also accelerates trusted SAAS traffic by routing SaaS services directly to their closest point of presence using the best path based on advanced, real-time network health and performance measurements as well as local DNS resolution.
Use case #2: Implement SASE and mitigate cybersecurity risks
In the distributed environments of professional services firms, on-campus employees and remote workers need dynamic secure access. Additionally, many of them, such as attorneys, deal with sensitive documents that put them at significant risk of data breaches.
With a high turnover and employees connecting from anywhere, professional services firms also need to implement cybersecurity strategies that accommodate a mobile workforce. Legacy networks, mostly managed manually, are inefficient and create security vulnerabilities. By implementing SASE, professional services firms can continuously monitor the network for malicious activity and enable their employees to securely connect from distributed locations and from any device.
SASE stands for "Secure Access Service Edge" and combines SD-WAN capabilities with Gartner's newly defined approach called SSE (Secure Service Edge). SSE includes core features such as SWG (Secure Web Gateway), CASB (Cloud Access Security Broker), ZTNA (Zero Trust Network Access), Data Loss Prevention (DLP) and Firewall-as-a-Service (FWaaS), all delivered in the cloud.
Advanced SD-WAN solutions that natively integrate with SSE capabilities, enable professional services firms to build a robust SASE architecture. These solutions provide seamless configuration and management, relieving IT and network managers from managing complex and non-secure architectures.
Aruba EdgeConnect SD-WAN also includes dynamic segmentation to go beyond SASE and build a Zero Trust architecture that segregates users, devices, and network traffic based on identity, role, and security posture.
Use case #3: Ensure high quality voice and video communications
Many professional services firms experience low quality of service regarding voice and video communications. This is due to packet loss, jitter and latency across the network. Additionally, as these organizations rely on a single link of communication to connect, these links are often prone to brownouts and outages.
Through network virtualization, SD-WAN is able to combine multiple links ensuring higher quality of service. For example, it can link two different internet providers or uses an MPLS line combined with an internet connection. Additionally, advanced SD-WAN solutions include path conditioning capabilities to overcome network inefficiencies. With path conditioning, lost packets are automatically reconstructed at destination without the need to resend them by periodically sending parity packets. It can also reorder packets from different links that arrive out of sequence at their destination improving network performance.
Depending on the quality of service and business needs, the parity packet ratio is automatically set. For real-time applications requiring the highest performance and availability such as VOIP or video conferencing, the ratio can be set to 1:1 so that when a packet is sent, a parity packet is also transmitted, providing the highest availability. For less demanding applications such as ERP applications, the parity packet ratio is automatically and adaptively set to a ratio depending on measured packet loss, but no greater than 1:5.
When using UCaaS applications (Unified Communications as a Service) such as RingCentral, an advanced SD-WAN can automatically break out the traffic to the UCaaS provider without the need to backhaul the traffic to the data center, significantly improving quality of communications compared to a traditional network architecture.
 Use case #4: Deploy a new office quickly
As business grows, professional services firms open new offices, but provisioning a new MPLS line can take 60 to as much as 120 days. Additionally, the growing demand for greater bandwidth and connectivity speed often makes MPLS circuits too expensive for new office deployments. In contrast, broadband internet can be installed in few days and deliver higher speeds than MPLS. However, internet connections often suffer from packet loss and jitter.
To overcome internet quality challenges, an advanced SD-WAN includes path conditioning capabilities as discussed previously. Using zero-touch provisioning, setup is seamless and doesn't require an experienced IT staff locally. In branches, the staff simply needs to connect the SD-WAN solution to the network and configurations as well as security policies are automatically retrieved.
In addition, advanced SD-WAN solutions, such as Aruba EdgeConnect Enterprise, integrate a wide range of features such as a firewall, router and WAN optimization allowing local offices to eliminate some network equipment and therefore simplify the installation.
Use case #5: Transmit large files and accelerate backups
Professional services companies work with large files whether they are CAD files, blueprints, legal documents, and more. Because professional services firms are dispersed geographically, the distance between these sites results in added latency, generating long data transfer times. Additionally, it is not uncommon for these businesses to back up their documents to remote locations for disaster recovery purposes. These backup sites can be very far apart, with latency affecting backup times.
The Aruba EdgeConnect Enterprise SD-WAN platform supports optional WAN optimization capabilities that allow professional services companies to accelerate file transfer. WAN optimization uses several techniques to accomplish this acceleration. One of them is TCP acceleration which reduces delays caused by window scaling and acknowledgment procedures. The second technique is the use of data deduplication and compression. Duplicate data is removed and replaced with a fingerprint and pointer so that only the necessary data is transmitted over the WAN. Data compression reduces the amount of data transmitted through a compression algorithm.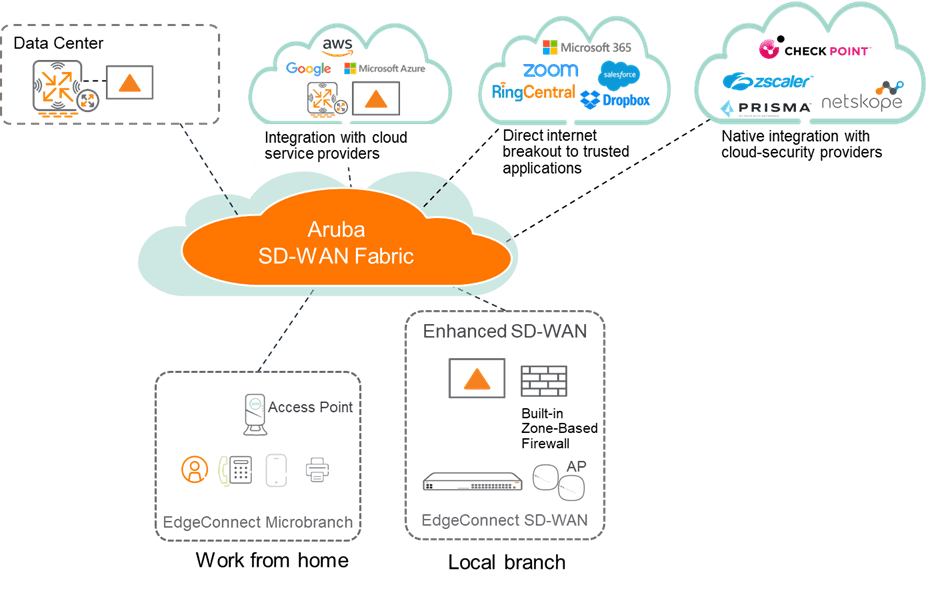 Deliver Edge-to-Cloud connectivity and security with a unified Aruba EdgeConnect SD-WAN fabric
In a post-covid era, professional services organizations have accelerated their digital transformation initiatives to deliver better customer experiences and address the need for hybrid working. Professional services companies must now tackle the shift to cloud-hosted applications and hyper-distributed environments where employees and customers connect from anywhere, resulting in performance and security issues. Aruba EdgeConnect is an advanced SD-WAN solution that enables edge-to-cloud architecture as the backbone between the edge and the hybrid cloud. Aruba EdgeConnect SD-WAN intelligently breaks out and accelerates the internet traffic based on application type. It tightly integrates with leading cloud security vendors so that professional services firms can accelerate their compliance with the SASE framework.
To learn more, download our SD-WAN solution overview for professional services.
Other Resources: