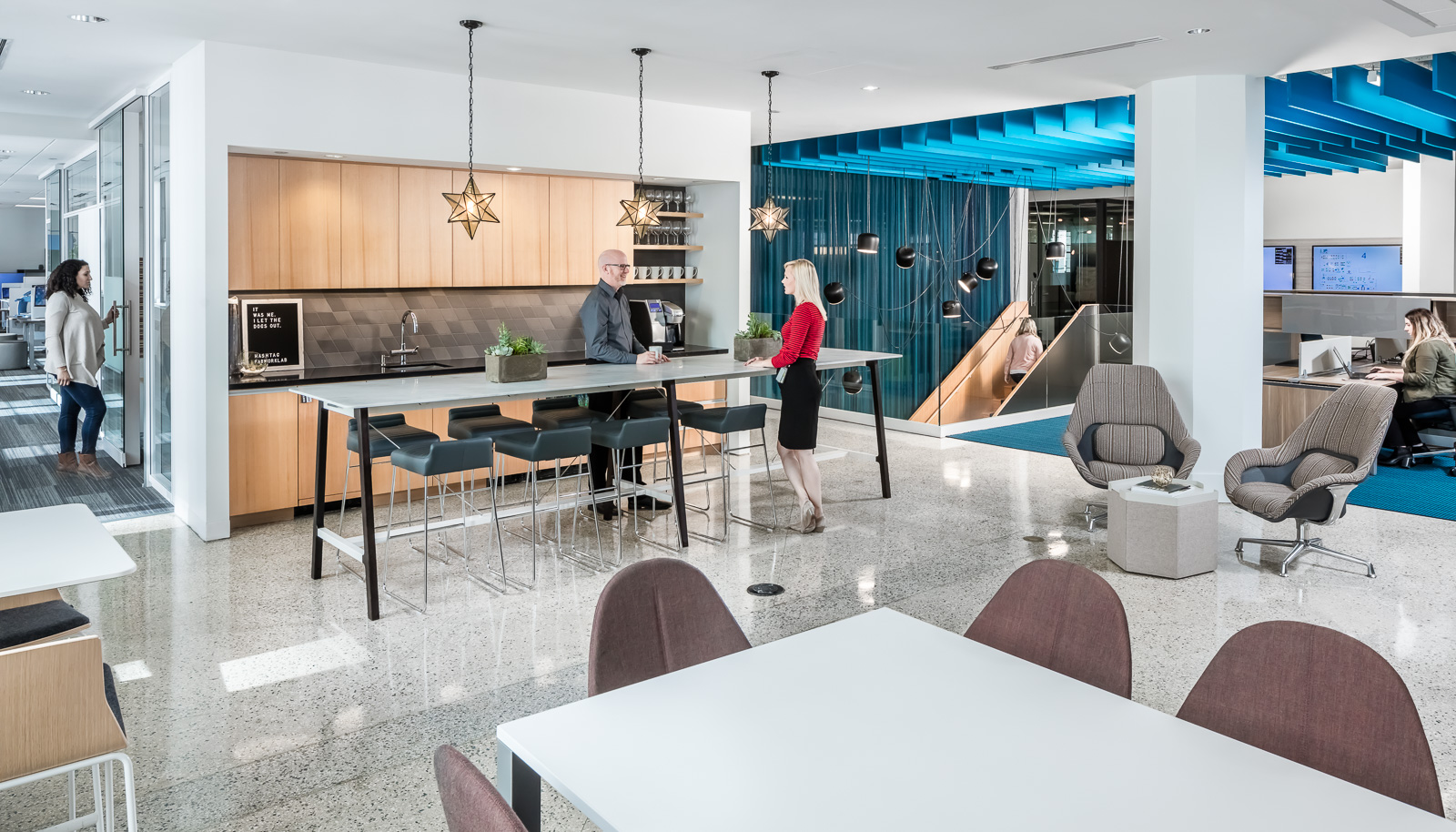 By Katie Fehring and Jason Lund
At Atmosphere Commercial Interiors (ACI), we spend most of our time helping commercial clients create workspaces that encourage innovative and positive environments. We've recently turned our focus and expertise inward, redesigning our Minneapolis headquarters not only to improve the work lives of our employees and enhance their productivity, but also to create an environment that reflects the workspace trends we ultimately share with our clients that could be deployed to all ACI and Omni Companies locations around the country.
ACI is the third-largest Steelcase dealer in North America, and in 2015 an ownership change brought with it a desire to update our workspaces to better reflect our new corporate identity and capabilities.  We felt our existing Minneapolis office, in particular, didn't represent the flexible and mobile workspace trends we were sharing with our customers. This required rethinking our basic IT strategy and network infrastructure approach to make sure the technology teams could support the vision that the business had for our workspaces.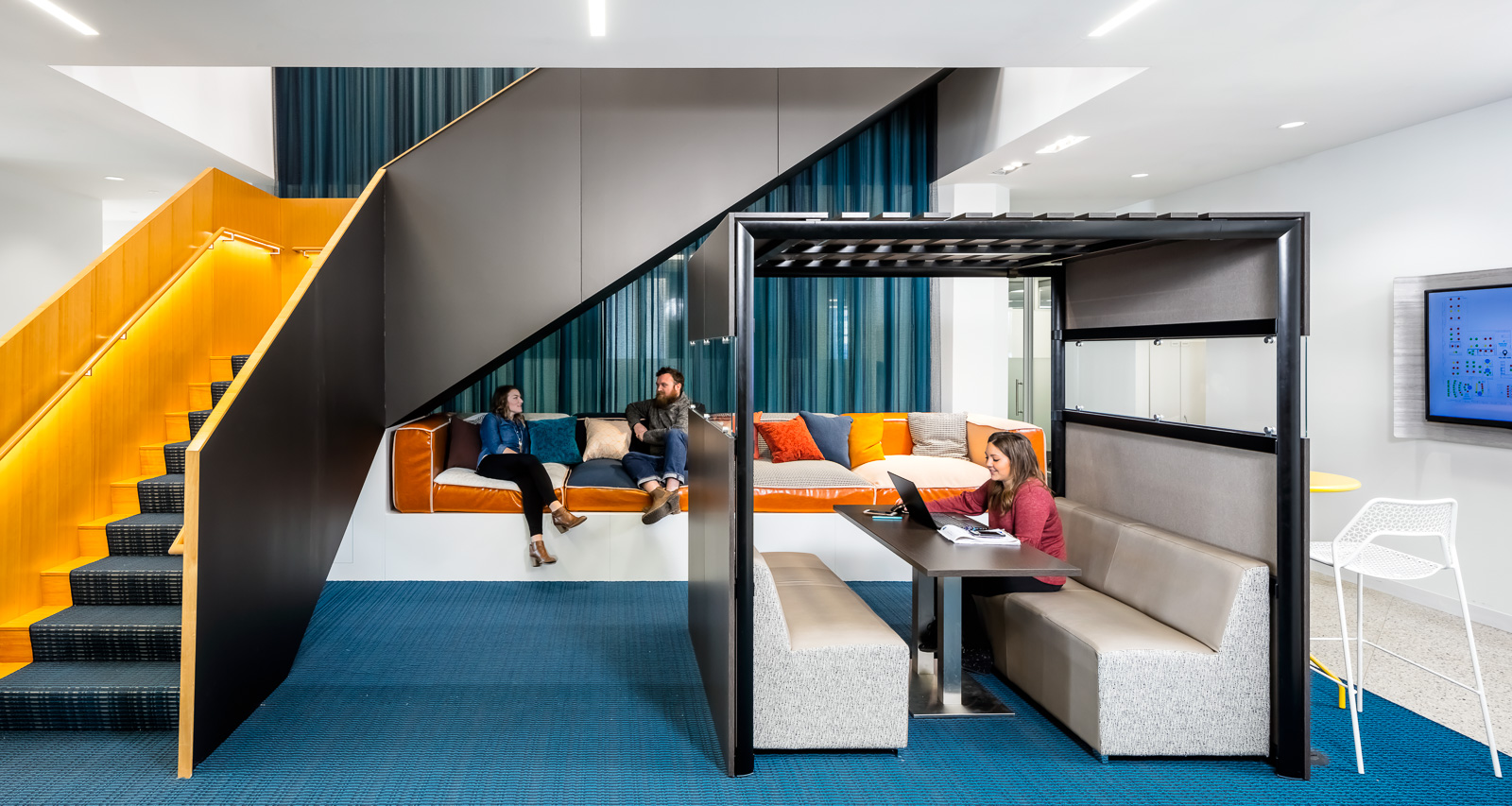 Becoming a mobile workplace
This award-winning transformation of our Minneapolis workspace involved a lot of moving parts, with the goal of creating a mobile office space that would enable our employees to have a choice in where they work. We wanted a workspace with variable locations, which called for constant and reliable connectivity and a wireless network that could handle everything from video communications to our growing Internet of Things (IoT) demands.
It was also important to be able to run all of our high-definition video conferencing (HDVC) and to equip our marketing and design team members with the use of large files over a wireless network. We zone our workspace into neighborhoods staffed by people with common technical needs, so needed team members to travel to a space, connect quickly and have what they need.  Finally, when we proved this concept worked in our Minneapolis "work lab," the underlying technology solution needed to be scalable to all other ACI locations across the country including those of ACI's parent entity and its subsidiaries.
Partnering with Presidio, we chose to build an all-wireless environment based on technologies from Aruba, a Hewlett Packard Enterprise company. The move to Aruba has created the environment we wanted and allowed us to take the significant savings we're seeing from it and invest back into the company.
It was a huge leap for us to go from our traditional Cisco controller-based wireless network to Aruba, but part of our work in the transformation was taking a user-focused design approach. We had to decide what our business needs were, and then find a way to deliver the technology to match those needs. We asked a lot of questions: How had we deployed technology previously? Do we need phones on the desks? Do we need to have wired networking at the switch? We decided a mobile, wireless approach best suited our needs.
Changing the network and changing the atmosphere
We ran a proof-of-concept in our Minneapolis work lab, based in a historic downtown building in a very busy wireless airspace. We wanted to eliminate low-voltage cabling to the desks, which was important for saving money both on technology deployment and the wiring work that would need to be done in a historically significant building.  It also provided tremendous flexibility with frequent changes and renovations in our space to keep up with the latest product and design trends where low voltage cabling was costly and physically limited our design choices.
Shifting our endpoints to Aruba wireless while leaving limited wired solutions in place for some devices and systems saved about $90,000 in the first remodel. This gave us the resources to implement wireless deployments at our other office and warehouse locations, saving tens of thousands of dollars on remodels as we invest in next-generation technologies. Also, by switching to Aruba switches, we saved about 30 to 40 percent in operating expenses over what we'd spend with a Cisco SMARTnet offering.
After our proof-of-concept, we moved to the Aruba 325 Instant access points (IAPs), which can be quickly brought online and automatically reconfigured to a location. Additionally, we use Aruba controllers, 2930F switches and Aruba's AirWave network management platform. Our final solution was our move to deploy ArubaOS 8, which enables live updates, AirMatch, and ClientMatch for artificial intelligence (AI)-based RF optimization.
Looking toward our future with Aruba
Our plans with Aruba will grow well beyond this. Our goal is for our wired network and switching to be 100 percent Aruba, and we are considering Aruba's Meridian software platform for such capabilities as proximity, device location awareness, and analytics.
The solutions from Aruba will be particularly important as our use of IoT-based workspace technologies grows. In the area of workspace design, space sensing and IoT are essential in making sure we are positioned to be the market leader in the convergence of space and technology to solve our client's most significant business issues.
The move to a mobile environment is about more than just convenience. It's about optimizing team performance, attracting and retaining talent, and saving money that can then be re-invested in the company. Committing to a wireless workplace is a significant change, but ultimately provides a simple connectivity experience for our employees.  It used to be that wireless was a best-effort technology, but now it's just the best.