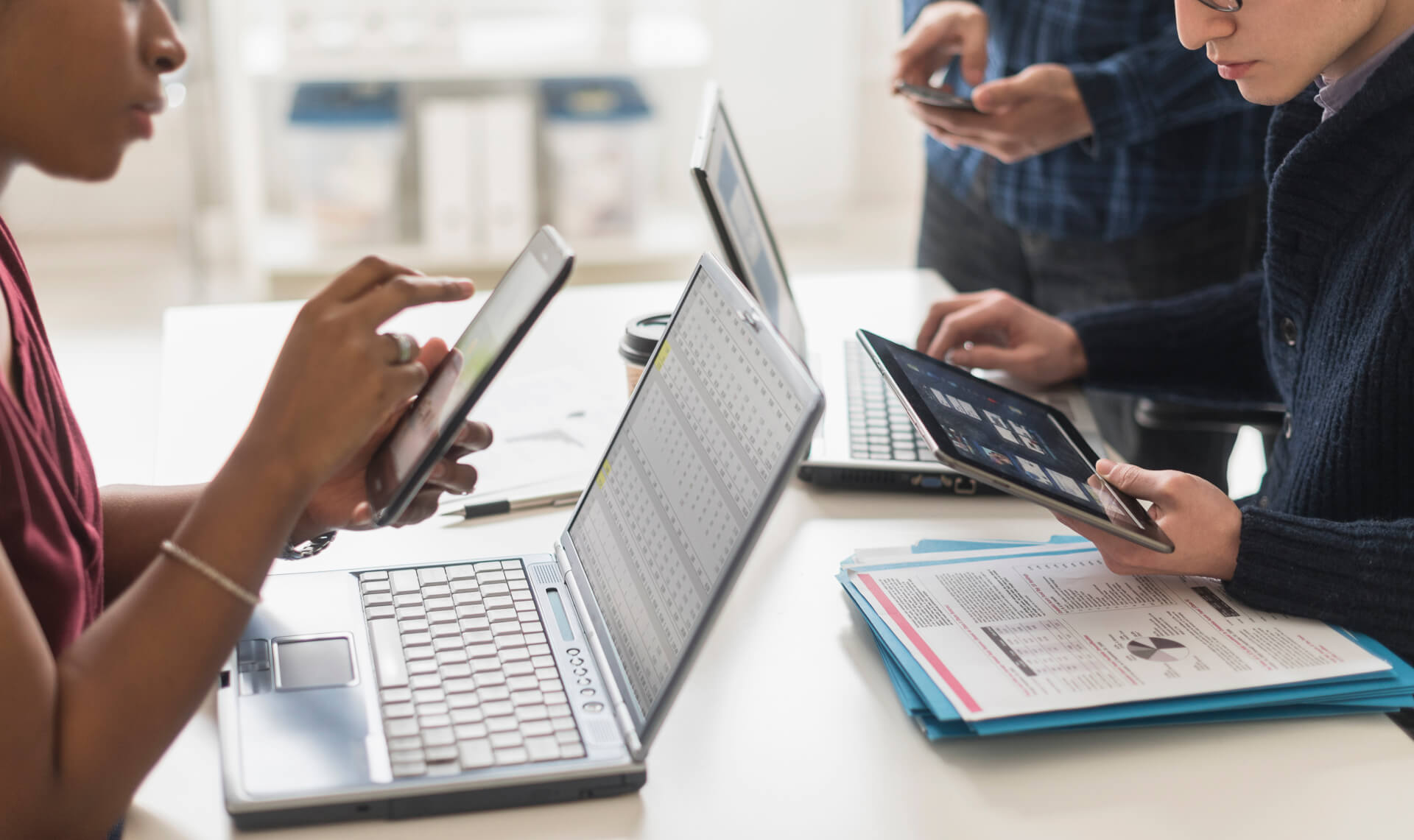 The COVID pandemic has accelerated digital transformation across many industries and areas including e-commerce, supply chain, smart factories, online banking, remote working, and much more. It has become an imperative for organizations to reinvent themselves to remain competitive, redesign customer journeys, optimize operational efficiency, and even survive.
The digitization of enterprises has been enabled with three major infrastructure innovations: the cloud, IoT, and network transformation. The cloud has given users the ability to connect and process data from anywhere. IoT has allowed organizations to monitor and automate operations. And network transformation has enabled users and devices to connect to each other from any location and using any device. While diverse network connectivity is instrumental, a lack of performance, flexibility, and increased security challenges can put digital transformation initiatives at risk.
In this blog post we will focus on five key reasons why a robust SD-WAN is essential for a successful digital transformation.
Reason #1: Enterprise applications are in the cloud
The time when all end user application traffic was destined for the data center no longer exists. Now most enterprise application traffic is headed to the cloud. But many companies continue to backhaul cloud traffic to the data center, negatively impacting application performance.
An advanced SD-WAN is able to intelligently steer traffic to the cloud via local internet breakout based on application type and security policies, freeing up some of the bandwidth on MPLS lines.
The migration to hybrid cloud (public and private cloud) and multi cloud is not new, but it will continue to grow rapidly, emptying the data center. This means there is an increasing need to simplify the process of orchestrating network traffic from on-premises to the cloud, and also from one cloud provider to another. Virtual instances of the Aruba EdgeConnect SD-WAN edge platform can be easily deployed in cloud service provider infrastructure, providing direct connectivity to the cloud.
Additionally, organizations are developing cloud-native applications using microservices, APIs, and a multi-cloud approach, with a composable architecture to support improved business adaptability and an enhanced customer journey. With this shift, organizations need greater flexibility and the ability to move to an "as-a-service" business model. As a result, enterprises are now embracing a network-as-a-service model with SD-WAN as a foundational building block.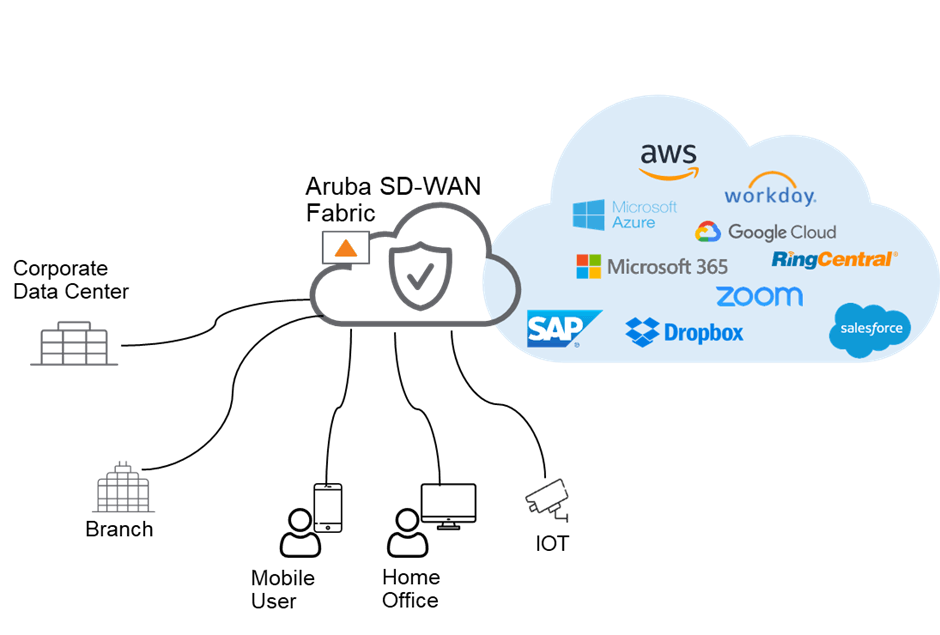 Aruba EdgeConnect SD-WAN is the key enabler for a successful digital transformation
Reason #2: Users connect from anywhere
The security perimeter is dissolving. When all application traffic was backhauled to the data center, it was much easier to secure user traffic and the enterprise. Now employees connect from anywhere – from their home, the airport, the local coffee shop – and from any device.
To provide secure access, the Aruba EdgeConnect SD-WAN is tightly integrated with cloud security vendors such as Zscaler and Netskope. These vendors can provide SSE (Security Service Edge) security capabilities such as ZTNA (Zero-Trust Network Access), CASB (Cloud Access Security Broker) and SWG (Secure Web Gateway). Thanks to an integration with various security vendors, Aruba EdgeConnect SD-WAN enables organizations to select best-of-breed SSE security capabilities and thus, build a robust SASE architecture.
As a result of the pandemic, remote working is here to stay. Aruba Microbranch solutions provide a simple access point that now includes advanced SD-WAN capabilities to protect remote workers, retail stores, and other small locations. Like Aruba EdgeConnect, it includes automated orchestration and secure internet breakout with leading cloud security providers. Business policies can be defined to route the traffic to the data center, or a cloud security provider depending on its content. It gives remote workers the performance, security and reliability of an in-office experience.
Reason #3: IoT presents serious security challenges
IoT has become a critical component of any digital transformation initiative, and the number of network-connected devices is skyrocketing. However, IoT devices are difficult to protect as they are often built with a simple design and can't run security agents. Consequently, they present a significant security threat that CIOs need to put in check. Additionally, IT and OT (Operational Technology) networks are converging. In the past, both networks were separated, and the OT network was often not managed by IT departments. With the advent of IoT, IoT devices are becoming more sophisticated and must communicate with servers located in the IT network. This convergence increases the vulnerability to even more cybersecurity risks.
To reduce the attack surface and limit the spread of cyberattacks, an Aruba EdgeConnect SD-WAN uses a zone-based firewall that provides coarse grained segmentation based on the application and policies specified for the application. The integration of Aruba ClearPass with Aruba EdgeConnect adds identity knowledge of users, devices, and their roles with authentication capabilities such as RADIUS, TACACS+, and OAuth2 to enable fine grained segmentation - or micro-segmentation. This zero-trust security framework helps organizations meet compliance requirements such as PCI-DSS and HIPAA.
Reason #4: Data is a strategic asset that must be protected
In the age of insights, data is a strategic asset to accelerate digital transformation, transform the customer journey, and improve operations. Artificial Intelligence can also be used to detect patterns and accelerate insights. However, with the digitization of services, sensitive data travels through the network and must be protected. Organizations must also comply to various security mandates such as PCI Data Security Standard (PCI DSS) that establish security standards for protecting credit cardholder data, Health Insurance Portability and Accountability Act (HIPAA) in the healthcare industry that provides data privacy and security provisions for safeguarding medical information, or GDPR to ensure personal data privacy.
As mentioned in the previous paragraph, an Aruba EdgeConnect SD-WAN isolates different types of traffic with micro-segmentation, helping organizations protect sensitive data and comply with regulations. Within the fabric, data in transit are encrypted with AES-256 IPsec tunnels ensuring safe data transfer The solution also includes intrusion detection and prevention capabilities (IDS/IPS) to monitor and drop traffic in case of a security threat. IDS/IPS logs can also be monitored and exported to a local SIEM (Security Information and Event Management) for real-time analysis of security alerts.
 Reason #5: The need for connectivity is growing
The world is global. Enterprises have facilities all over the world. They need to exchange large files and communicate seamlessly. Enterprises also need to open new locations quickly, but it can take several weeks to provision a new MPLS line. MPLS is also expensive, so enterprises often limit bandwidth subscriptions which can lead to a poor user experience.
By leveraging internet broadband and 5G connections, WAN transport costs are less expensive and more flexible. Through virtualization, organizations can bond any combination of WAN transport links, including internet, 5G and MPLS, to form a single high bandwidth logical link. Additionally, to mitigate the inefficiencies of internet and wireless connections, Aruba EdgeConnect SD-WAN uses various techniques such as path conditioning and WAN optimization, to offer private-line like performance over the internet and wireless connections.
In summary, the pandemic has driven the acceleration of digital transformation for many organizations. Flexible, reliable, and secure network connectivity is critical. The Aruba EdgeConnect SD-WAN edge platform enables flexibility and reliability by leveraging inexpensive broadband internet and 5G connections and offering superior quality of service. It is cloud-ready using secure local internet breakout to intelligently route the traffic to the data center, to the cloud or to industry leading cloud-delivered security services, depending on its nature and security policies. By tightly integrating and automating orchestration with best-of-breed third-party cloud security providers, Aruba EdgeConnect is a foundational component of a best of breed SASE architecture. Built-in security and segmentation capabilities enable organizations to secure network access and meet compliance requirements.
For more information, watch this video about how Aruba EdgeConnect SD-WAN manages security orchestration to protect digital transformation initiatives.
Related Resources