Like that old classic, the Joy of Cooking, which is the backbone of many home cooks' libraries and even commercial kitchens since 1931, VSF delivers a stacking solution that delivers a scalable and reliable backbone for your campus networks to enable them to grow with your business.
Why do you need Virtual Switching Framework (VSF)?
How is your network performing this year?  Is it handling all the WLAN, video and business application traffic?  Are you thinking of adding a few more switches to support those new APs?  If you are planning to expand or redesign your campus network, then stacking technology offers benefits of scalability, resiliency, and simplicity that you will not want to miss.  We have recently introduced a new stacking technology, Virtual Switching Framework (VSF), which helps you quickly take advantage of these benefits.
What does VSF do?
In a nutshell, Virtual Switching Framework (VSF) allows multiple switches connected to each other through Ethernet connections to behave like a single switch.  VSF technology virtualizes multiple physical devices into one virtual fabric that means you are managing just one IP device instead of many.  This reduces the number of devices you need to manage while increasing redundancy and better utilizing the capacity of your switches.
 VSF stacking benefits
Managing just one single device instead of many is inherently easier but VSF brings even more benefits:
Adds resiliency – When a VSF member switch fails, the other members take over; reducing recovery time, which is important for business dependent network services.
More performance - A VSF stack creates a pool of network capacity with optimized forwarding so any member of the stack can meet network demands.
Simplifies management and configuration – Even though VSF is made up of multiple physical devices, a VSF stack is managed as a single IP device with a single image and configuration for the entire stack that simplifies network design and management.
Convenient deployment – VSF stack members can be located where they are needed because they are linked with 10GbE or 40GbE connections, module, cables or licenses required.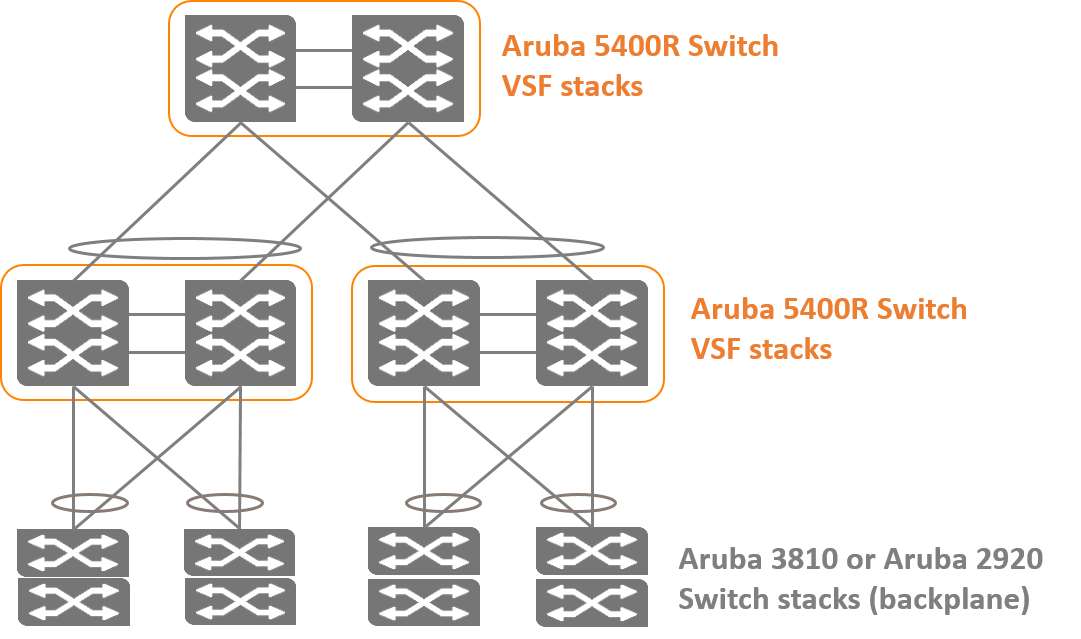 The Aruba 5400R supports VSF
Aruba takes a mobile-first approach to creating the foundation for the digital workplace and meet the performance, visibility, and security challenges that IT faces in building an infrastructure. The Aruba 5400R zl2 Switch Series is our industry leading mobile campus access solution designed for enterprise edge, SMB and branch office deployments.
Aruba 5400R features include:
Powerful Aruba Layer 3 modular switch series delivers high-performance, low latency and resiliency.
HPE Smart Rate for high-speed multi-gigabit bandwidth and PoE+ power.
Scalable line rate 40GbE for wireless traffic aggregation.
Ready for innovative SDN applications with OpenFlow support.
Consistent wired/wireless with Aruba ClearPass Policy Manager and Aruba AirWave.
Two of the key configuration rules are that the stack must include two of the same switches (i.e. 2 x 5406R or 2 x 5412R) and the supported VSF links are 10GbE or 40GbE.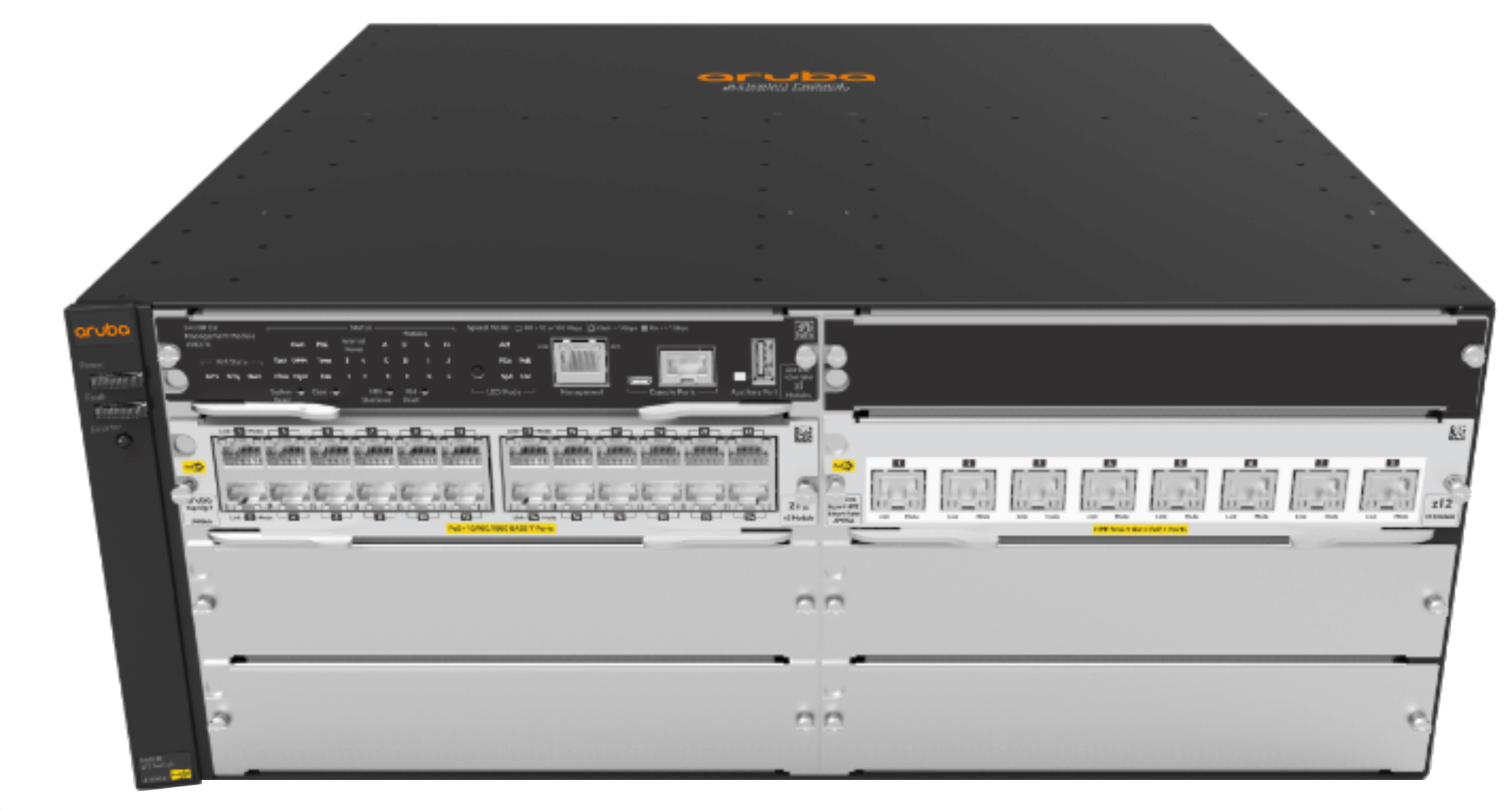 For details:
Learn more about the Aruba 5400R Switches with complete configuration details for VSF are here: Aruba 5400R ArubaOS-Switch Management and Configuration Guide.