To succeed in the fast-moving and competitive digital economy, enterprises need the right network infrastructure. You can have the fastest servers and the largest storage capacity, but now more than ever, you need even better networks to connect all the elements to move data through the data center and across the globe. Networking has been frozen in time for years but is now moving towards open networking – which promises to make networks more adaptable to the needs of business applications.
Some vendors debate the meaning of simple terms like "open" in open networking. That takes me back to the 1990's famous argument about the meaning of "is." In my view, open networking means a network architecture that is open at all layers of the stack. In other words, an edge to cloud stack that is based on industry standards and open source software.
Hewlett Packard Enterprise has been hard at work, leading the creation and nurturing of an open networking ecosystem that will help accelerate innovations, expand business opportunities, and free customers from vendor lock-in. Delivering on this open vision requires a long-term commitment to open standards, open source, and open ecosystems. HPE delivers on all of these pillars.
Disaggregated Switches and Open Compute Project (OCP)
HPE is leading the industry in disaggregated networking solutions that give customers the freedom to choose the best hardware and software components to fit their needs. Disaggregated switches that decouple the forwarding plane (HW) and the control plane (SW) are streamlined solutions that can scale with cloud data centers needs. With OCP compliance and ONIE boot loader for network operating system options, customers will be rewarded with a lower total cost of ownership. The HPE Altoline family of data center open networking disaggregated switches covers the full spectrum of networking speeds. The flagship product, the HPE Altoline 6960 top-of-rack spine/leaf switch brings 25/100GbE to open networking. Some customers who are using open hardware and software have already seen over 10% cost savings.*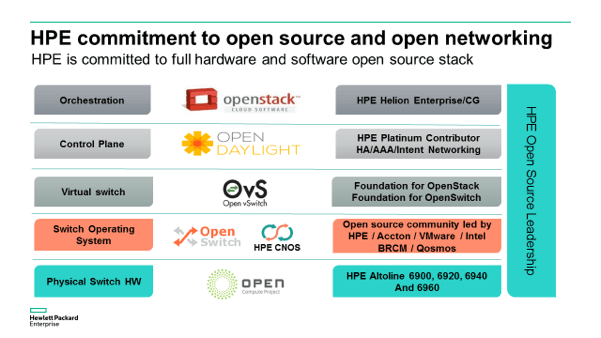 Open Source Network Operating System
On October 5, 2015, HP, along with industry leading partners Broadcom, Intel, VMWare

and Accton, took a significant step in making open source networking a reality. The group announced the contribution of OpenSwitch, an open source, modern and Linus-based NOS to the open source community. You can read about OpenSwitch at www.openswitch.net. OpenSwitch frees customers from vendor lock-in and gives them better ownership of their own data center networking. It also gives customers the opportunity to benefit from accelerated innovations driven by the open source community.
Open Source Community
Having a vibrant ecosystem is essential for the success of any technical initiative. With that in mind, HPE and the OpenSwitch partners formed the OpenSwitch.net open source community. Users and developers are encouraged to join the group, contribute to its work, benefit from the innovations of others, and help guide the future direction of the community.
The enthusiastic reception of OpenSwitch and the expanding open source community are encouraging indicators that OpenSwitch is headed towards becoming the open source networking operating system of choice. Several ASIC vendors are developing switches that utilize OpenSwitch, and Red Hat's Ansible now supports OpenSwitch. This is a great start for the networking industry in its march towards open networking.
Join the openswitch.net community and see how others are helping shape the future of networking. Free yourself of vendor lock-in, and experience unlimited scalability while lowering your TCO. Contact your HPE representative to request a proof of concept (POC) to see the benefits of open networking for yourself.
Read more about open networking, Altoline disaggregated switches and OpenSwitch at www.openswitch.net.