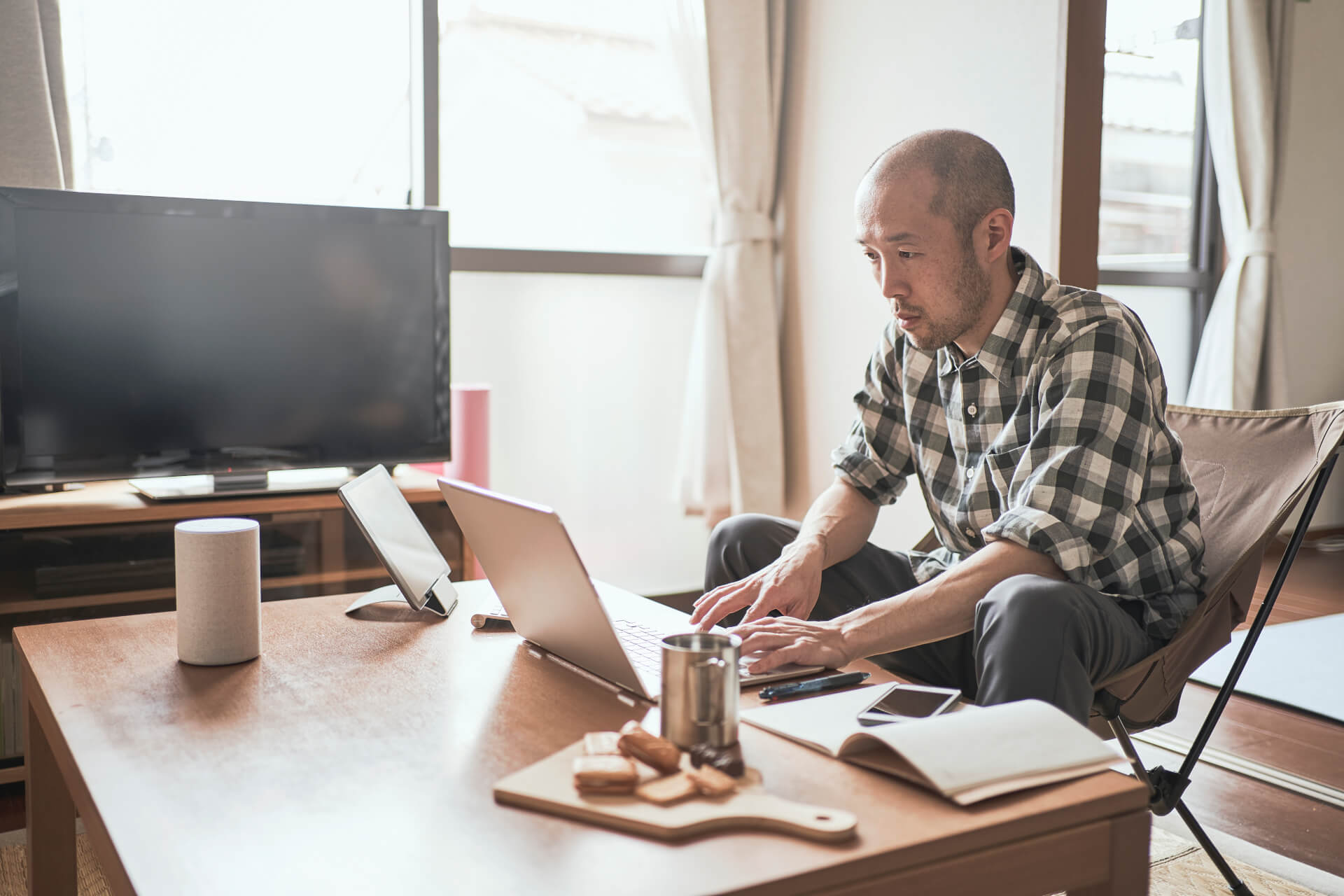 Today we announced that Aruba is extending our popular remote access point (RAP) technology to provide greater reliability, performance, and security for home and small office users with the EdgeConnect Microbranch solution. To better support remote work, EdgeConnect Microbranch offers a new suite of SD-WAN capabilities that intelligently directs traffic across the WAN and directly to trusted SaaS/IaaS providers—using cloud-based Aruba Central and any Aruba AP.
This blog is the second of a two-part update on remote work. Part 1 tackles the trends in remote work. In Part 2 below, I'll provide a technical overview of EdgeConnect Microbranch and how it builds upon our existing Aruba ESP portfolio to simplify how IT manages remote work.
The Evolution of Networks to Support Home/Small Offices
In the shift to remote work, IT teams have gone from managing dozens or hundreds of remote locations or to thousands or tens of thousands of microbranches. They're tasked with ensuring a secure and reliable experience for a highly distributed workforce that is accessing data center and cloud-based applications over consumer broadband and cellular connections—which fall largely outside IT's control and visibility.
Unsurprisingly, new solutions are emerging that combine enterprise-grade wireless solutions with SD-WAN to specifically address the soaring help desk calls and increased security risk associated with remote work. Just as SD-WAN improves the performance and user experience in branches and on campuses, it now does the same for the remote worker.
Aruba ESP for remote work
Aruba ESP is well suited to addressing the technology challenges enterprise face as they adopt and expand remote work. For nearly a decade, a key component of Aruba ESP—RAPs—have consistently led the work-from-home market in terms of manageability, security, and services provided. EdgeConnect Microbranch builds upon this strong foundation.
Introducing EdgeConnect Microbranch
To extend the value of RAPs, we've added SD-WAN capabilities to the AP itself. This new solution—EdgeConnect Microbranch—delivers higher-performance connectivity from the edge to the data center to the cloud plus enhanced security and unified management to meet the needs of business-critical services such as call center applications, unified communications and collaboration, and remote IT management.
Remote workers can connect wireless clients (laptops, smartphones, tablets) as well as wired clients, such as VoIP phones, and access mission-critical applications reliably and securely. As backup, the AP can be used with an LTE extension inserted into the USB port for uplink redundancy and business continuity.
As part of Aruba ESP, the EdgeConnect Microbranch solution is managed by cloud-native Aruba Central and benefits from a unified approach that enables staff to configure, troubleshoot, and optimize network performance across campus, branch, and remote work environments.
New SD-WAN Services
Unlike other approaches that require a dedicated gateway, EdgeConnect Microbranch delivers a new suite of SD-WAN capabilities via the AP itself to optimize performance, security, and manageability including:
Policy-based routing that allows IT to deliver application performance and security based on automated rules to meet service-level agreements (SLAs) for specific applications, websites, or types of users.
Tunnel and route orchestration that optimizes network performance by orchestrating VPN tunnels on demand and automatically rerouting traffic to the network path that will provide the best performance.
SASE integration to provide secure connectivity to cloud security services such as Zscaler directly via the AP and with Aruba Central providing orchestration of tunnels and unified configuration management.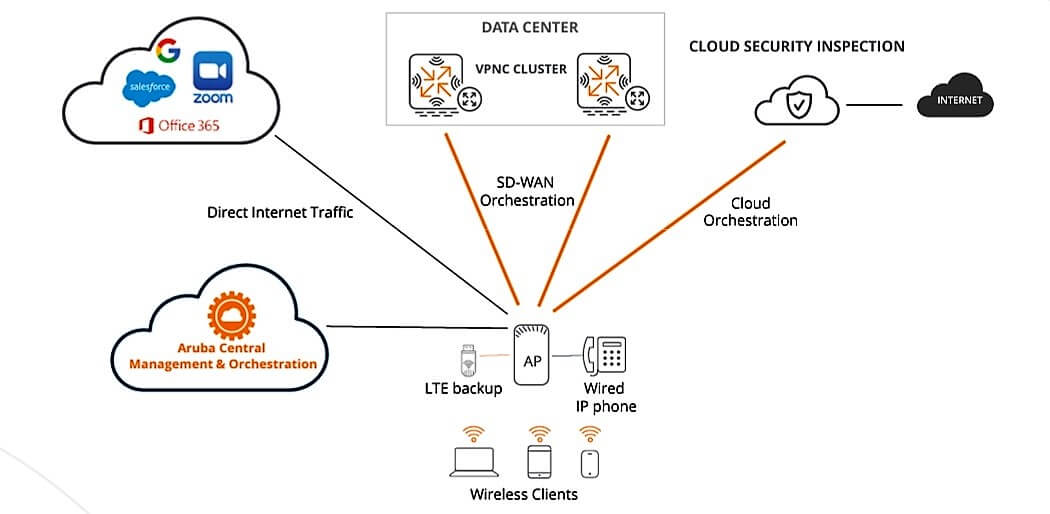 EdgeConnect Microbranch extends the WAN to remote workers and uses intelligent policy-based routing to optimize performance and provide cloud security inspection.
Cloud-managed APs with Aruba Central
To streamline operations, APs are cloud-managed with Aruba Central running the latest operating system, AOS 10. IT operations teams can manage across their wired, wireless, and SD-WAN networks to proactively address performance slowdowns and troubleshoot issues to improve the user experience for users whether they are on campus, in a branch, or working from home.
To accelerate troubleshooting and improve remote worker productivity, Aruba Central's dashboard views provide insights into WAN availability, utilization, and throughput to surface latency, jitter, and other connectivity issues impacting the ISP that have traditionally been hidden from IT teams.
In addition, IT administrators can easily configure policy-based rules in Aruba Central such as:
Remote user traffic to corporate goes to the data center through a secure IPsec VPN tunnel.
Remote user traffic such as general web traffic goes directly to a cloud security provider such as Zscaler for inspection through an orchestrated tunnel.
Remote user traffic to corporate's trusted SaaS applications can go directly to the SaaS provider via the Internet to minimize latency for video conferencing and other mission-critical applications.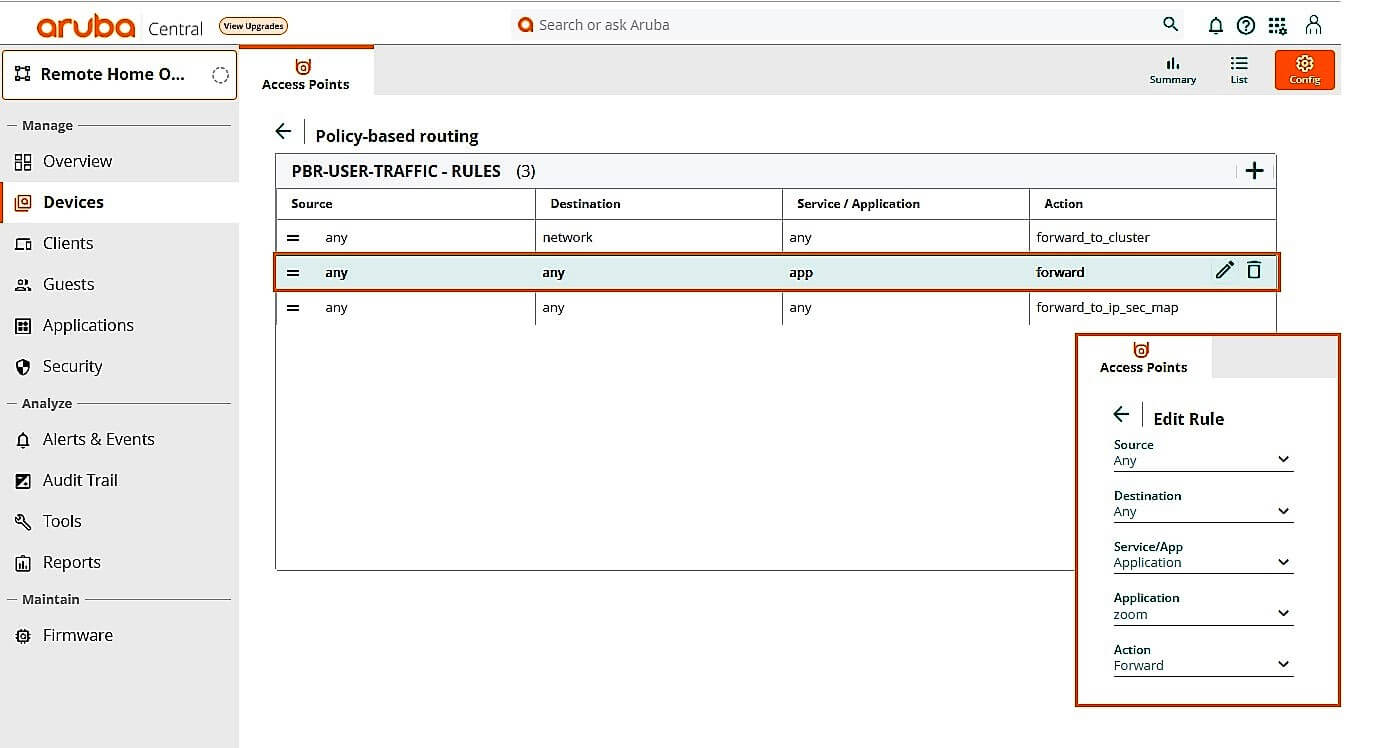 EdgeConnect Microbranch policy-based routing rules for remote small office and home office locations can be easily configured and prioritized via intuitive Aruba Central controls.
Because policies are defined centrally with Aruba Central, they can be applied consistently. Users benefit from improved performance since policies can be implemented to optimize routing and to avoid unnecessary delays or backhauling of traffic.
Explore EdgeConnect Microbranch
Remote Work: Extending Enterprise Networking to the Home