Mobility is a double-edged sword. On one hand, innovation, productivity and employee satisfaction increase, but on the other, consistent threat prevention is virtually impossible. Security needs to be extended to all places employees work and be tailored for the nuances of ubiquitous access and varying device form factors and capabilities.
As access to resources increasingly occurs outside of corporate campuses, organizations have a choice; shore up remote sites and branch offices or do nothing and hope for the best. Obviously the do nothing approach is a surefire recipe for disaster as recent reports highlight branch offices are increasingly attractive attack vectors into the enterprise (Gartner 2013 Report: Bring Branch Office Network Security Up To The Enterprise Standard). So what do we do security wise at branch offices?
Costs and lack of technical resources limit the ability to fully replicate security services across all locations. Consequently we see a hodgepodge of products sprinkled throughout branch offices, each with varying degrees of capabilities and all with different management interfaces. This results in inconsistencies and compromises that threaten security and keep organizations exposed to a variety of exploits.
Protecting employees and corporate data at remote locations from today's sophisticated and persistent attacks requires a comprehensive security solution tailored for the enterprise and the branch that can easily and affordably deliver consistent threat prevention.
That's why Palo Alto Networks and Aruba Networks have teamed-up to give businesses a security approach for mobility that focuses on Adaptive Trust™. Adaptive Trust shares context gathered by Aruba's mobility infrastructure and the ClearPass policy management platform with Palo Alto Networks next-generation firewall, GlobalProtect™ and WildFire™ services to deliver a security framework designed for the anywhere, anytime, any device workforce.
Organizations using Aruba and Palo Alto Networks in their data center and headquarters benefit from an access and security infrastructure that leverages policies based on contextual data – users, devices, locations, applications, and even threat information. This ensures that all users and devices are assessed before and after they connect to enterprise networks and policies are mapped to changing conditions.
Adaptive Trust lets IT make smarter decisions about how users and devices access data and how security is enforced, regardless of role, device or location.
With the introduction of the Aruba Cloud Services Controllers, extending mobility, access controls and advanced security services to all locations within a distributed organization has never been easier or more cost-effective.
Aruba Cloud Services Controllers combine true zero-touch provisioning, mobility firewalls with content filtering, dual Ethernet WAN links with 3G/4G backup, policy-based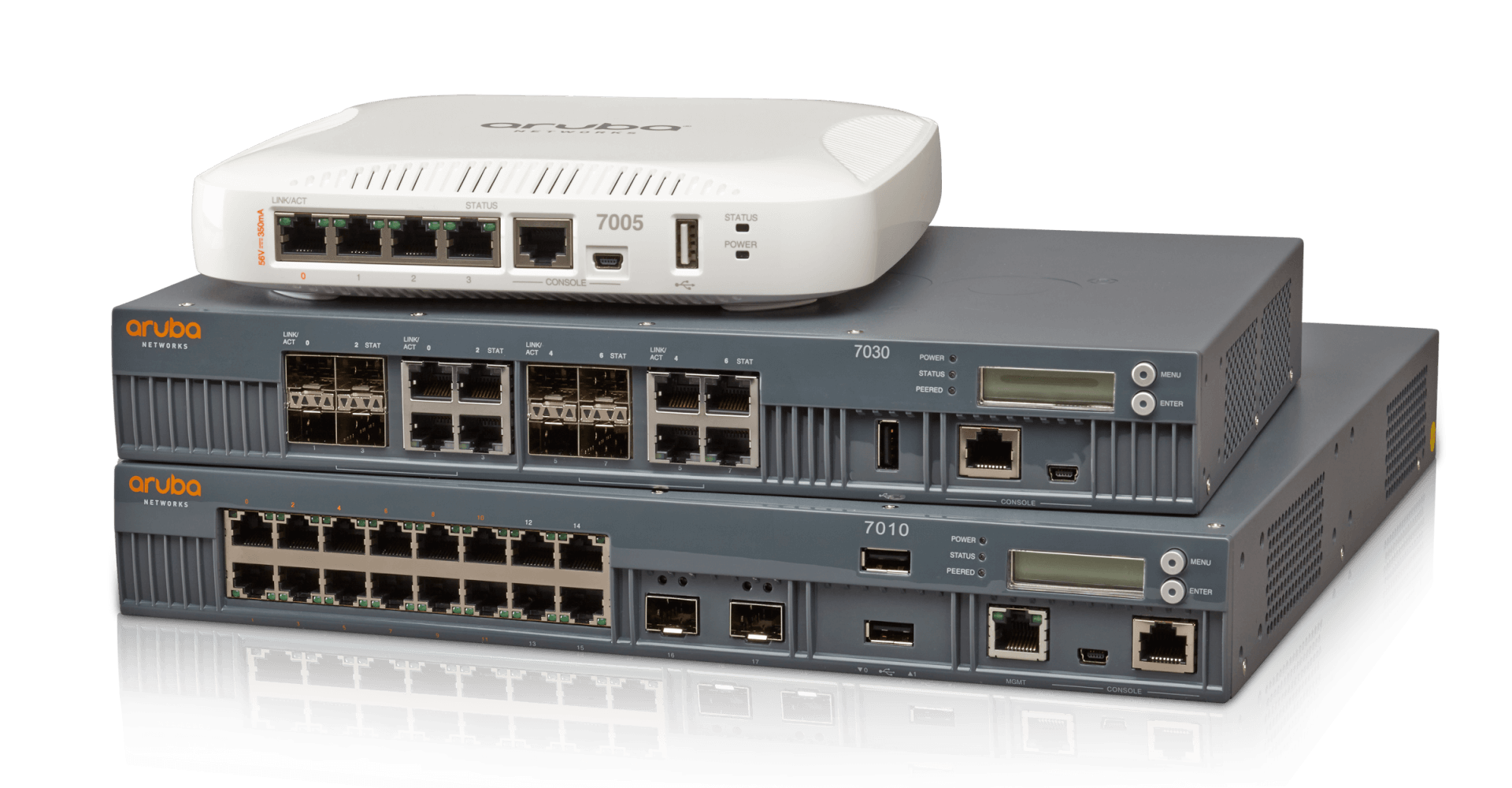 routing and secure VPN connectivity – all in one compact footprint.
Deployments are a breeze with plug-n-play simplicity, allowing businesses to quickly bring up branch offices without requiring on-site IT expertise. Consolidating core branch services onto a single device eliminates device sprawl across all locations, significantly reducing costs and complexities.
Cloud Services Controllers can also be configured to integrate with Palo Alto Networks GlobalProtect. GlobalProtect provides next-generation firewall controls and integrated threat prevention to deliver consistent enforcement of security policies across all distributed locations.
This seamless integration allows the Aruba Cloud Services Controller to automatically establish a VPN connection to an optimal GlobalProtect Gateway to logically extend network perimeter threat prevention and policy controls. Security is enhanced by Palo Alto Networks WildFire advanced threat detection and prevention service to provide protection against new mobile threats and malware.
This model allows IT to eliminate disparate security devices and capabilities and enjoy the same zero-day protection, uniform policy-enforcement, endpoint protection and enterprise-class mobility across all locations.
Aruba's Cloud Services Controller integration with Palo Alto Networks GlobalProtect delivers the best mobility and threat protection for distributed organizations. Check out the solution overview to learn more about how Aruba and Palo Alto Networks are making securing remote offices easy and affordable.