Gartner recently released its 2015 Critical Capabilities report for wired and wireless LAN access infrastructure. In this report, the combined HPE and Aruba wired and wireless access network solutions received highest scores in 5 out of the 6 Critical Capability use cases (and a close second for the wired-only category). As Aruba CEO, Dominic Orr, said six months ago, "Together with HP, we have a tremendous opportunity to become an even greater force in enterprise mobility and networking." As our teams and products have come together, we indeed have become better together! Compared to last year's report, where HP and Aruba were positioned as # 1 in 4 out of the total 6 Critical Capability use cases (and a close second in the other two use cases), we believe it is clear that we are extending our solutions to meet customers' needs in a more meaningful way.
In the 2015 report, Gartner based its conclusions on survey responses from over 1,500 clients and more than 100 organizations during the past 12 months. The purpose of the report is to examine the capabilities of wired and wireless local-area network vendors to address a set of common enterprise use cases. Network decision makers should use this research to determine which vendors have the best mix of critical capabilities for their specific usage requirements. To identify the critical capabilities of the use cases, Gartner evaluated:
The weighting for critical capabilities in use cases
The product/service rating on critical capabilities of each vendor
Then, by multiplying (1) and (2), Gartner determined the vendor scores for each use case. To see all of the scores, you can download the full report below, but here is one example for the Enterprise Wireless-Only Connectivity Use Case. We are seeing this use case in more of our customers as they move to the digital workplace, where mobility and context become critical drivers.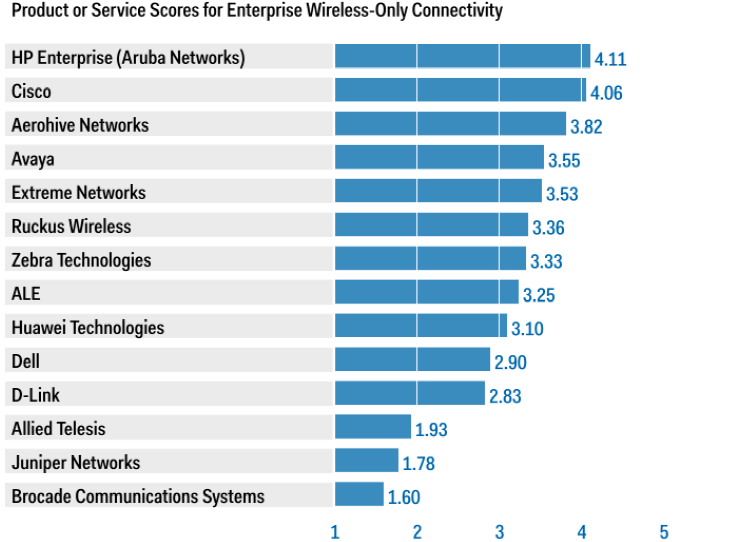 Figure 1: Vendor's Product Scores for the Enterprise Wireless-Only Connectivity Use Cases
As you will see in the report, in every use case except the Enterprise Wired-Only Connectivity category (which we believe is actually becoming rare in today's enterprises), the unified HP and Aruba has scored highest with a nice margin above the 2nd and the 3rd vendors on the list. We believe scoring in each use case, particularly in Enterprise Unified Wired and WLAN Access, Enterprise Wireless-Only Connectivity and SMB/Remote Branch Office, has shown the strength of the combined organization. As suggested by Gartner in the report, enterprises should "choose a single-vendor unified wired/wireless LAN access solution for a consistent wired/WLAN usesr-centric access polity, with improved provisioning times and reduced administrative costs".
With Aruba's cloud-first, mobile-first network solutions and HP's strength on wired connectivity and network management, the combined solution is now available to help enterprises move their business towards the future.
The unified wired, wireless and mobility network

Figure 2: The unified wired, wireless and mobility network
The integration of wired, wireless, and mobility allows the joint HP and Aruba team to provide solutions across the mobility, wireless/wired access, and the data center. This is especially critical for enterprises that are moving from the port-centric network environment to the all-wireless digital workplace. The unified yet simplified network provides all of the key elements that an enterprise needs to stay competitive, including high performance, intelligence, and security of the network.
The mobile-first, cloud-first network applications

Figure 3: Moving from client-server to mobile-cloud
With the move towards cloud-based services, mobile applications and the Internet of Things (IoT), today's enterprise network infrastructure has shifted from client-server computing to mobile-cloud. Many challenges will be faced during this transition, such as the security and access control, how to identify network users, the support of Wi-Fi calling…just to name a few. The combined HP and Aruba wired, wireless and mobility solutions enable a new network that supports software programmability, understands contextual information, and can assign and enforce policies based on identified user information. With those, enterprises are ready for the challenges they will face as they move towards the future.
Lastly, in the report, Gartner states "users have accelerated their adoption of 802.11ac Wave 1 wireless equipment, pushing sales of 802.11ac access points in 2014 to $924.4 million from $96.2 million in 2013." With the recent introduction of Wave 2, the 802.11ac will continue to thrive and eventually replace the legacy 802.11n access technology. HP and Aruba is dedicated to advancing innovative technologies. Its 802.11ac product lines provide high performance, high capacity, and the best user experience for its enterprise users.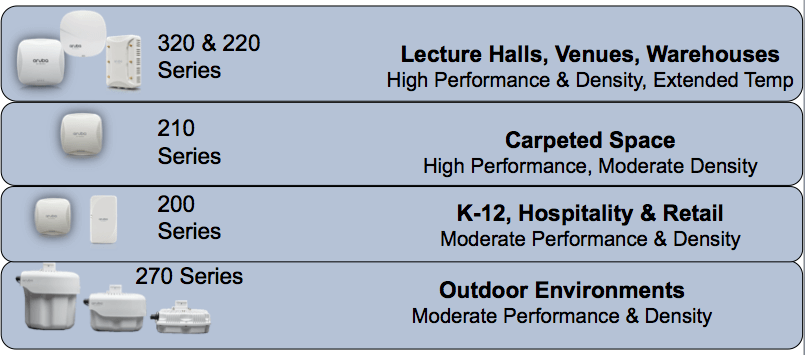 Figure 4: HP and Aruba 802.11ac portfolio and uses cases   
---------
The graphic within Figure 1 in this document was published by Gartner, Inc. as part of a larger research document and should be evaluated in the context of the entire document. This Gartner document is available upon request from Aruba Networks.
Gartner does not endorse any vendor, product or service depicted in its research publications, and does not advise technology users to select only those vendors with the highest ratings or other designation. Gartner research publications consist of the opinions of Gartner's research organization and should not be construed as statements of fact. Gartner disclaims all warranties, expressed or implied, with respect to this research, including any warranties of merchantability or fitness for a particular purpose.