For a long time, the challenge for IT leadership was to simply deliver wired and wireless connectivity. But these days IT decision makers need to rethink how they invest in IT infrastructure making sure they don't fall behind the fast train of mobility and IoT while also playing catch up with the latest technology innovations.
We at Aruba introduced the Mobile First Platform last week addressing these new challenges that business and IT leaders are facing. We designed the Aruba Mobile First Platform as an intelligent and programmable software layer between the network infrastructure components and third-party IT services and business and end user-facing applications.  Aruba's Mobile First Platform solution allows our technology partners and customers to deliver insights and bring automation to their digital workplace.  By extending the Mobile First Platform API to our technology partners, our customers can now deploy integrated best-in-breed solutions from multiple vendors that deliver the infrastructure to power their business today and into the future.
ArubaOS 8, the brain of Aruba's WLAN solution, is the backbone of the Mobile First Platform. This new operating system unleashes the power of Aruba's infrastructure with the latest technology- providing the best available services to accelerate adoption of mobile and IoT.  With ArubaOS 8 we made a significant architectural change by introducing the Aruba Mobility Conductor.
So you might ask why do we need the Mobility Conductor? The Mobility Conductor centralizes network functions and allows the mobility controllers to act as a data plane transmitting RF while most services are happening at the Mobility Conductor level- you can call it a centralized services platform. And the fact that it comes as a VM means more CPU and memory that is available to handle all those centralized services which were not possible in a hardware appliance.
Now let's look at what benefits ArubaOS 8 delivers:
Simple to use
Flexible deployment
Unprecedented WLAN user experience
Wireless that tunes itself to the users and delivers better experience
I will go into detail about the first two benefits and will cover the rest in the next month blog.
Simple to use -– what all network admins been looking for!
We made significant changes to the ArubaOS 8 UI with a more modernized look, quick workflow and overall ease of operation- taking into consideration even the smallest features that could make the network admin's job easier such as auto-completion command. You can take a look at the new UI in this demo video and see for yourself how simple it is to create a new network and set policies.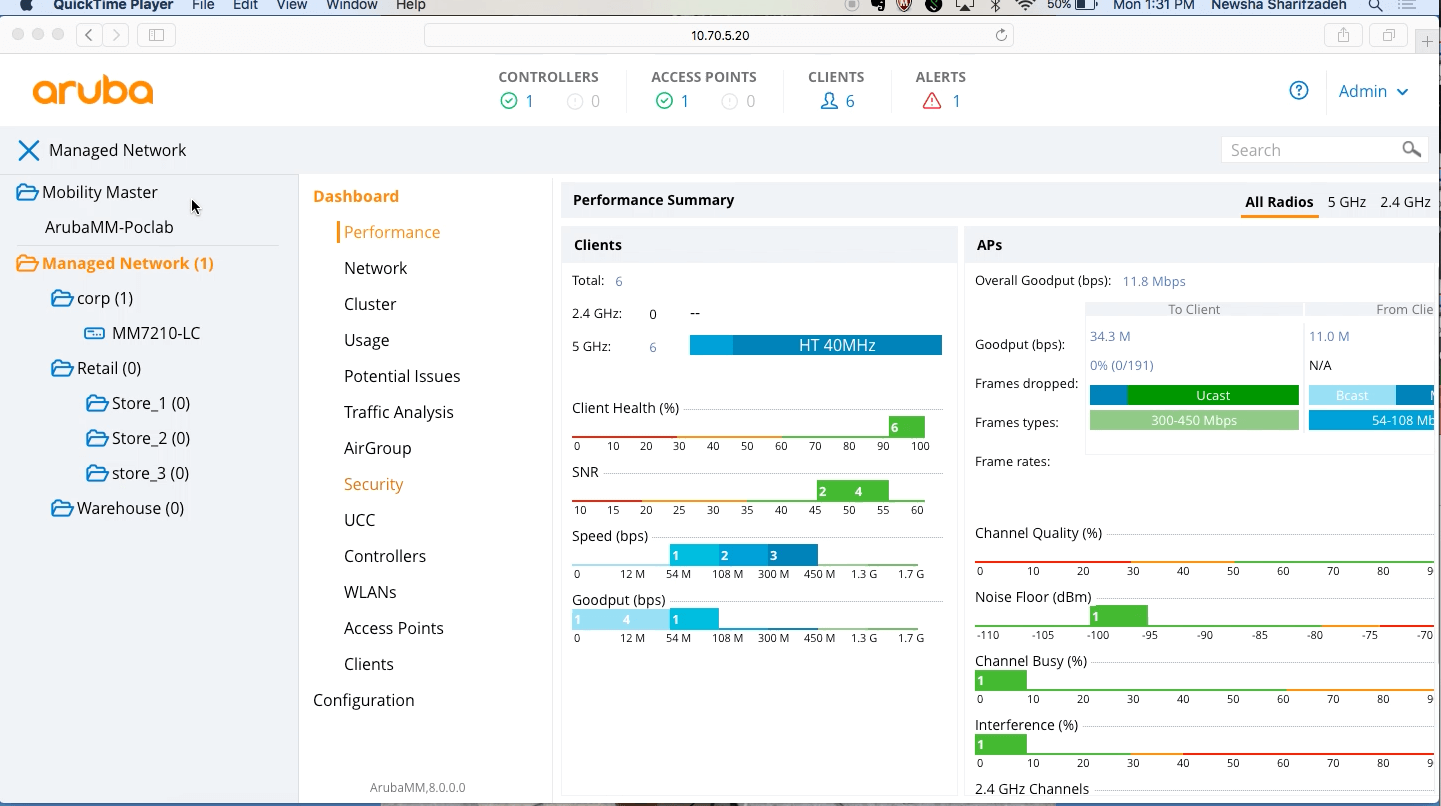 Figure 1: The ArubaOS 8 controller dashboard 
In-service upgrade -– Faster path to adopting new innovations
I mentioned about centralized services in the Mobility Conductor. One of the benefits of this centralization is the ability to upgrade those services only, without rebooting the network.
This new release, with its services-oriented architecture of the Mobility Conductor, now enables customers to perform in-service upgrades of individual service modules without restarting any of the network nodes. With the speed that Mobility and IoT technologies are moving, a new software update comes every couple of months but nobody wants to update the entire network operating system that often to get those updates due to risk and downtime. Now upgrading these applications is as simple as upgrading one of your mobile apps- without rebooting your phone operating system and in this case the entire network.
Multi-version OS support – your gradual migration tool to new innovations
ArubaOS 8 also introduces Multi-version OS support in order to support large and business-critical networks. When there is a new code available, this feature allows IT admins to test and play around with that software update in one area without affecting the entire network. This can work as a gradual migration tool to adopt new innovations while minimizing risk.
Multi-tenancy in the AP – one more step to network efficiency  
MultiZone is a new feature in the Mobility Conductor that allows you to have multiple separate secure networks that are homed on different controllers while using the same Access Point (AP) in the same physical location. It's as if you are slicing the AP and allocating each slice to a separate network. This feature is very useful for federal, airport, retail or hospitals as it allows for simplified policy implementation in environments where data privacy and network security are critical. For example, in an airport, there can be separate networks for the airlines such as KLM, Air France or United Airlines, public and airport security that run the same access point. The airport security Wi-Fi runs their network through their secure controller, while the airport public Wi-Fi runs through a public Wi-Fi controller – and all are using the same access point, thus minimizing RF interference while slashing the costs from deploying multiple networks of APs.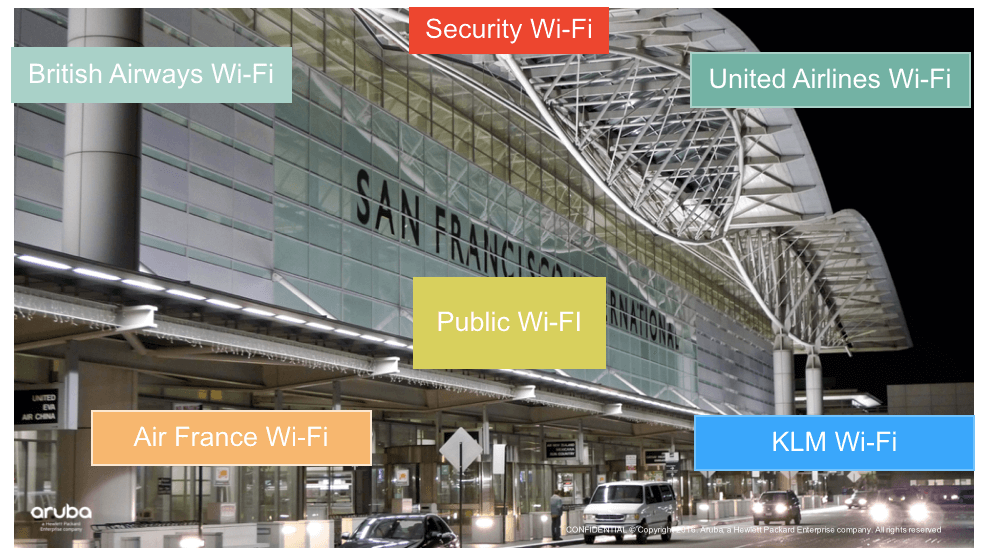 Figure 2: MultiZone use case
Flexible deployment –  Simplify and accelerate software updates   
Reduce capital and operating costs, minimize or eliminate downtime, simplifying software updates to the latest technology, ease of deployments and increase in efficiency, agility and responsiveness are naming a few benefits that you can get from virtualization.  As mentioned earlier the Mobility Conductor is deployed as a VM for an ease of deployment and updates.
We also introduced the Virtual Mobility Controller (VMC). The VMC functions in a similar way to the 72xxand 7xxx Mobility Controllers by centralizing wireless network visibility and control. Deployed as a virtual machine (VM), this controller provides plenty of capacity and speed for BYOD and 802.11 ac devices for both campus or branch deployment.  If you have a new branch, instead of shipping a new hardware appliance to the new site you can simply deploy a VMC. We are not the first with a virtualized controller but 99% feature parity with our mobility controllers is huge.
Do you know we can have an always-on network even when a controller goes down?  Check out this blog to learn more.