A colleague recently posted a blog on the Airheads Community about the importance of location when it comes to buying a home, and he's right. But if you're timing is off, any location you choose may cost more than you bargained for. For example, traffic around the house next door to a school will definitely look different at morning drop-off versus during the summer break.
It's the same thing with asset tracking and mobile engagement solutions. You need to match the characteristics of the solution being explored to the problem you're trying to solve. If you want to get people from point A to point B, the blue dot on a mobile app needs a fairly real-time response.
Now that our location-based services story includes asset tracking and Aruba Tags, questions regarding latency differences between our Aruba Tags and Aruba Beacons (battery- and non-battery-powered beacons) have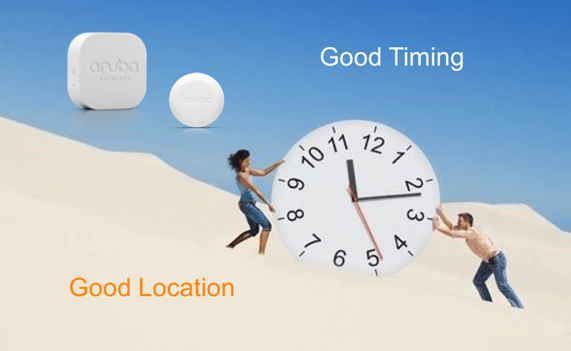 become a common discussion point. Why the difference?
For wayfinding, the blue dot calculation is performed by a smartphone app-enabled via the Meridian SDK, and for asset tracking, the location of the tag is calculated within the Meridian cloud service. Different dynamics, different timing.
In a mobile engagement deployment where a mobile app is used for triangulation, the chirp rate for Aruba Beacons is much faster than what is used for Aruba Tags. The reason is that as a person walks from one spot to another, the blue dot on the app has to provide an accurate representation of where the person is as they move. Mobile engagement and wayfinding wouldn't be very effective if the latency was measured in minutes.
The stated latency for our BLE-based Aruba Tags is roughly 1 to 2 minutes. This timing works well as our goal is to help locate assets that someone has left in a patient room or in the back of a warehouse. Based on the type of assets that we're targeting with our solution, the latency for this scenario is just fine. But, if you're trying to use tags to track people, you're better off working with one of our partners, like STANLEY Healthcare, as the latency needed to keep up with a quickly moving person or object needs to be in the range of seconds, not minutes.
So, even though Aruba Tags and Aruba Beacons are both BLE-based, they have two distinct chirp rates and roles in how they're being used. Also, I'd like to mention that both Aruba solutions can be deployed in the same location; the difference in latency is not an issue because what is used to listen to these devices (or triangulate their location) is different.
To learn more, check out Aruba's Location Services web pages.