I recently had the opportunity to be a mentor and judge at the first Aggies Invent competition in the new Zachry Engineering Education Complex on the Texas A&M campus in College Station, Texas. The cutting-edge building just opened just four weeks before the event and is packed full of the latest technology designed to enable collaborative learning. A high-performance network, its own mobile app, smart boards, huddle rooms, green-screen recording studios, videoconferencing with ceiling-mounted directional microphone arrays, and art created with live data to inspire creativity – this building has it all.
My Smart Campus Experience
Walking into the 525,000-square-foot building for the first time, and not knowing where I was going, I opened the EngiNearMe mobile app (installed by over 6000 people in the first month) and searched for the room where I would be holding a short training class for the students. The app gave me turn-by-turn directions upstairs to the third floor and I was there in no time. When I arrived at the room I was amazed by what I saw.
This room, called a learning studio, like 37 others, was a collaborative setup where each group of four students at a table had access to a monitor with content controlled by the professor. The system even allowed students to wirelessly share content with their table or the rest of the room. Large monitors surrounded the well-lit room. I had never held a training class in a space like this. There was a large smart board that controlled all of the monitors. When I shared my screen, it was easy for everyone to see the content on the monitor built into their table.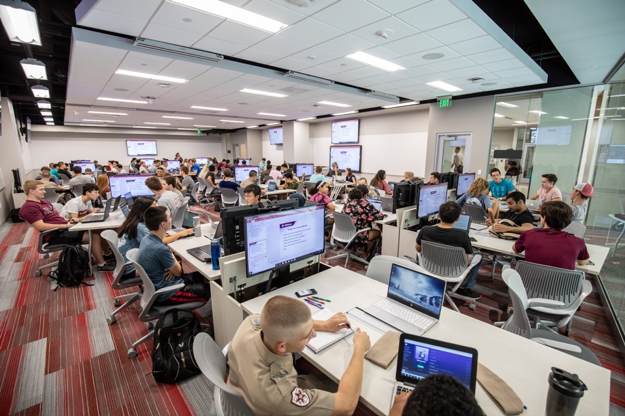 As a guest, I was easily able to join the guest Wi-Fi that blankets the entire building and outdoor space around the building. The entire WLAN infrastructure is Aruba, including security, switches, location ready access points, and beacons.
Aggies Invent
The next evening was the official start of the weekend event. The 50 selected students introduced themselves to each other and formed teams to solve one of ten "need statements" that were provided. In each case, they were trying to solve a business problem by using a location-aware mobile app to create an improved experience. Over the course of the weekend, the students had access to the entire building. Each team had two review sessions with their mentors to check in on their status and provide guidance. Saturday night some of the teams stayed up all night working on their projects.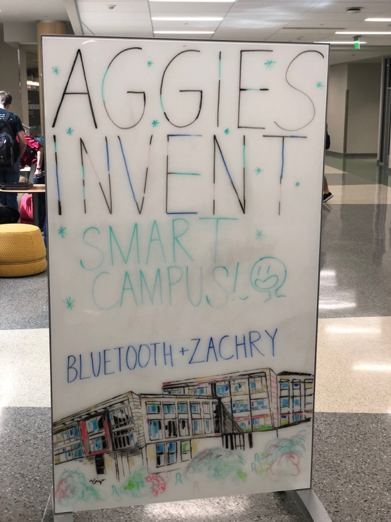 On Sunday afternoon, after all of the teams showed a 90-second video they created and gave a 10-minute sales pitch to the judges, three teams walked away with prize money that they can apply toward books and expenses just like a scholarship. The winning teams were: Evexia, who designed a mobile app aimed at increasing patient satisfaction in healthcare; Museo, who built a museum app where the artists can connect with visitors by providing details about their life in augmented reality; and SmartCart, which was a BLE-enabled smart shopping cart and app to reduce friction in a brick-and-mortar store.
In less than 48 hours, each of the teams not only created a prototype of their product, but also got a taste of real-world business challenges that await them after graduation.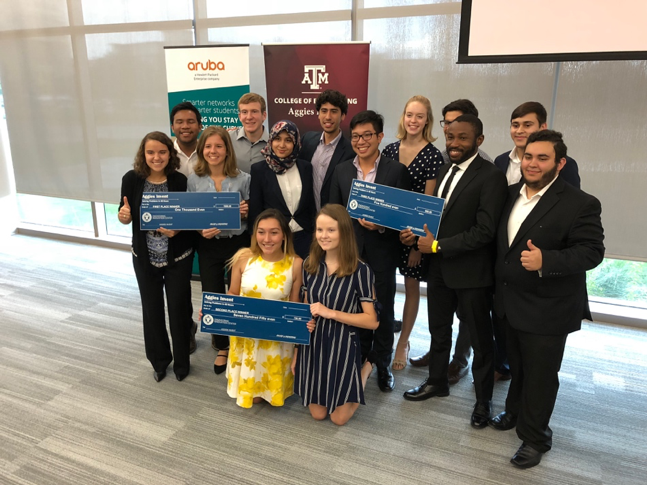 Looking Ahead
The Zachry building is a model for how students can use technology to engage with each other. It is a very similar model to the Smart Digital Workplace that is becoming more popular on corporate campuses. Hosting events like Aggies Invent in a space that enables creative thinking and collaboration using technology, Texas A&M is leading the way in teaching the next generation of workers to think creatively, collaboratively, and encourage an entrepreneurial spirit. It was a privilege to have had the opportunity to be a part of this event.
Related articles:
Texas A&M: "Students design apps in 48 hours during Aggies Invent"
Texas A&M University Advances Engineering Education with State-of-the-Art Complex Built on Aruba Mobile-First Solutions