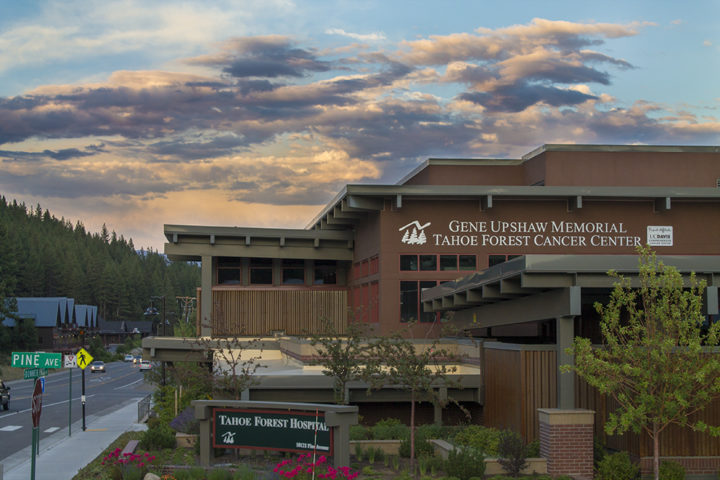 For the first time since 2011 California is drought free. For residents in the northern Lake Tahoe area, the snowpack means more time on the slopes and a spike in tourists visiting the area and enjoying all the beauty that the region offers.
Truckee and the surrounding area attract outdoor enthusiasts during the winter months and in the summer. Everyone who craves time outside, whatever the season, can be confident that the region's prize-winning healthcare system, Tahoe Forest Health System (TFHS), can meet their needs.
TFHS has been busy adding services to better serve north Lake Tahoe's growing population. The Tahoe Forest Hospital offers premium care to  six rural counties in both California and Nevada. In nearby Incline Village, a four-bed critical access hospital counts itself within TFHS, as do six specialty clinics.
Annually, nearly 150,000 patients visit a hospital or clinic that TFHS oversees, and providing the best possible healthcare for those patients impacts each and every decision.
"We want to put every dollar we spend towards patient care," said Jake Dorst, chief information and innovation officer at TFHS. "We realized that if we could save on network infrastructure costs, those dollars could be put back into new construction and improving services for the community and our patients."
Aruba Shreds the Competitors
Patient-first decision-making drove the choices TFHS made in upgrading its aging network infrastructure. After years of service, the legacy network was labeled expensive more often than indispensable. Dorst and his team started reviewing better options for the network and tapped Aruba both for its advanced network technology and operational cost savings. By standardizing on Aruba, TFHS expects to save between $750,000 and $1 million in operational costs over the next five years.
TFHS and solution partner WrightCore designed a unified wireless and wired network with the Aruba Experience Edge infrastructure to support the Mercy Epic electronic health records system and share X-ray, CT, and MRI imaging across both campuses. To handle network access, application traffic, mobile devices, and a future plan for IoT, WrightCore and TFHS deployed Aruba access points, controllers and switches. Using a mix of Aruba 2930, 3810, and 5400R switches helped right-size deployment and avoid the competition's costly over-spec approach to network design.
TFHS also added in AirWave for unified network management and ClearPass for wireless and wired network access control. With a nod to the mission-critical nature of healthcare, the team included ArubaOS 8 and its Live Upgrade feature that supports the upgrade of the entire network in real time without affecting users of medical devices.
The Aruba network easily delivers the performance that TFHS needs—and it meets the demands of the healthcare staff, visitors, and the TFHS IT team. The AI-powered AirMatch makes adjustments to the network automatically to optimize performance, and the Live Upgrade feature supports automatic upgrades. For staff and guests, ClearPass supports easy guest access while keeping the network secure.
Caregivers, administrators and physicians access the network using a mix of corporate-issued and personal devices, plus medical-centric devices like Haiku and Canto. Dorst predicts a big lift in mobile devices as more staff, patients, and visitors want access to network while visiting TFHS.
"With the addition of ClearPass, we can provide BYOD and guest access with increased levels of network security, and begin rolling out more mobile applications that are specific to our operations," Dorst noted. "For example, we're improving and promoting our patient portal, and looking at kiosks and mobile devices in our clinics to allow patients to access forms and information that speeds their registration process. Our hope is that the easier and smoother we can make these processes, the more people will use our services."
The Aruba network with ClearPass will also play major roles in securing future IoT deployments. IoT devices currently monitor refrigerator temperatures and Dorst expects sensors and devices will carve out more space on the network in the future.
TFHS Lifts Area Healthcare to New Heights
TFHS has been expanding rapidly during the last couple of years. Between 2015 and 2018, TFHS increased its medical staff team from 115 to 146.  As it added staff and services, the patient visits to clinics steadily rose from 44,500 in 2014 to 67,000 in 2018. TFHS expects more growth in the coming years, which means more users on the network, new apps, and additional services. With the advanced, unified Aruba Experience Edge network, TFHS has the performance and management needed to meet patient and caregiver expectations throughout all the seasons and well into the future.
Go Deeper
Hospitals that are improving the patient experience and offering personalized care are realizing higher satisfaction scores. Aruba offers a portfolio of networking solutions that can help keep staff, caregivers, and visitors feeling positive and productive.