Helping students learn and excel today requires a digital 'classroom' that takes advantage of the latest network technologies.  Education has transformed and evolved from the traditional single teacher instruction with little or no technology to innovative classrooms with video-based curriculum, digital blackboards and of course, online assessments. Classrooms are shifting away from rows of desks and shelves filled with textbooks to an environment that promotes collaboration between students and teachers, delivers access to cloud-based applications such as Google Apps for Education and Office 365e, on-demand access to the latest digital curriculum and can prioritize critical learning applications such as Online Assessments.
Ledyard Public School District in Connecticut was experiencing dropped connections, was unable to centrally manage existing wireless access points and was suffering performance issues that cropped up during grade level student assessments.
Leading-edge update of the infrastructure
Ledyard School District in Connecticut is a rural district with six schools and just over 2400 students.  Like most public schools, it is looking to stay ahead of the technology curve but is often faced with budget constraints.  Fortunately, the U.S. Federal government expanded its E-Rate funding program and Ledyard was able to jump on the opportunity to modernize its network. Ledyard's requirements included a unified wireless and wired experience, lasting high-performance investment and a solution that was compatible with E-Rate requirements.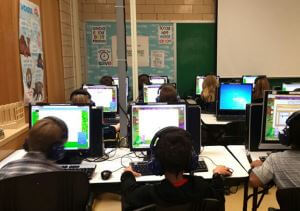 "In just six weeks, we had an upgraded LAN and Wi-Fi that's fully secure and easy to manage. School districts of all sizes should be looking at Aruba and E-Rate to modernize their infrastructure." 
--John Mercier, Director of Instructional Technology, Ledyard Public Schools
 To meet current needs and make way for a future of complete 1:1 computing, Ledyard deployed a pervasive enterprise Wi-Fi system that includes Aruba 802.11ac indoor and outdoor access points (APs) and 7200 Series Mobility Controllers.  The school district also adopted AirWave, Aruba's vendor-agnostic management tool. For their LAN upgrade, they implemented Aruba 5400R Switch Series and 2920 Switch Series. These switches bring enterprise-class resiliency and innovative flexibility and scalability for a better mobile-first campus network experience.
To learn more about how Aruba helped Ledyard School District solve its network technology challenges and prepare for the future, read the case study.