The Airhead Community MVPs are a special group. The Airheads Community MVP program is a way to recognize and show our appreciation for our members who are most willing to share their time, experience and knowledge. This year, we are celebrating 100 All-Decade MVPs from all around the world. In this blog, meet David Poletto, one of just 56 MVP Gurus, who is based in Italy.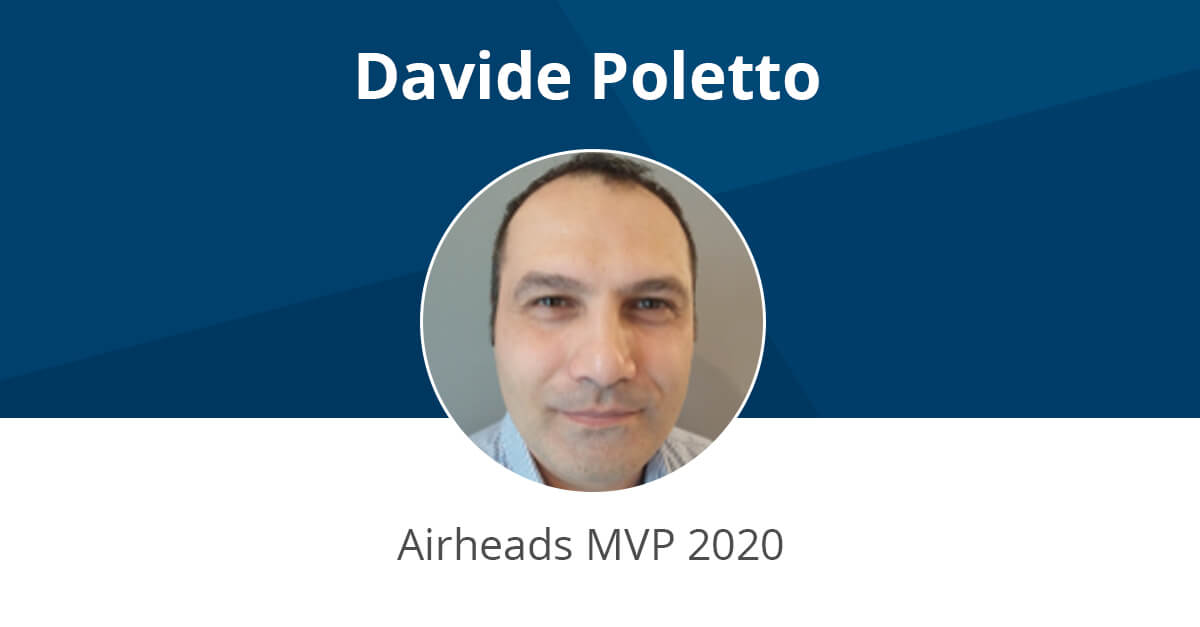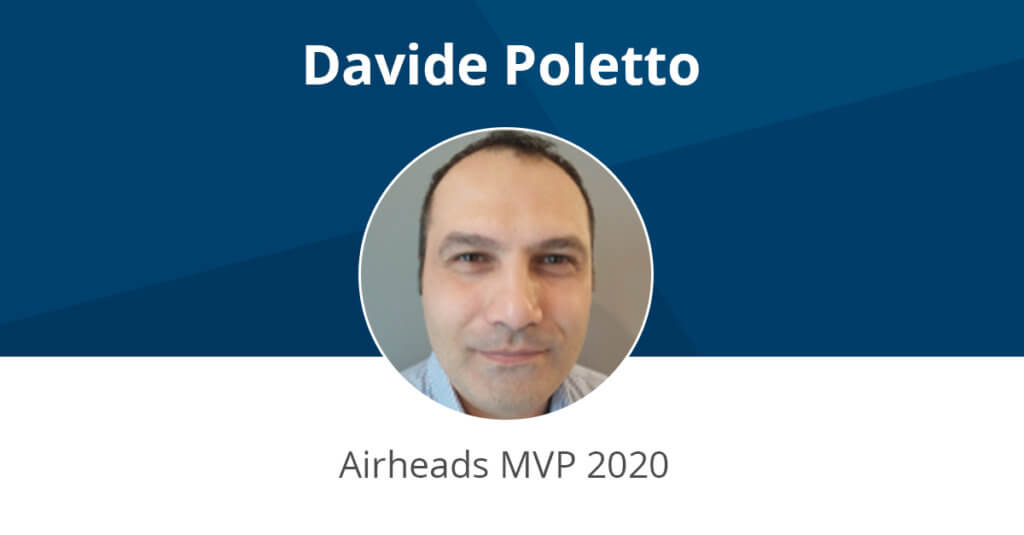 Jamie: Congratulations on being named an MVP! What motivates you to go above and beyond to support fellow Airheads?
Davide: Thank you very much I'm very proud of being part of Aruba Airheads Community!
Well, short answer: passion. Long answer: I think the successful recipe I used up to now requires a good mix of sharing and learning efforts. An Airhead must be capable of overcoming challenges. Add to this mix passion for community's purposes and subjects and—et voilà—a good dish is ready to be served to my fellow Airheads.
Jamie: How did you initially get involved in networking?
Davide: Long time ago, more or less 20 years ago (yes...I'm that old!), I configured my first Link Aggregation on a HP ProCurve 4000M. It was a four, 100Mbps port-aggregated link deployed among my hometown university's new buildings.
If I recall correctly it was exactly at that time when I started working with wired networking seriously. Just a few years before that moment, when I was still a high school student, I learned the story of Bill Hewlett and David Packard, and how they founded HP. Immediately I fell in love with their company and, at first, with their electronic division (you know, oscilloscopes, voltage meters and such stuff) to a point I was crazy enough to purchase a real HP museum piece: an HP 130C Vacuum Tubes Oscilloscope, a real boat anchor now sadly sitting in my garage.
Over the years my interests have migrated to servers and enterprise networking, so it was natural to stay with HP and, since then, I've never betrayed HP nor HPE!
Jamie: What keeps you motivated working in networking?
Davide: My day-to-day job keeps me motivated enough and the passion I have for my it keeps me smiling going at work every day.
I'm a member of the data center team of a multinational manufacturing company leader for small domestic appliances in coffee, food preparation and cooking industry. If you, like me, are an espresso coffee lover you probably have a machine with our logo at home or office.
I use my experience every day to solve minor and major issues, but the learning component is great too so my mantra is never stop learning. Being part of a team working daily with big SAP systems requires a lot of passion and some madness.
Before that, I was self-employed for about 10 years as an IT consultant and well before I was an IT system administrator for an ITC company at a time during which the VoIP acronym didn't exist yet, so go figure!
Jamie: What is your vision for how organizations will use AI for their network and security?
Davide: I'm not an expert in machine learning or AI but I think that an ideal AI system should be engineered to help us to detect data flow patterns by discovering particular events hidden into the data ocean our systems are diving into.
AI should be engineered to inform us that an action or a reaction was executed. I don't know if this level is utopian (or dystopian) but for sure we don't exactly know what lives in the huge amount of data flowing into our private networks. AI (or some of its derived technologies) has a huge potential especially in cybersecurity.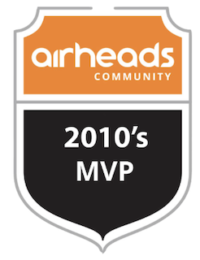 Jamie: Branch office connectivity has been a longstanding pain point. How do you see the rise of SD-Branch solve that problem?
Davide: I see it very positively. SD-Branch—especially the Aruba solution—is helping by simplifying and securing how enterprises design and deploy not only their satellite branch offices but also how they interconnect their data centers and main offices. Control, simplification and automation are the key words here.
Jamie: As organizations continue to migrate to SaaS and cloud, what's the biggest impact on the enterprise network that you're seeing?
Davide: Unavoidably when major data center systems and applications are moved to cloud, big concerns emerge: Enterprise networks are still human-driven and so we, as humans, need to fight and win challenges mainly related to our technological fears and practice. Some of them are related to how we are used to designing and conceiving our systems some others are totally new (think about security and data availability concerns).
The more we use the cloud and SaaS the more SD-WAN role is important and connectivity resiliency a must. Security becomes a bigger concern too.
The main impact I see here is that we need to rethink the whole approach we use to consume our system resources and we use to manage systems, security and data privacy once in the cloud.
Jamie: Who is your biggest tech celebrity crush?
Davide: I don't want to speak to historic iconic persons...We all have some of them as celebrities, some of mine are really people I met on the community or in person. As example—I'm too shy to admit it—although I travelled little for my job lately, I had the opportunity to meet in person Susan Benzel (we shared the same table during lunch!) which, during 2017, was senior program manager for HPE The Machine memory-driven computing project and seeing that project at Discover 2017 was truly exciting. She immediately became a hero for me (she is also an electrical engineer so she's a double hero!).
The list of my networking heroes is long and most of them work at HPE Aruba! It would be amazing to meet some of the engineers, product managers and insiders that are behind the products we use and discuss about almost daily.
Just to start with: Justin Noonan and Ruben Iglesias, thanks to them I deployed my first VSF with Aruba switches in 2018 when that technology was still in its early days. Vincent Giles for introducing me to Aruba 8000 Switch series and VSX (at our Italian data center we deployed the very first VSX with two Aruba 8320 in entire Italy during August 2018).
The list is however long. Last but not least Scott Koster, Jamie Easley, Greg Weaver and Alexis La Goutte, Richard Lichtfield just to name a few. For sure there are also HPE Community members that aren't also on Airheads, I wish to thank them too (Margaret Nugent, Calvin Zito and David Fox at HPE, as example).
Jamie: Hey, thanks for the shout-out. What advice would you offer to someone who is just starting out in networking?
Davide: Be curious, be explorative. Learn to observe a question from different angles, change your approach, read a lot and write the same. Be part of a community and share your doubts and your knowledge. Have no fear of asking basic things and commit yourself to helping others helping you (it's a way to learn to correctly diagnose issues). As happens in other fields one needs to fall in love with a brand, product or technology...it really helps, it helped me for sure.
Jamie: Thank you for sharing your knowledge with your peers. You are highly valued and we cannot thank you enough!