HPE has a compelling set of capabilities for the data center, including networking, storage, compute and more. We are building out our data center portfolio with AOS-CX enhancements for our 8000 Series Platforms focusing on both core data center features, integrations and user experience. As we do that, a critical focal area is integrating with HPE's solutions for hyperconverged and composable infrastructure for a "better together" HPE story.
As a proof point, at HPE Discover 2019 in Las Vegas (June 18-20), we have several demonstrations of pending functionality that highlight some use cases:
An Aruba-HPE SimpliVity demo will show the automation of switch configurations to match the requirements of hyperconverged infrastructure
An Aruba-HPE Composable Fabric demo will show Composable Fabric Manager (CFM) automating the provisioning of an Aruba Leaf/Spine network, and will also show CFM setting policy in Aruba switches based on device roles imported from Aruba ClearPass
Aruba Integrated SimpliVity Deployment
HPE SimpliVity combines IT infrastructure and advanced data services into a single, integrated all-flash solution at a fraction of the cost of traditional offerings.
SimpliVity extends its presence by integrating and collaborating with Aruba. These integrations include automated switch configurations during deployment. Figure 1 illustrates this process.

Figure 1: Switch Configuration Flow with SimpliVity
Thus, during HPE SimpliVity deployments, customers will be able to provide the credentials of Aruba switches and ensure that all connected HPE SimpliVity nodes will be discovered.  During deployment, ports are automatically configured with the information provided in SimpliVity's deployment manager.
HPE Synergy Deployment using HPE OneView
In this demo, we will illustrate secure cross-enterprise integration between users and devices connected to applications and data. We will then—using Aruba ClearPass—selectively allow access to a facial recognition application when the requesting device is a security camera that can benefit from the access.
First, the Composable Fabric Manager (CFM) automates the creation of an Aruba leaf/spine network.  It will then collect virtual machine (VM) information from VMWare vCenter, and will mark the facial recognition application as a restricted application.
Thus, the default behavior for Aruba ports will be to deny any ports to have access to this application. However, when Aruba ClearPass authenticates the surveillance camera, and reports the role to CFM, it assigns a user and device role that will allow access to the application.
The demo (Figure 2) then illustrates how Composable Fabric works with ClearPass to ensure that only the right endpoint (a valid surveillance camera) can access the facial recognition application.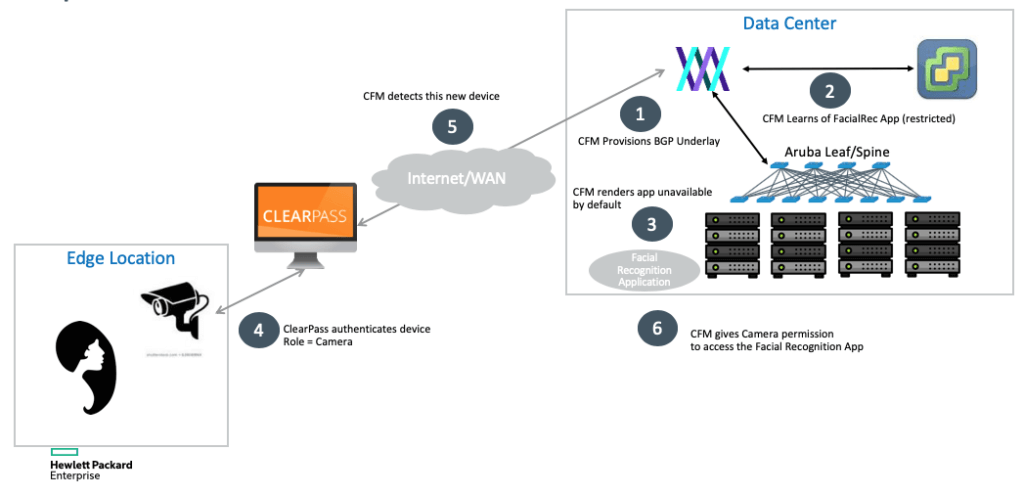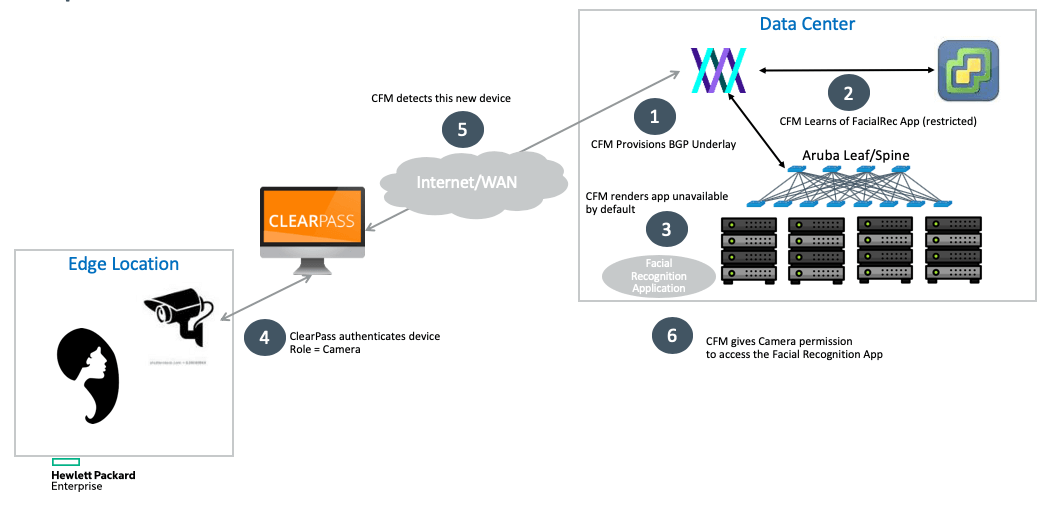 Figure 2: Composable Fabric Interacting with Aruba Switches and with ClearPass
After ClearPass authenticates, it communicates the role to CFM; CFM then grants permission for the camera to access the facial recognition application.
To learn more about these capabilities, and the future direction for integrating these portfolios, come see us at the Transformation Showcase at HPE Discover 2019 next week. And stay tuned via your account representatives to the innovations in Aruba data center networking and how they are becoming part of an ecosystem with HPE data center solutions.