"People move; network must follow." That's right – people's desire for wireless network connections is no longer limited to indoor premises but has expanded to outdoor areas. In modern workplaces, we often see employees working on their laptops on the lawn or the patio while sipping their coffees; or walking from one building to another while speaking in a web conference. The Wi-Fi network follows them wherever they go.
Outdoor Wi-Fi is now table stakes in most organizations in order to meet their expanding footprint of coverage requirements. This expansion has been aided by the latest robust wireless technologies and reduced deployment cost. It is estimated that the global market for outdoor Wi-Fi, including Municipality Networks, Outdoor Hotspots and Private Networks, will be worth $37.2 Billion by 2018 (source: marketsandmarkets). Wi-Fi vendors have seen steady growth of outdoor sales since 2014. Aruba, a Hewlett Packard Enterprise company, for example, had a 93% year over year growth in its outdoor access point (AP) units in 2016.
Compared to indoor Wi-Fi networks, outdoor Wi-Fi had been adopted by the market fairly slow before 2014 due to several challenges:
Lack of MIMO capabilities due to poor signal reflection in outdoor environments
Immaturity of wireless technologies
Customers were initially focusing on completing their indoor deployments
High Total Cost of Ownership (TCO) for outdoor networks
As mentioned, the outdoor market started to take off along with the 802.11ac and advanced antenna and radio technologies in 2014. A number of 802.11ac outdoor APs were available including Aruba's 270 Series that deliver Gigabit speeds to outdoor users. To further enhance its outdoor AP portfolio and meet the varying performance and budget needs in different customer verticals, in November 2016, Aruba added the low-cost 802.11ac Wave 2 outdoor APs to its outdoor family.
Aruba 360 Series Outdoor Access Points
The 360 Series includes the low-cost 802.11ac Wave 2 outdoor APs - AP-365 and AP-367, that deliver the most cost-effective wireless connectivity for mobile and IoT devices in tough outdoor environments including campus, enterprise, retail and industrial settings. With their Ingress Protection (IP) 66 and 67 qualifications, these outdoor APs can withstand exposure to environments with dust and moisture. These APs are also engineered to be deployed in harsh environments with a wide range of high and low temperatures supported for operation.
Key Features and Benefits
Unified APs that support both controller-managed and Instant modes
2 x 2 : 2SS 11ac Wave 2 with reduced transmit power
Support of 802.3af power
Built in Omni (AP-365) and Directional (AP-367) antennas
The outdoor 360 Series APs are integrated with Aruba ClientMatch technology to eliminate sticky clients to ensure the best radio connections; The enhanced ClientMatch technology enables the 360 Series to automatically detect, classify and group 802.11ac Wave 2 capable mobile devices together for MU-MIMO operation, increasing network capacity and efficiency.
The integrated Bluetooth Aruba Beacon in the 360 Series enables remote management for deployment of battery-powered Aruba Beacons. It also provides advanced location services and proximity- based push notification capabilities. The combined integrated Aruba Beacon, Aruba cloud-based mobile application and location services ensure the true Mobile First experience for mobile device users in indoor and outdoor environments.
Competitive Advantages
The Aruba 360 Series is designed as the low-cost Wave 2 version of the 270 Series. With the new Wave 2 Chipset that supports MU-MIMO, it enables a more efficient overall wireless network experience. While delivering high speed outdoor Gigabit Wi-Fi, the 360 Series APs operate on the 802.3af power without requiring the 802.3at power; One the contrary, the 270 Series, with the support of 3 x 3 : 3 in 2.4GHz and 5GHz, provides relatively higher data rates with the 802.3at power. The 270 Series' dual Ethernet ports provide network and power redundancy to enhance the network reliability and performance.
Depending on their deployment scenarios, customers can choose between the 360 and the 270 Series. For example, if customers have limited budgets and intend to provide way-finding or push notification services for mobile device users, the 360 APs will offer better cost vs. performance ratio; However, if customers need to deliver higher capacity to a high device density environment, the 270 Series will be a better fit with more AP options. Figure 1 highlights the key features of the Aruba outdoor APs: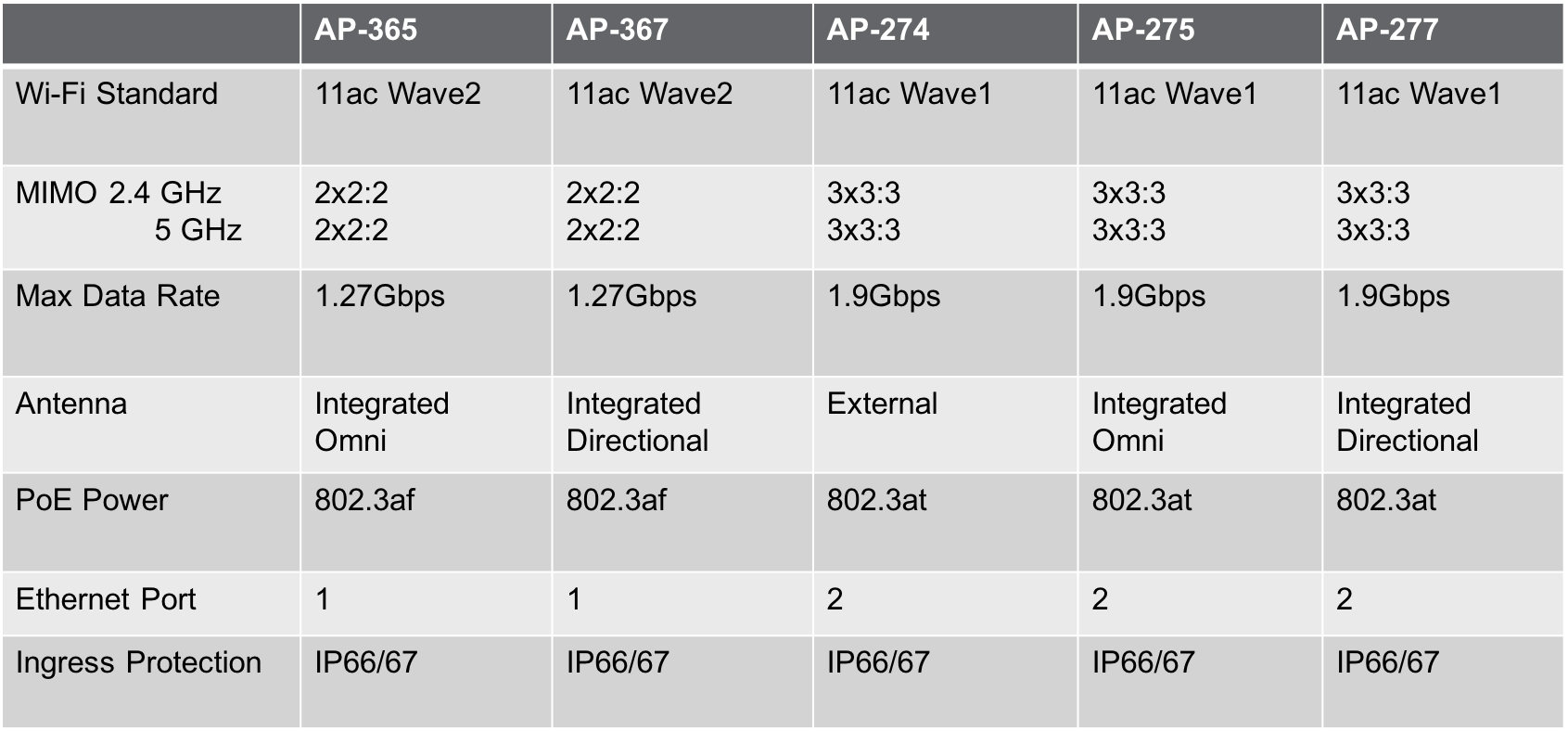 Figure 1: Aruba outdoor APs
When comparing the 360 Series to other vendors' outdoor Wave 2 APs, the 360 Series stands out as the most cost-effective high performance model that benefits customers with many unique features:
Integrated advanced Aruba ClientMatch radio management technology and mobile engagement services
Dual polarization that enables the best connection in the changing outdoor environments
Lower power requirements with the support of 802.3af power
Limited lifetime warranty (vs. 1y from other vendors) that offers the most benefits to customers
Competitive unit price and total installation cost
Use Cases
The 360 Series APs are ideal for many outdoor environments, including Municipality, Higher Education, Warehouse, Industrial Space, Retail and Enterprise, etc. Figure 2 gives examples of some outdoor AP deployments in harsh environments.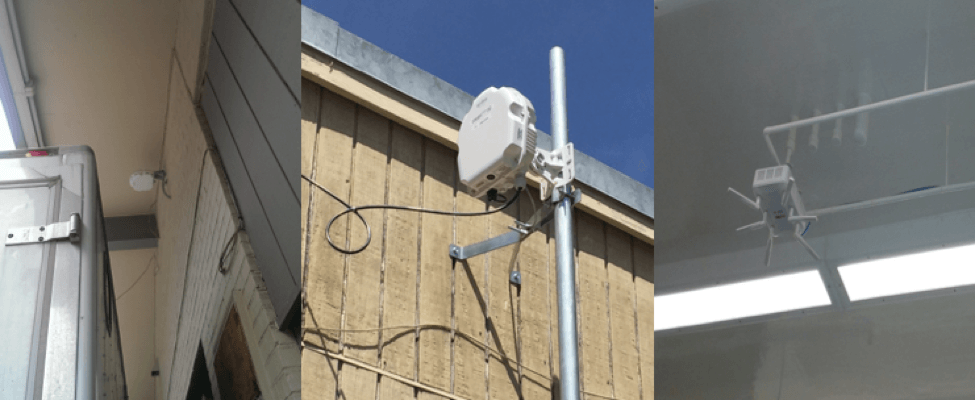 Figure 2: Sample outdoor AP deployments
With the growing demands of enterprise outdoor Wi-Fi users, customers' expectation to outdoor Wi-Fi has gone beyond the basic network connection. The network capacity, user experience and deployment cost have topped their list of concerns when expanding to outdoor Wi-Fi. A complete solution with the rich set of product portfolios that can meet customers' requirements in many areas is the key of success.
For more information about the Aruba 360 Series, click here.