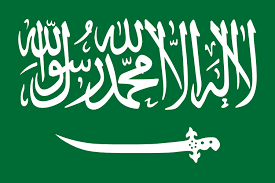 With over 34 million citizens and a $1.8 trillion GDP, the Kingdom of Saudi Arabia is the largest economy in the Middle East and North Africa (MENA). Home to an estimated 15% of the world's proven oil reserves, Saudi Arabia is a key player not only in the region, but on a global scale. Over the last few years, the country has attracted international attention for the momentum of its socio-economic transformation taking place under the auspices of the Vision 2030 development blueprint. And now the Kingdom has achieved another milestone – becoming the first country in ITU Region 1 (EMEA) to make 1200 MHz of additional spectrum available for Wi-Fi thereby demonstrating their commitment to Wi-Fi 6E. 
Landmark Decision for Saudi Arabia on 6 GHz Spectrum 
On March 30, 2021 the Communications and Information Technology Commission (CITC) of the Kingdom of Saudi Arabia publicly announced to open the full 5925-7125 MHz band for license-exempt use. Technical details will be published in a follow-up consultation, and the band will become available in the second half of this year. The CITC's landmark decision will unlock the additional spectrum desperately needed to relieve congestion in today's Wi-Fi networks and to deliver the multi-gigabit speeds that will unleash countless new applications and benefits for the Kingdom.  
Globally, the United States, South Korea, Brazil, Chile, and Guatemala have each opened up 1200 MHz. In November 2020, the European Conference of Postal and Telecommunications Administrations (CEPT) published its decision to open an initial 480 MHz of spectrum for Low Power Indoor (LPI) devices and Very Low Power (VLP) devices that may operate both indoors and outdoors. The CITC takes this a step further by stating their intention to authorize both license-exempt use of low power equipment and deployments of higher-power outdoor equipment under a light-licensing regime. 
Being the first country in the EMEA region to open the full 6 GHz band – delivering a staggering 200% increase in the amount of mid-band spectrum available for Wi-Fi – will not only reinforce the position of the Kingdom as innovation trailblazer but also secure Saudi citizens' and businesses' access to performance-demanding new services and applications in the long-term. It will also constitute an important milestone towards global harmonization of this band for license-exempt use, thus aiding to achieve the economies of scale that will benefit citizens and enterprises in the Kingdom and globally.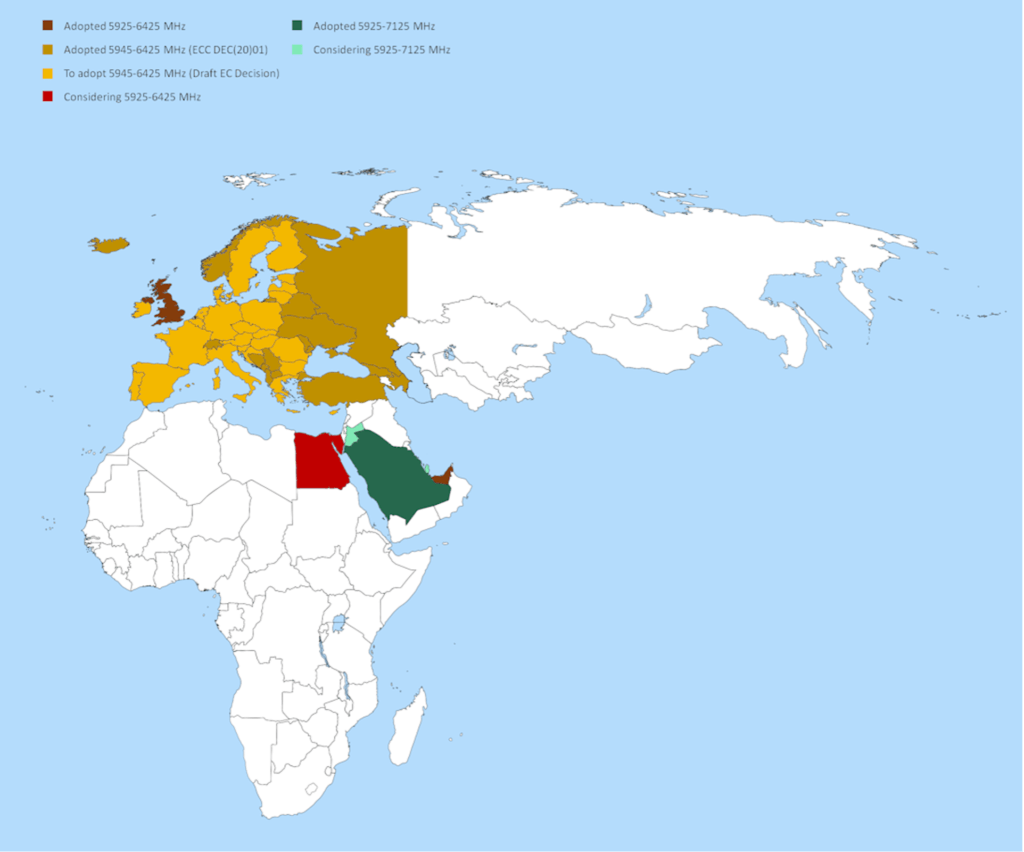 Wi-Fi 6E in ITU Region 1/EMEA 
The above map shows the current state of play for Wi-Fi 6E in ITU Region 1. The colour codes indicate which countries/regions already announced to open the 6 GHz band and to which extent, and which countries in have open consultations or rulemakings under way right now. It is well possible that by the end of this year, more than 900 million people in EMEA will have access to Wi-Fi 6E products.   
Leadership matters. Vision matters. With this decision which is expected to profoundly contribute to fulfilling the CITC's Spectrum Vision and the overall Saudi Vision 2030, the CITC has declared the vital national interest of Saudi Arabia in expanding Wi-Fi access for its citizens, businesses, government agencies and other users.  
Wi-Fi has recently been estimated to generate $4.9 trillion in economic value globally in 2025. Wi-Fi powers competition in communications services, which reduces broadband access prices that in turn powers the digital revolution in business and helps bridging the digital divide. Wi-Fi has become an essential economic contributor – similar to energy, steel, concrete, or labour – that underpins product manufacturing, distribution, purchasing, and transportation in countries worldwide.  
 HPE has had a longstanding involvement in Saudi Arabia dating back to the early 1980s, and in 2001 officially opened a registered office in the Kingdom. The more than 30 years of experience comprise success in both the public and private sectors across the country. HPE continues to act as a key supplier to strategic industries in KSA including the energy and telecommunications sectors and we look forward to building on our history of success in the Kingdom. 
What You Need to Know about 6 GHz