As enterprise security continues to evolve, organizations are constantly deploying new technologies and solutions to keep up with changing threats. As our security infrastructure becomes increasingly complex, integrating various security tools becomes paramount for a couple of reasons. First, operating an arsenal of security products in silos is simply not sustainable. Second, the more integrated your security infrastructure, the better you can leverage your investments and increase your overall levels of security.
Let's take a look at how combining access control with endpoint security yields synergies for both technologies.
Combining Access Control and Endpoint Context for Better Security
As a critical piece of a sound network security strategy, network access control is the first line of defense in ensuring the right devices and users have access to the right network resources. Access control solutions such as Aruba ClearPass can enforce granular policies to accomplish this goal.
At Aruba we utilize our 360 Secure Fabric to integrate with other best-of-breed security solutions such as CarbonBlack, a leader in endpoint detection and response. This integration helps our joint customers simplify their security infrastructure, and makes both solutions work better for higher levels of security.
Aruba ClearPass and CarbonBlack: Context is King
Aruba and CarbonBlack are excited to announce the new integration between Aruba ClearPass and CarbonBlack Response.
As CarbonBlack Cb Response assesses the security posture of each endpoint on the network, ClearPass can take that data including key endpoint attributes to make enriched security decisions. This includes looking at attributes such as whether the endpoint is known and managed by CarbonBlack, if the CarbonBlack software is up-to-date, the health status of the device and the last time it checked in, to decide whether a given endpoint should have access to the network.
Based on these attributes, ClearPass can take a number of different actions from quarantining the device from the network to redirecting the device to a captive portal where the user is limited to only downloading and installing the CarbonBlack agent.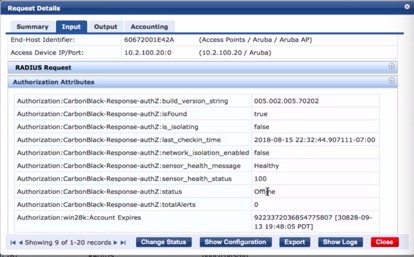 Aruba ClearPass utilizes endpoint attributes provided by CarbonBlack Response to make enforcement decisions.
Find Out More About the Aruba and CarbonBlack Partnership
To learn more about how Aruba and CarbonBlack are working together, including the Aruba ClearPass and CarbonBlack integration, please visit the Aruba 360 Security Exchange.
Do a deep dive into the technical details of ClearPass integration with Cb Response.
Tags:
360 Secure Fabric
360 Security Exchange Program
ClearPass Exchange
ClearPass Policy Manager
Network Security
Security