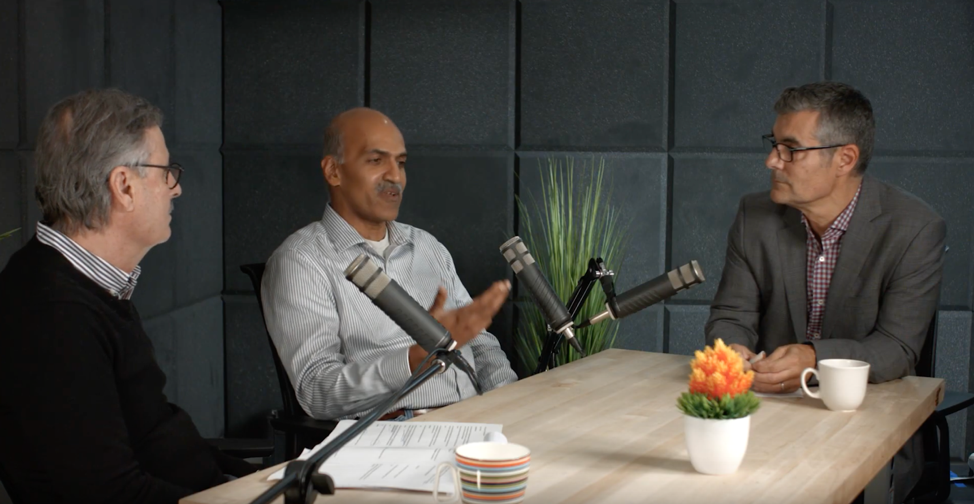 March will mark Aruba's 18th anniversary and we are kicking off a series of podcasts that highlight Aruba's ongoing innovation and technical excellence. To give us the overview of Aruba's innovation journey that has resulted in thousands of patents, hundreds of thousands of customers and billions of dollars in revenue, Adrian Hurel, VP of Sales Global Services and Support and Larry Lunetta, VP of WLAN and Security Solutions, recently spoke with Partha Narasimhan, Aruba's Chief Technology Officer.
The full podcast is available here:
From Air to Edge: 18 Years of Innovation Part 1
From Air to Edge: 18 Years of Innovation Part 2
Here are some excerpted summaries.
Moderator:
Partha, you have been here since the beginning. Eighteen years is a long time in this business and change is constant. Yet, we just were named the wired/wireless leader by each of the top three analyst firms: Gartner, IDC and Forrester. How have we maintained our leadership?
Partha:
Our culture has always been focused on two key principles: Customer First, Customer Last and a relentless drive to innovate. If you don't maintain that focus, you won't survive—and many competitors have come and gone over the years.
Moderator:
We'll cover a wide range of topics but let's start with security. One of the great examples of innovation that has stood the test of time is our Policy Enforcement Firewall.
Partha:
When Aruba was founded in 2002, we identified security as one of the key challenges for organizations adopting wireless connectivity. That's why we introduced the Policy Enforcement Firewall (PEF), a Layer 7 stateful firewall that enforces role-based access control across the network, independent of the method of connection. At that time, the market didn't call it Zero Trust, but essentially that is what it was: The user or device must be authenticated and once that happens, application-layer IT access is granted based on the role of that endpoint. PEF is the enforcement point and it has been so durable that the insurance industry just designated it as "Cyber Catalystsm by Marsh" for its demonstrated ability to reduce cyber risk.
Moderator:
Speaking of security, the WPA3 encryption standard is now part of the Wi-Fi 6 standard. That came out of your lab, correct?
Yes, Dan Harkins from the CTO team decided to solve the "Starbucks" problem of open network access by introducing a new form of encryption called WPA3. This technology is now part of the Wi-Fi 6 standard and relieves the user from worrying about the details of protecting the data that streams from the device to the access point in public environments. WPA3 is a great example of customer-centric technical innovation and we were happy to contribute it to the Wi-Fi 6 standard on behalf of the community.
Moderator:
There is this myth floating around that all radios are created equal. Thoughts on that?
Partha:
We all start with the same chipset and there are plenty of contract manufacturers who will take the Qualcomm or Broadcom chips and paste together a white-label box that anyone can re-label—and there many vendors who take this approach. That may be fine for general internet access, but they fall down badly trying to support high performance, high density applications that are driving digital transformation.
At Aruba, standard chip sets are only the starting point. We engineer for performance and reliability across a range of use cases informed by 18 years of Wi-Fi experience and hundreds of thousands of customers. That means our access points use memory and CPU resources more efficiently than compared to off-the-shelf designs. We have an entire lab to support the design and testing of antenna arrays that minimize interference. We engineer the drivers to support AI-powered software enhancements such as ClientMatch (automatically assigns a device to the highest-performing AP) and AirMatch (automatically optimizes RF settings). The result is not only better performance, but better price/performance. In head-to-head comparisons at equivalent price points we often provide up to twice the throughput vs. competitive products.
Moderator:
Your mentioned capabilities such as ClientMatch. As software became more and more critical to the overall Wi-Fi solution, we've led there as well. Once you get the hardware right, it's all about optimization and automation. Trace that journey for us.
Partha:
Again, it comes from staying very close to customers and engineering solutions to solve their problems. It's a long list of innovations that continues to improve the user and IT experience including,
ClientMatch, that solves the "sticky client" problem that impedes efficient roaming.
RF optimization via AirMatch that uses data from thousands of access points to automatically adjust RF settings to maximum performance.
AI Insight takes in 1.5 billion data points per day from thousands of customers to automatically monitor, diagnose and help orchestrate network administration.
We have a very unique network diagnostic capability called User Experience Insight. With UXI we can tell the networking team how the network is behaving from the user and application perspective. My favorite customer comment about UXI is "I'm tired to sending out surveys to see how my Wi-Fi is working—UXI now does that automatically."
Live Upgrades is an amazing breakthrough that we introduced with AOS 8 several years that is still not replicated by our competitors. Imagine upgrading your network without carving out a maintenance window—no network downtime.
For application SLAs, we just introduced AirSlice. AirSlice extends the Wi-Fi 6 OFDMA and MU-MiMO standards to deliver guaranteed wireless bandwidth and performance for a wide range of mission critical applications. This is promised by 5G technology but we're delivering it.
Moderator:
A common theme in many of these solutions is Artificial Intelligence. This is certainly a core strength for Aruba—how do we approach it?
Partha:
Once again, it's about solving real problems. We have competitors that use AI in their demos but when it comes time to use the product, no one touches it. Solutions like Client Match, AirMatch and AI Insights solve real problems and leverage all of Aruba's AI strengths:
Data: As we discussed, we train our AI models with billions of data points across every type of customer environment.
Domain Expertise: A lot of programmers can find and implement AI algorithms, but they have no idea of what problem they are trying to solve. With 18 years of experience, we know which problems can be solved with AI and what techniques will work best.
Data Science: Once we identify the problem, we have a deep team of data scientists along with access to HPE's AI Lab resources.
Scale: A critical question is: can your models work in enterprise scale environments and produce useful results? Models trained with data from small environments will not "scale up."
Maturity: The term "Machine Learning" is apt because not only are the models trained on existing data, they also learn in the wild and continue to improve. We've been deploying AI technology longer than some of our competitors have existed, and the value of our solutions reflects that.
Many of these started when our solutions were managed on-prem, but now we deliver in the cloud via Aruba Central. Most people don't realize we been delivering cloud-based solutions for many years, that some of our biggest customers, like Home Depot are deployed in the cloud and that we have the largest installed base of controller-less access points.
Moderator:
Those are great accomplishments, how did innovation drive Aruba Central?
The key point is that cloud is not a place but simply a deployment option. Aruba Central represents a steady stream of innovation that includes a micro services architecture, a user experience and interface that is tuned for both analytics-based orchestration and streamlined IT operation and a platform that continues to provide a robust set of ever-increasing services that customers can use to build new businesses, new revenue streams and better user experiences.
Moderator:
Before we wrap up, what's coming next?
Partha:
We are now at the point of digital and physical intersection. Wi-Fi touches the lives of our customers in profound ways. The analytics, the automation and the performance are all designed to seamlessly enable new experiences and business outcomes—with fewer touches from IT. Wi-Fi 6 will continue to be the wireless technology of choice inside the building based on performance, ease of management and cost. In fact, Wi-Fi 6 will be the de facto on-ramp to 5G services as that functionality comes on stream.
We know that IoT will be driving many new applications and or access points have been and will continue to be platforms for IoT solutions. We will connect many different protocols to the same physical infrastructure which will reduce the cost and complexity of IoT connectivity.
Finally, wireless connectivity is just the start of the intelligent edge. As the starting point for HPE's edge to cloud architecture, Wi-Fi and associated branch and campus infrastructure will integrate with edge compute resources in form factors such Multi-Access Edge Computing (MEC).
The world is moving to the edge.
Moderator:
That's a lot to look forward to Partha, thank you. Here is the link to the full podcast.
From Air to Edge: 18 Years of Innovation Part 1