With our most recent Aruba Instant OS releases, customers now have the ability to make the network more predictive, offer asset tracking, and deliver a better user experience with end-to-end connectivity monitoring and the ability to prioritize Skype for Business voice and video traffic. We also have expanded our Instant portfolio with new competitively priced Unified APs for hospitality, branches and outdoor deployments. Let's take a deeper look.
More predictability for always-on connectivity
Today, when users are connected to Wi-Fi and can't access a web page or the guest portal, they automatically assume it is a Wi-Fi problem. The reality is that mobile connectivity issues might not be related to wireless or RF issues at all. Being able to quickly identify where the issues lie goes a long way in keeping your users happy.
With Clarity Live monitoring, IT staff now has visibility into non-RF metrics. Not only do IT staff have end-to-end visibility into a wireless user's experience, but also they can foresee connectivity issues before users are impacted.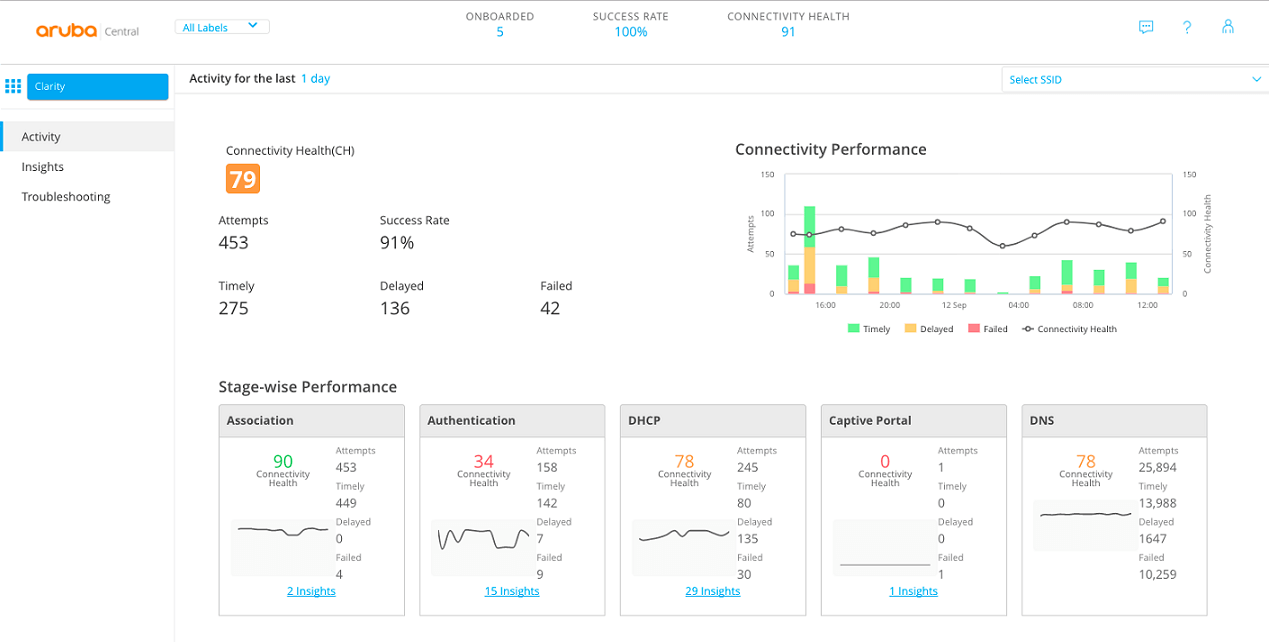 The new Connectivity Analytics dashboard in Aruba Central gives customers valuable insights into how quickly clients associate, authenticate and roam on the network, and whether DHCP or Radius server response times are slow causing user connectivity issues.
Asset tracking for high-value assets
Aruba Instant can now monitor Bluetooth Low Energy (BLE) asset tags to track the location of time-sensitive, high-value assets embedded with BLE tags.
 Using tags to track and find high-value assets is quick and easy. BLE-based Aruba Tags work with your existing Aruba BLE-enabled Instant APs, so there's no need for a dedicated network of tag readers.
Configuring the tags with the Aruba asset tracking mobile app is easy. Simply scan the QR code on the back of the tag and enter the relevant data to create a real-time database of assets. The Aruba Tags will periodically report their location via the BLE beacons in the Wi-Fi access points. Best of all, with an Aruba Wi-Fi infrastructure and standard mobile devices, customers can have a solution working in days.
 Enhanced mobile collaboration
More app control and visibility is a popular topic for IT administrators. With built-in AppRF, Aruba Instant leverages heuristics to differentiate Skype for Business voice, video and desktop sharing from other application streams to prioritize Skype for Business voice and video traffic and ensure a superior end-user experience.
More choice with new Unified APs for hospitality branch and outdoor environments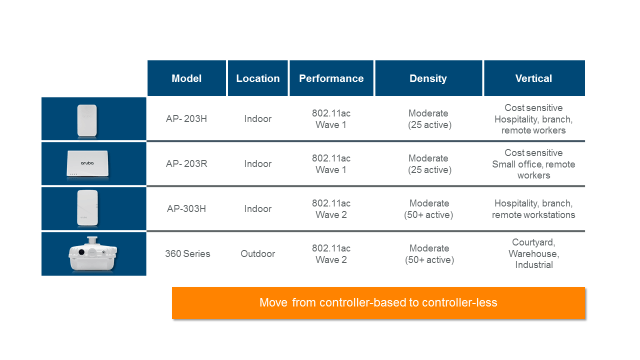 The Aruba AP-303H, AP-203H, AP-203R and AP-360 Series are new Unified APs that support both controller-less (Instant) and controller-managed modes. Unified APs offer enhanced flexibility by allowing customers to choose one mode first and switch to the other as network requirements change.
The Aruba AP-203H and AP-203R provide a cost-effective wireless solution for hospitality, branches or remote workers. They are software configurable to operate in 2X2 single radio or 1X1 dual-radio mode, offer Gigabit Ethernet ports for secure wired connectivity and have a USB port for BLE location-based services.
The Aruba AP-303H combines wireless and wired access in a single compact device. It offers three local Gigabit Ethernet ports to securely attach wired devices and can supply Power over Ethernet (PoE) for IP-enabled devices. An integrated Bluetooth Aruba Beacon simplifies the remote management of a BLE Aruba Beacons network for advanced location and indoor wayfinding applications
The Aruba AP-360 Wave 2 APs offers cost-effective outdoor wireless connectivity for harsh outdoor environments offering 2x2 MIMO and an integrated built-in Bluetooth Low-Energy (BLE) radio for location-based services.
Learn more about Aruba Instant and Aruba solutions for midsize businesses.